The Atlantic Politics & Policy Daily: Flake's Speech
Arizona Senator Jeff Flake announced that he will not seek reelection in 2018.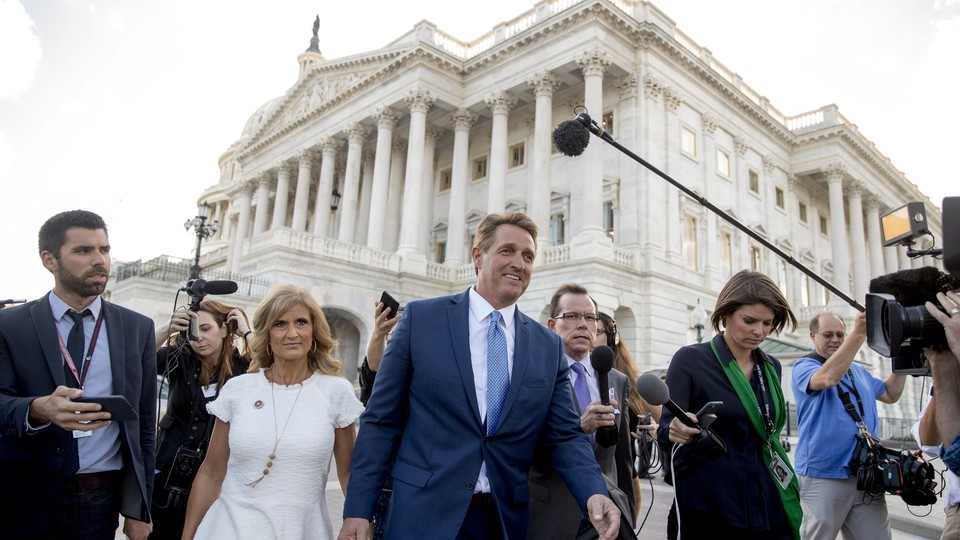 Today in 5 Lines
Arizona Senator Jeff Flake announced that he will not seek reelection in 2018, saying in a speech that he "will not be complicit" in the "reckless, outrageous, and undignified behavior" coming from the White House. The ongoing feud between Senator Bob Corker and President Trump escalated when Corker called Trump "an utterly untruthful president." Congress approved a $36.5 billion emergency-spending package for parts of the U.S. affected by hurricanes and wildfires. A federal appeals court ruled that an undocumented pregnant minor being held in federal custody can have an abortion. House GOP leaders announced that they will launch two separate investigations involving former Secretary of State Hillary Clinton.
---
Today on The Atlantic
Three Trends to Consider: In order for liberalism to succeed, liberal policymakers need to think about the doom loop facing them—and figure out how to break it. (Derek Thompson)

Crime and Punishment: Ed Gillespie, the Republican candidate running against Democrat Ralph Northam in Virginia's gubernatorial race, just released the strangest political attack ad of 2017. (Matt Ford)

Retirement Is Broken: President Trump's assertion that 401(k)s are a "great and popular middle class tax break" is wrong; here's why. (William Birdthistle and Daniel Hemel)
---
The Masthead
Want to support a sustainable future for journalism, and get to know The Atlantic a little better in the process? Join The Masthead, our new membership program, and you'll get an exclusive newsletter with original articles, as well as the opportunity to participate in conference calls with leading thinkers and join a private discussion group. This week, Masthead members got an update on Puerto Rico and will debate how to protect the right to self-defense in gun regulations. Coming up soon, members will hear from The Atlantic's editor in chief, Jeffrey Goldberg. Sign up now.
Follow stories throughout the day with our Politics & Policy portal.
---
Snapshot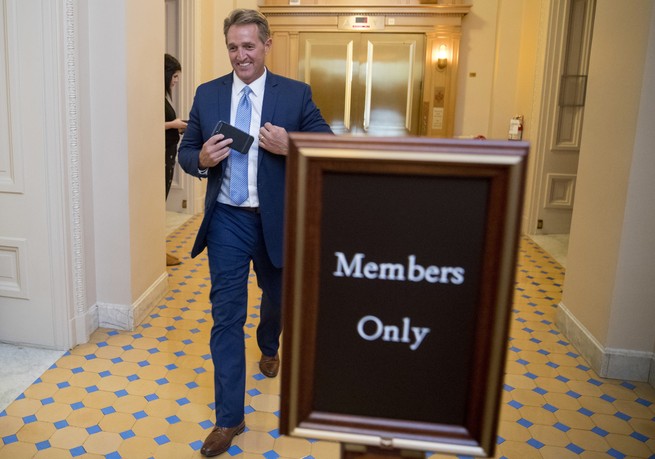 ---
What We're Reading
Weird Choice: A tiny Montana energy company has signed a $300 million contract with Puerto Rico to restore the island's infrastructure. And the hiring decision is drawing scrutiny from Congress. (The Washington Post)
He's Not Running: In an interview with Howard Stern, Kid Rock said he won't be serving in Congress, despite his hints earlier this year: "F--- no, I'm not running for Senate. Are you kidding me?" (Brian McCollum, Detroit Free Press)
Not Just Trump: Never-Trumpers don't understand that the president is just the figurehead of an ideological movement created to oppose the GOP establishment. (Victor Davis Hanson, National Review)
Backseat Driver?: Harry Reid is no longer in the Senate, but he's still offering advice to prospective presidential candidates—and counseling Democratic senators on how to deal with Donald Trump. (Gabriel Debenedetti, Politico)
Enough About Cultural Appropriation: Opposing the adoption of elements of one culture by members of another is a "joy-killing, curiosity-shaming, inclusion-discouraging" practice that is practically impossible to enforce, argues Robby Soave. (Reason)
---
Visualized
Where Is ISIS?: Check out these maps to see the cities and towns ISIS has occupied in the past four years—and where they're concentrated now. (The New York Times)
---
Question of the Week
In her story on Monday, The Atlantic's Molly Ball reports that some researchers attempting to understand how Americans were feeling after the 2016 presidential election didn't seem to be listening to their focus groups: "I heard all the optimism they did, but I also heard its opposite: that one side was right and that the other was the enemy; that other Americans, not just the government, were to blame for the country's problems."
So this week, we want to know: Do you think it's important to move past political partisanship? Why or why not?
Share your response here, and we'll feature a few in Friday's Politics & Policy Daily.
-Written by Elaine Godfrey (@elainejgodfrey)