The Atlantic Politics & Policy Daily: Best Frenemies
During a news conference, President Trump said he and Senate Majority Leader Mitch McConnell are "closer than ever before."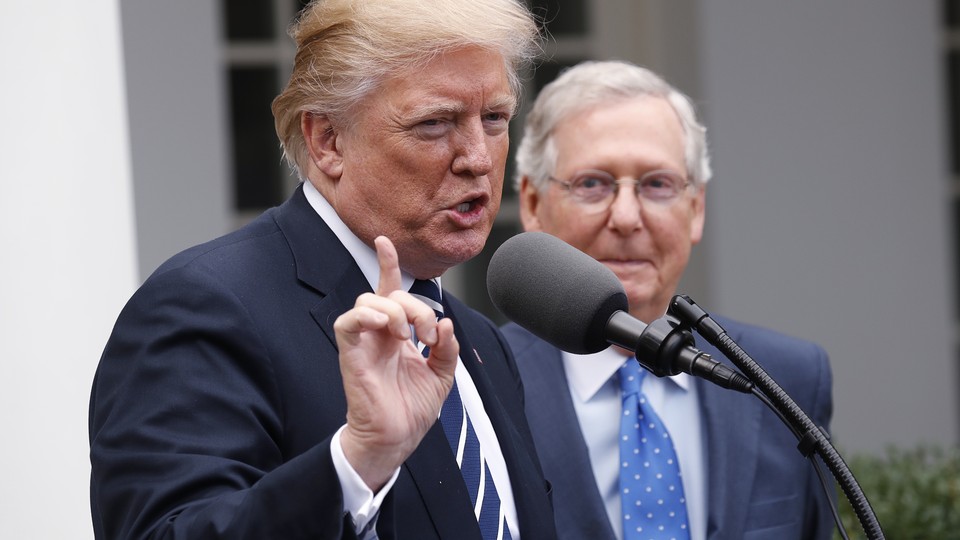 Today in 5 Lines
During a news conference, President Trump said he and Senate Majority Leader Mitch McConnell are "closer than ever before" and are working together to push the GOP agenda forward. Trump also said he'll "be looking into" Representative Tom Marino, his drug czar nominee, after a report found the lawmaker helped pass a law hampering efforts to slow the opioid epidemic. U.S. Army Sergeant Bowe Bergdahl, who was held captive by the Taliban for five years, pleaded guilty to desertion. The Supreme Court agreed to hear a major case dealing with digital privacy and the Fourth Amendment. Astronomers detected the merging of two neutron stars for the first time.
---
Today on The Atlantic
Ethics Questions: Manhattan's district attorney is under fire for donations he received during his campaigns, highlighting a key problem with America's system of electing its prosecutors. (Matt Ford)

Older and Wiser?: Some young members of Congress are growing impatient with their older colleagues, many of whom are well past retirement age and determinted to stay in office. (Michelle Cottle)

The Power of #MeToo: On Sunday, actress Alyssa Milano encouraged women to tweet #MeToo if they have been sexually harassed or assaulted, and by Monday morning, the hashtag had been tweeted nearly half a million times. (Sophie Gilbert)
Follow stories throughout the day with our Politics & Policy portal.
---
Snapshot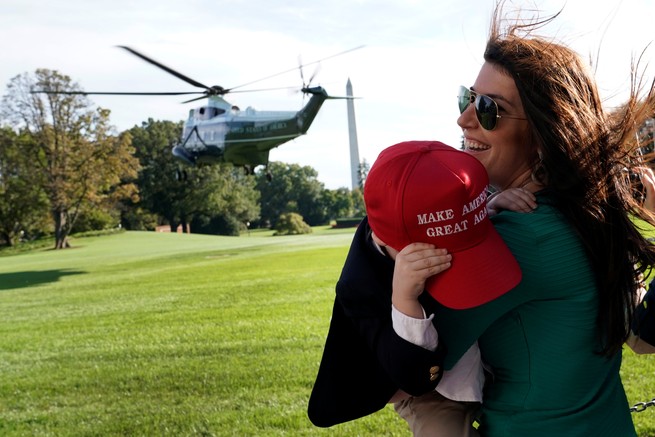 ---
What We're Reading
A Lot at Stake: Republicans in and outside the White House are reportedly afraid that if Democrats take control of the House in the midterms, they'll double down on the Russia investigation—and file articles of impeachment against President Trump. (Sara Murray, CNN)
'The Danger of President Pence': Donald Trump's critics have said that they'd prefer if Mike Pence became president, but a Pence presidency has its own set of risks. (Jane Mayer, The New Yorker)
Constitution Crash Course: In their responses to President Trump's executive order ending Obamacare insurance subsidies and his attacks on the free press, both liberals and conservatives have proven that they need a refresher on the Constitution. (Jay Cost, National Review)
Victory for the Drug Industry: A Washington Post and "60 Minutes" report found that members of Congress and major drug distributors joined forces to usher forward a law that weakens efforts to limit the flow of opioids. (Scott Higham and Lenny Bernstein)
Extraterrestrial: Bettina Rodriguez Aguilera is a Miami Republican who says she's been visited by aliens throughout her life. She's also running for Congress in 2018. (Alex Daugherty and Patricia Mazzei, McClatchy)
---
Visualized
What Is Hate Speech?: Take this quiz to see which statements violate Facebook's rules on hate speech. It's harder than you think. (Audrey Carlsen and Fahima Haque, The New York Times)
---
Question of the Week
Senators Dianne Feinstein and Chuck Grassley are two of the oldest and longest-serving members of Congress, and both could be sticking around for the foreseeable future. The Atlantic's Michelle Cottle reported on Monday that younger politicians are growing frustrated with what they view as out-of-touch lawmakers clinging to power by continuing to serve well into their 70s and 80s.
Do you think there should be an age limit for politicians? Why, or why not?
Share your response here, and we'll feature a few in Friday's Politics & Policy Daily.
-Written by Elaine Godfrey (@elainejgodfrey)