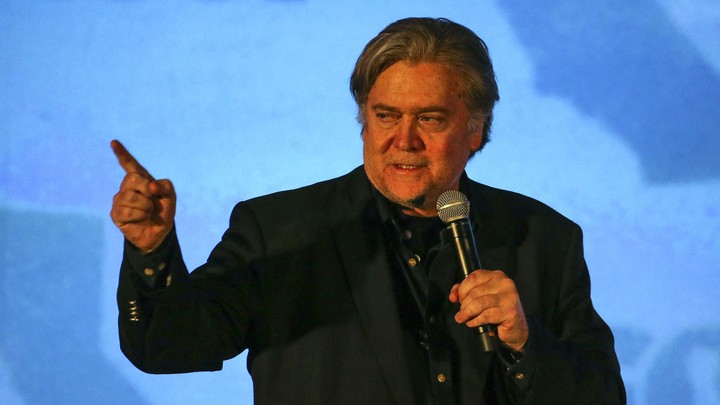 ANAHEIM, Calif.—Breitbart News chairman Steve Bannon continued his campaign against the Republican establishment in a speech to the California Republican Party convention on Friday—while also calling for greater unity within the party. His targets included the current party leadership, but also the previous Republican president of the United States.
Bannon, who rarely spoke publicly during his time as White House chief strategist, has made a series of appearances in recent weeks promoting primary Republican senators in the 2018 election cycle. Boosted by former judge Roy Moore's Alabama Senate primary win over the establishment's (and President Trump's) pick Luther Strange, Bannon is spearheading an intra-party war with the aim of removing Mitch McConnell as majority leader. He has said that he wants to challenge every Republican incumbent apart from Ted Cruz. He personally campaigned for Moore and for Kelli Ward, who is running a primary challenge to Jeff Flake in Arizona. Last week he promised a "season of war" against the establishment in a speech to the Values Voter Summit in Washington.
"Victory begets victory," Bannon told the crowd at the Anaheim Marriott in a wide-ranging speech that touched on everything from Hillbilly Elegy author J.D. Vance (Bannon's a fan) to the "Fourth Turning" to Andrew Sullivan's latest piece (Bannon's also a fan). And after existing on the political fringes for most of his career, Bannon has finally notched some victories: His speech on Friday lingered on Trump's election and on Moore's win. "I was on the opposite side of the football with the president," Bannon noted. "I think the president got some bad information."
Though Trump publicly—albeit half-heartedly—asked for Bannon to calm down his campaign against Republican senators last week during a press conference with McConnell, Bannon said he is acting as Trump's "wingman." He launched a broadside against George W. Bush, who gave a speech rebuking Trumpian ideology last week. Members of the audience booed at the mention of Bush's name.
"It's clear he doesn't understand what he's talking about," Bannon said, "Just like it was when he was president of the United States."
"There has not been a more destructive presidency than George Bush's," Bannon said. The reaction to this line was more muted, with only scattered applause. One Republican strategist who spoke on condition of anonymity because of his involvement in some races in California told me that at his table only three of seven people applauded. "This was a populist speech, this was not a Republican Party speech," the strategist said. "Nobody in this room had ever heard a speech like this before."
Bannon tailored his speech to the California audience, warning darkly of the power of Silicon Valley, which he cast as the "beating heart" of the resistance to President Trump.
He even warned that Silicon Valley might engineer a secession attempt, saying that if California Republicans do not roll back the law that has made the state a "sanctuary state" for immigrants, "10 or 15 years from now the folks in Silicon Valley and the progressive left in this state are gonna try to secede from the Union."
"We don't have a problem with ideas," Bannon said of Republicans. "We have a problem with understanding how to win. It is about winning, nothing else matters."
Bannon has connections in conservative circles in California dating to his years as a film producer and banker in Hollywood. Los Angeles is where he met the late Andrew Breitbart, to whom he lent office space in the early years of Breitbart News.
California politics are dominated by the Democratic party, though the Republicans hold several key congressional seats. Seven of these 14 Republican incumbents' districts were won by Hillary Clinton in 2016. The last Republican statewide office-holder, former Governor Arnold Schwarzenegger, finished his last term in 2011.
But outside of electoral politics, California has been home to some of the most influential people on the right in recent years, including people like Breitbart, Ann Coulter, and White House domestic policy advisor Stephen Miller, who is close to Bannon. (Miller attended a party for Laura Ingraham's new book held at the Breitbart "embassy" in Washington on Thursday night, where Bannon hailed him as "the last one behind enemy lines.")
Apart from Bannon, few big names on the right were in attendance; at one point during his speech, Bannon gave a shoutout to one of them, tax-cut guru Grover Norquist, who is speaking at the convention on Sunday.
"I thought it was very interesting for [Jim] Brulte, the party chairman here, to make this pick," Norquist said, citing Bannon's "interesting non-consensus presentation at a party convention." Bannon "wasn't here to ra-ra for the president. It was sort of a not-too-veiled criticism of the president. Also a veiled criticism of how we've been doing things up till now."
Despite his internecine war, Bannon told the crowd that in 2016 "we had to put our differences aside in order to win" and called for greater party unity in campaigns and in government. The unity message stood in sharp contrast to his criticisms of McConnell, Bush, and Karl Rove, who has written harshly in the Wall Street Journal of Bannon and who Bannon said he would not go after because he "doesn't like punching down."
Norquist said that although Bannon's primary onslaught will be messy and cause Republican groups to have to spend more money, "half of the people on [Bannon's] list are the completely consensus position in their Senate races."
"His message is not off necessarily, it's parallel to what the House and Senate are doing," Norquist said. "It's parallel to what the president wants. If the takeaway is go out there and get active and work on campaigns and work on stuff, that's a very traditional Republican Party speech."
We want to hear what you think about this article. Submit a letter to the editor or write to letters@theatlantic.com.
Rosie Gray
is a former contributing editor at
The Atlantic
.