Stanching the School-to-Prison Pipeline
Recent reports highlight school disciplinary practices and suggest ways to stop them.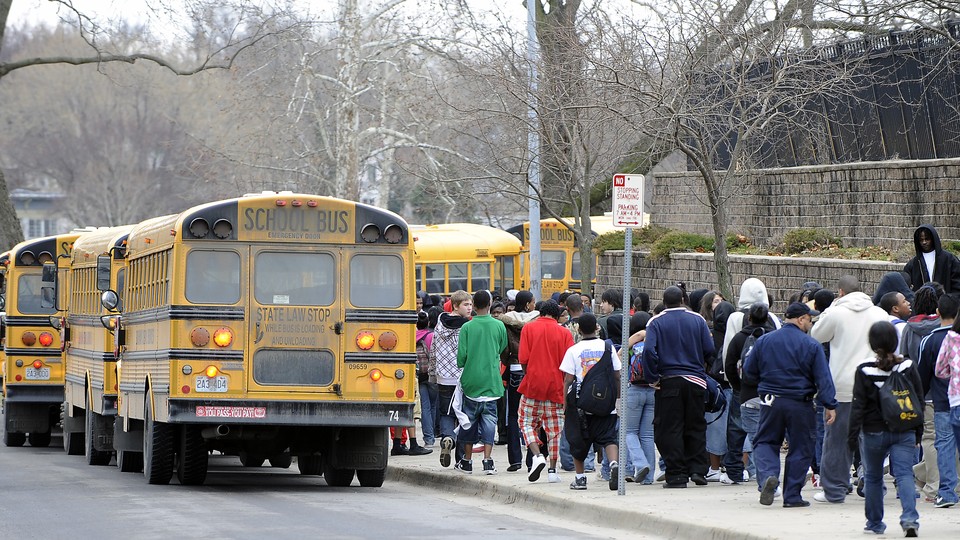 Editor's Note:
We've gathered dozens of the most important pieces from our archives on race and racism in America. Find the collection here.
In 2014, when Kalyb Primm Wiley was 7 years old, 50 pounds, and not even 4 feet tall, he was handcuffed by his school's law enforcement officer after he cried and yelled in his Kansas City, Missouri, classroom. Kalyb, who is hearing impaired and was teased regularly about it, was reacting to a bullying incident. When the officer took Kalyb out of class and he tried to walk away, the officer handcuffed Kalyb and led him to the principal's office. Kalyb's father said his son was left cuffed in a chair until he arrived.
Kalyb was traumatized, and his mother homeschooled him for the next two years. Last year, the ACLU filed a suit against Kansas City Public Schools, as well as the officer and principal involved, accusing them of violating Kalyb's constitutional rights by "unlawfully restraining" him.
The past 20 years have seen a surge in severe school punishments, including suspensions, arrests, and referrals to juvenile court. Suspensions start as early as pre-kindergarten, and all punishments disproportionately involve students of color and students with a disability. This kind of discipline raises the likelihood that students will embark on a path to prison, dubbed the "school-to-prison pipeline."
As a recent report from the ACLU in Missouri notes, "Students who come in contact with law enforcement and the criminal justice system because of their in-school behaviors have a greater likelihood of continued interaction with the criminal justice system." The unequal punishment of students of color is mirrored in the prison system: While people of color make up 37 percent of the country's population, they comprise 67 percent of the prison population.
The ACLU report and another study published this month by the Legal Aid Justice Center in Virginia show that despite efforts by school administrators, policymakers, parents, and others to change disciplinary practices, they have more to do.
In Missouri, for instance, black students are 4.5 times more likely to be suspended than white students—more than the already high national average of around 4 times more likely. And during Virginia's 2015-2016 school year, black male students with disabilities were almost 20 times more likely to be suspended than white female students without disabilities.
Over the past decades, schools have increasingly adopted zero-tolerance policies and ascribed to the "broken-windows" theory of policing made popular in the 1990s. This model punishes people for minor offenses, like vandalism, to supposedly create an orderly atmosphere and deter more serious crime. In schools, punishment is often meted out for small infractions, such as the possession of a cell phone, minor insubordination, or inappropriate language, all classified under vague terms like "disruptive behavior" or "disorderly conduct."
More and more schools have hired officers like the one who handcuffed Kalyb—called School Resource Officers, or SROs—with the stated goal of protecting students from school violence (hiring of SROs increased after the Columbine massacre of 1999). However, these officers often help enforce strict discipline standards. The Justice Policy Institute found, for instance, that schools with SROs had five times as many arrests for "disorderly conduct" compared to schools without these officers.
In 1973, suspensions were relatively rare: less than 3 percent of Hispanic students, around 3 percent of white students, and 6 percent of black students were suspended. This rate has more than doubled since—but not for white students. The latest figures from the National Center for Education Statistics show that in 2012, around 4 percent of white students were suspended, while figures for Hispanic students and black students were 6 percent and 15 percent, respectively. Twelve percent of students with disabilities were suspended.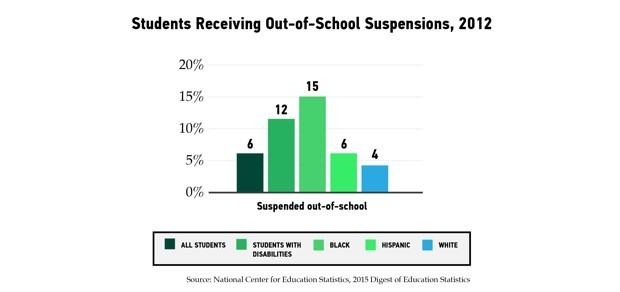 Research is clear that suspensions have far-reaching negative effects. Students who are suspended just once are more likely to ultimately repeat a grade or drop out of school, and to later be in contact with a county's juvenile probation department. A comprehensive study conducted in Texas showed that 31 percent of students who were suspended or expelled from school repeated their grade, versus five percent of other students.
While it's difficult to prove causality—the suspended students may have had troubles later regardless of the discipline they received—the Texas study revealed that students who had been suspended or expelled were twice as likely to drop out of school compared with students with similar characteristics at similar schools who were not suspended or expelled.
In light of such grim statistics, many are working to stem the school-to-prison pipeline—and there's no lack of ideas about how to do it. Strategies include those for parents (know your child's rights at school), school administrators (train teachers and SROs so they understand a student's needs if they have a disability or have experienced trauma), and state policymakers (eliminate or limit the length of suspensions).
Sara Baker, Legislative Policy Director at the ACLU of Missouri, says that the vague language states and schools use as grounds for punishment, such as "defiance," is particularly harmful. Because such terms are open to broad interpretation, they often result in punishment for small offenses.
Amy Woolard of Virginia's Legal Aid Justice Center adds, "These are the kinds of violations where we see a great deal of disparities based on race and disability—one student's coping mechanism of walking away to 'cool down' is another student's 'defiance' charge." Woolard's center has been pushing for schools to describe prohibited conduct with specificity.
The Virginia Center and Missouri ACLU also call for local governments and school districts to direct resources into alternatives to suspension and expulsion, including "restorative practices." This technique brings those involved in an incident—students, teachers, parents—together to discuss how the incident impacted the people involved, the school, and the community. The goal is for students to talk through their problems and make amends, instead of receiving detention, suspension, or worse.
Sharonica Hardin-Bartley, the superintendent of St. Louis's University City district, is a proponent of restorative justice. In the 16 months she's been on the job, she has hired a restorative practices coordinator and arranged training in the technique for students, counselors, and teachers. Hardin-Bartley notes that her schools still suspend students for violations such as drugs and weapons, but have started to use these practices for lesser offenses. "It's a lot different than saying, 'You did something wrong and now you're out of school,'" she says.
Hardin-Bartley is also creating more relaxed environments in her schools. She's encouraging classroom seating beyond the usual desks and chairs, such as bean bags and yoga balls, as well as setting aside quiet areas with soft furniture where students can decompress. Hardin-Bartley has also started yoga classes in some of her district's elementary schools.
"These are de-escalation strategies," she says. "We're shifting the question aimed at students from, 'What's wrong with you?' to 'What happened to you?' We're considering the 'why' behind some of the behaviors we see."
Erica Meiners, a professor at Northeastern Illinois University and the author of For the Children? Protecting Innocence in a Carceral State, says that the problem is larger than schools themselves. "It's a wider issue of how our communities and culture have constructed ideas of children and childhood," she says. "Certain children in our culture get to be children, and others don't."
Meiners points to the abundance of research demonstrating that U.S. society doesn't see black children as children, but as "thuggish" and "predatory"—sometimes with lethal results.
This tendency was clear in the way some officials and observers portrayed Tamir Rice, the 12-year-old boy holding a toy gun who police shot to death on a Cleveland playground in 2014. "He's menacing. … He's a 12-year-old in an adult body," Steve Loomis, the head of Cleveland's police union, said in 2015.
For Meiners, one strategy is to transform whatever caused the negative situation in the first place. This can mean redirecting resources, such as working to block the creation of more policing institutions—she cites the nearly $100 million police academy slated to be built in Chicago—and using the money for school counselors or art, music, and sports in impoverished schools.
While Meiners says using restorative practices and dismantling punitive disciplinary policies are important, they are "first steps." "We need a wider discussion of how we have naturalized logics and practices of carcerality in our communities and classrooms," she says. "Looking at childhood—who benefits from this category, who doesn't, and why—can also help us understand how and why queer youth, black and Latino youth, and disabled youth routinely experience the highest rates of school disciplinary action."