Robert Mueller Is Just Getting Started
Legal experts said Monday's revelations show the special counsel is "maximizing the clout" of the Russia investigation.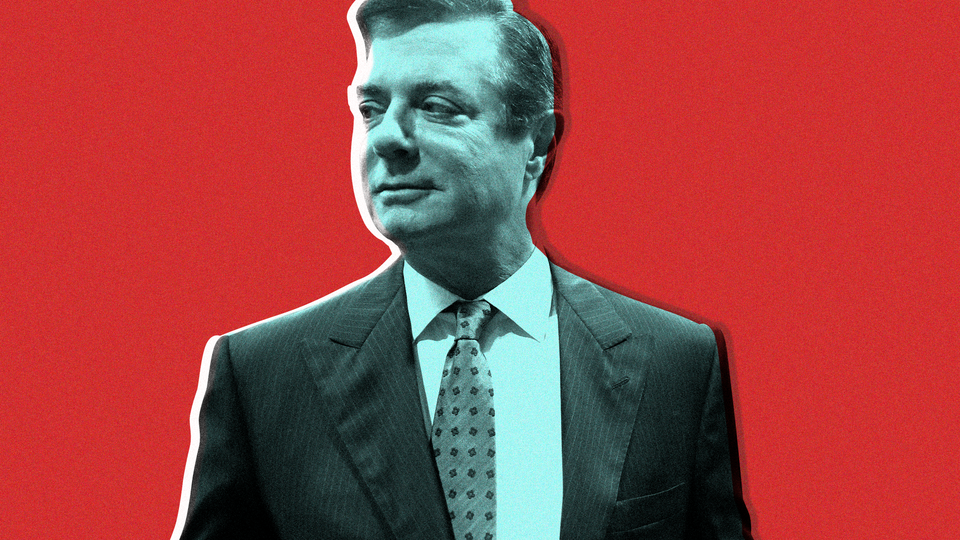 Updated at 5:04 p.m.

With the release of his first indictments and a surprise plea deal on Monday morning, Special Counsel Robert Mueller sketched a partial outline of his team's investigation into Russian electoral meddling and took control of a news narrative that had been increasingly dominated by his conservative critics.
Legal experts said the court filings indicate Mueller is running a serious, deliberative, and far-sighted inquiry. "I would say this is High-Level Special Counsel Investigation 101," said Richard Ben-Veniste, a member of the Watergate special-prosecutor task force. "Mueller is operating by the book."
The first wave of charges came against two top Trump campaign officials, former campaign chairman Paul Manafort and his associate Rick Gates. Their indictment describes a conspiracy to evade taxes and launder at least $75 million of foreign income into the United States from offshore accounts. According to the special counsel's office, Manafort used the money to "enjoy a lavish lifestyle" by spending hundreds of thousands of dollars on expensive suits, antique rugs, and other luxuries.
Both men were charged with 12 criminal counts related to their business activities in Ukraine before the election, including conspiracy to commit money laundering, filing false statements about millions of dollars in foreign income, and acting as an unregistered foreign agent. Manafort and Gates pled not guilty to all of them in a court appearance Monday afternoon. If convicted, both men would face significant prison time.
"These are very serious criminal charges, and it reflects a lot of detail and appears to be a strong, very professional federal criminal case," said John Q. Barrett, a St. John's University law professor and former Iran-Contra associate special counsel. "I doubt it's the only front, or that it's the end point of the investigative activity."
Manafort and Gates pled not guilty in federal court on Monday afternoon. Manafort's attorney, Kevin Downing, issued a statement calling the indictment "ridiculous" and accusing Mueller of pursuing a "novel theory" of prosecution under the Federal Agents Registration Act. Downing stopped short however, of specifically denying any of the charges laid out in the indictment. He also said that "President Donald Trump was correct. There is no evidence the Trump Campaign colluded with the Russia government."
Shortly after the Manafort and Gates indictments went public, President Trump took to Twitter in response. He dismissed the allegations against his two former staffers, noting the reported activity predated their time on his campaign. He also repeated his attempts to shift the focus onto Hillary Clinton, his former 2016 opponent.
Sorry, but this is years ago, before Paul Manafort was part of the Trump campaign. But why aren't Crooked Hillary & the Dems the focus?????

— Donald J. Trump (@realDonaldTrump) October 30, 2017
....Also, there is NO COLLUSION!

— Donald J. Trump (@realDonaldTrump) October 30, 2017
Conservative media outlets had embraced a similar theme in the run-up to Monday's revelations. Trump allies seized on reports over the last week that Clinton campaign officials helped fund the controversial Steele dossier in an apparent effort to delegitimize Mueller's probe. They also rehashed discredited allegations about her involvement in an Obama-era uranium deal that involved Russia. By Friday, Fox News commentators claimed a media cover-up on Clinton's behalf, while The Wall Street Journal editorial board opined that Mueller should step down.
However, their efforts would soon be interrupted. Just over an hour after the Manafort indictment went public on Monday, the special counsel's office revealed that George Papadopoulos, a former foreign-policy adviser for the Trump campaign, had become a cooperating witness. As part of a plea deal, Papadopoulos admitted to lying to federal investigators about his interactions with Russian nationals and their associates during the campaign.
His indictment offered a trove of new details on the extent of internal Trump campaign discussions about overtures from Moscow's intermediaries. It described Papadopoulos's encounters after joining the campaign in early 2016 with "the Professor," an unnamed figure in London who proffered high-level connections within the Russian government, as well as an unnamed Russian woman claiming to be Putin's niece. (A footnote in the indictment clarified that she isn't related to the Russian president.)
Papadopoulos admitted to prosecutors that he tried to use those connections to set up a meeting between Trump and Russian President Vladimir Putin. In April 2016, the Professor told him the Russian government had "dirt" on Hillary Clinton, including a cache of thousands of her emails. Those claims came after Russian hackers had penetrated the Democratic National Committee, but months before the cyber-attacks became public knowledge. Along the way, Papadopoulos reportedly received support and encouragement from unidentified Trump campaign officials.
"Manafort might be a bigger fish, but Papadopoulos is a bigger story," said Steve Vladeck, a University of Texas law professor. "To me, this is the kind of plea deal that puts the c-word—collusion—back on the table." He pointed to parts of the Papadopoulos indictment that indicated he knew about stolen Clinton campaign emails before Wikileaks began releasing them. Barrett said the indictment also sends a message to the unnamed campaign officials referenced within it. "This is a very strong signal of government interest, relevance, and consequences if they haven't been forthcoming," he said.
Papadopoulos's indictment doesn't directly prove collusion on its own, but it undermines the Trump White House's claims of ignorance on behalf of the president and his inner circle. "Russians pursued [Papadopoulos], and he pursued Russians, and the context was the Trump campaign," Barrett said. "It doesn't allege anything being accomplished by this channel, but it suggests serious Russian governmental interest in contact with the Trump campaign."
The one-two punch of the Manafort and Gates indictment, followed by the Papadopoulos plea deal just over an hour later, also suggested that Mueller was taking the hostile political climate into consideration. Before Monday, many observers thought Manafort was the likeliest subject of an expected indictment. But the Papadopoulos revelations came as a complete surprise and undermined conservative talking points.
"Not only does this suggest that Mueller is taking into account the optics and the politics of the moment, but that he's actually trying to take advantage of them to maximize the clout of the investigation and to control the narrative," Vladeck said.
Other filings released Monday revealed Papadopoulos was actively cooperating with Mueller's investigation as part of his plea deal. "One assumes that the plea deal was in exchange for something" on Papadopoulos's part, Vladeck said. "And the 'something' is clearly not related to the Manafort indictment. So the real question is, what exactly did Papadopoulos give up?"
Papadopoulos's plea agreement was initially sealed. According to a motion filed in July, were its particulars publicly known at the time, they would have hampered his ability to work on behalf of investigators as a "proactive cooperator." According to Barrett, that phrase could refer to Papadopoulos "having law enforcement-monitored meetings," including wearing a wire or arranging "calls or emails with other subjects of the investigation who are unaware that he is cooperating with the government."
Reading between the lines, legal experts said Monday's indictments also made sense as pieces of a larger investigative puzzle. A common prosecutorial tactic in high-level white-collar and organized-crime investigations is to seek convictions for lesser crimes on the outer fringes of their main focus. The threat of long prison sentences allows investigators to extract plea deals from potential witnesses, which can then be used to bring charges against more significant targets.
The Manafort-Gates indictment "doesn't directly involve allegations of collusion with Russians in the 2016 presidential election," Ben-Veniste observed. "However, it may act as a vehicle to exert significant pressure on them to provide information in connection with other possible violations of law involving other persons."
"[Mueller]'s setting up the scene," said Ali Soufan, a former FBI agent who now runs a security firm called the Soufan Group. He noted that the special counsel could file additional charges in the future. "This indictment is a living document," Soufan explained. "It's going to continue to change based on the evidence and on the investigative strategy of the special counsel."
Most importantly, the filings and indictments signified that Mueller's wide-ranging investigation is nowhere near over. The surprise revelation of Papadopoulos's plea deal raises questions about what other evidence or witnesses Mueller might secretly have at his disposal that aren't publicly known. Papadopoulos's statement also includes a tantalizing clause that it "does not include all of the facts known to me regarding this offense"—a sign that other shoes could potentially drop in the future.
"I've thought all along that the real question after the Manafort indictment [would be] whether this was the beginning of the story or the end," Vladeck said. "The Papadopoulos news sure makes it seem like it's the beginning."