Rich City, Poor City
An increasing number of American mayors are trying to channel recent economic growth to neglected neighborhoods.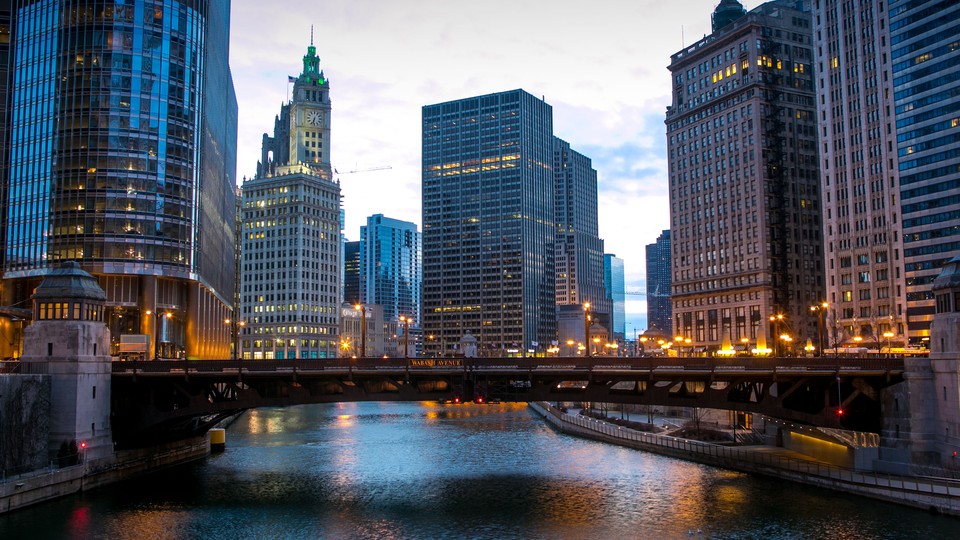 With most big cities's economies continuing to grow, the most pressing issue they face is how to connect their low-income communities to the opportunities that growth creates. New efforts developing in Charlotte, North Carolina, and Chicago show the many creative alternatives cities are exploring to respond to that challenge—and the obstacles they face.
From 2010 through 2015, all of the 100 largest metropolitan areas added jobs, and 98 of them increased their total economic output, according to calculations by the Brookings Institution's Metropolitan Policy Program.
But in most cities, that revival has largely bypassed communities of concentrated poverty, like large swathes of Chicago's predominantly African-American South Side or mostly Hispanic East Charlotte. Across the country, many cities have fueled their growth by importing streams of young college graduates from elsewhere, while struggling to place their own low-income kids on a track to obtain the education necessary to compete for those same jobs. Compounding the problem, longtime residents and commercial establishments in moderate- and low-income neighborhoods can find themselves pushed out by rising rents as developers pursue young white-collar workers flocking to urban environments.
These frustrations echoed through a panel I moderated this week in Charlotte at an Atlantic conference on race and criminal justice. Since 2010, according to Brookings, the area has ranked in the top 20 among large metros for growth in terms of jobs and overall economic output. But activists in Charlotte's African-American and Hispanic neighborhoods uniformly said that dynamism had failed to reach their communities. "It's growing so much, but it's leaving a lot of people behind," said Oliver Merino, an organizer at the Charlotte Center for Legal Advocacy who works mostly with Hispanic families.
More mayors are confronting these complex issues head-on. They are looking for ways to channel more of their growth into neglected neighborhoods, or trying to leverage the tax resources the growth provides, or both. "The common thread is mayors and other local leaders see outsized growth coming into their communities … and want to make sure it is equitably distributed," said Brooks Rainwater, the director of the National League of Cities's Center for City Solutions.
Charlotte has examined these problems more systematically than most. After a study led by Stanford University economist Raj Chetty ranked it last among the 50 largest metropolitan areas in promoting upward mobility for low-income kids, local leaders convened a task force on opportunity that produced an extensive report this spring. That effort urged the city to focus mostly on three areas: expanding access to early-childhood education, building a better bridge between high school and post-secondary education, and strengthening families.
In late September, a follow-up report from the Mecklenburg Board of County Commissioners presented a detailed plan for advancing the most important of those recommendations, the one on early-childhood education. Today, the county study noted, less than one-third of the roughly 12,000 children who enter kindergarten each year attend publicly funded preschool for four-year-olds. The study laid out a plan to cover all of them—at no cost to families earning twice the poverty level or less, and with sliding-scale tuition fees for those from more affluent families. Simultaneously, it said, Charlotte should invest in upgrading the quality of its preschool teachers.
The report proposed raising either sales or property taxes to help fund an annual cost for preschool that would reach about $75 million when fully phased in. Endorsing those taxes would mark a tangible first step toward Charlotte's leaders demonstrating they are committed to tapping the community's growing prosperity to expand opportunity for all their residents.
In Chicago—a less genteel place where these issues of growth versus need provoke even more friction—Mayor Rahm Emanuel has already undertaken most of the initiatives the Charlotte opportunity task force proposed. (He's funded a big expansion of pre-K, as well as a community-college scholarship for high-school graduates who maintain good grades.)
In the city budget Emanuel released on Wednesday, he charted a new way for cities to provide opportunity for the many by tapping resources that now mostly benefit a few. Emanuel proposed a first-in-the-nation fee on ride-sharing services like Uber to fund mass transit. The city estimates the fee (eventually up to 20 cents per ride) would provide $20 million annually to help fund the Chicago Transit Authority's massive ongoing upgrade of bus and subway services.
That tactic creatively responds to the risk that ride sharing will affect mass-transit systems exactly as Federal Express affected the U.S. Postal Service: by siphoning away more affluent consumers, while leaving the public service with diminished resources to serve those who can't afford alternatives. While ride sharing has usefully expanded people's choices for getting around, to ensure that transportation remains affordable and accessible for all residents, "I have to keep mass transit competitive," Emanuel told me.
All of these initiatives would be easier for cities if their respective states or leaders in Washington were helping them. But while Republicans with few ties to urban America are controlling Congress and most state houses, that help isn't likely.
Even so, Emanuel's unexpectedly difficult reelection in 2015, and Charlotte Mayor Jennifer Roberts's defeat last month in a Democratic primary, shows that mayors can't be complacent about waiting for growth to trickle down into all of their neighborhoods. They will need to keep advancing the kind of ideas Charlotte and Chicago are now considering—and likely go beyond them to confront even more difficult dynamics of racial segregation and bias in housing, education, and policing. Cities face a future of inexorably rising tensions if the renewed flow of opportunity now coursing through them only widens the moat between their places of prosperity and need.