Republican Senators Want No Part of Trump-Corker Feud
Senator Bob Corker drew little support from his party a day after unloading on the president. But neither did the commander-in-chief.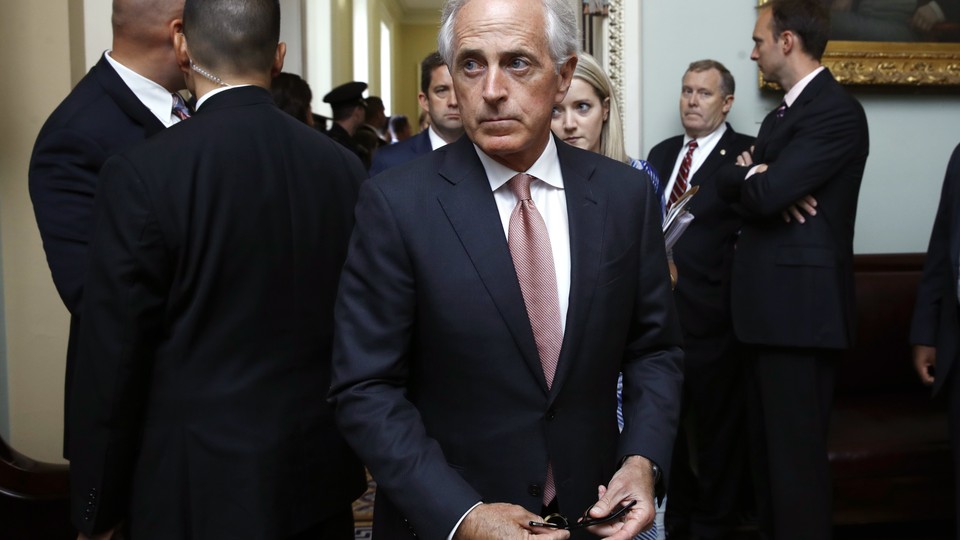 Updated on October 10 at 4:30 p.m. ET
If Senator Bob Corker was hoping his blunt criticism of President Trump would inspire his fellow Republicans to join him in publicly confronting the leader of their party, he would be disappointed. And if the president was hoping that a chorus of GOP legislators would rise to his defense, he, too, should be dismayed.
With their shrugs and with their silence, Republican senators responded to the Trump-Corker feud with a resounding plea: Keep us out of it. Few elected Republicans chose to take sides between the president and the powerful chairman of the Foreign Relations Committee who on Sunday likened Trump's White House to "an adult day care" and warned that his reckless stewardship was leading the U.S. "on the path to World War III." By and large, they used the Columbus Day holiday and the start of a weeklong Senate recess to avoid the latest and perhaps most flagrant example of Trump's deteriorating relationship with the Republican establishment.
On Monday and Tuesday, I contacted the offices of every Republican senator asking whether the 51 other lawmakers associated themselves with Corker's criticism of the president, which the Tennessean said reflected the views of "a vast majority" of his colleagues. Just six responded, and only one, Senator John Barrasso of Wyoming, chose to weigh in on the substance of Corker's charge—that Trump's "volatility" as president was undermining U.S. foreign policy and even endangering international peace.
"He does not agree with Senator Corker," Barrasso spokeswoman Bronwyn Lance Chester said in a written statement. "Senator Barrasso has worked closely with President Trump and will continue to be a strong ally in Congress." Barrasso, a member of the Republican leadership, could face a primary challenge next year from a candidate backed by Trump's former chief strategist, Steve Bannon.
Aside from Wyoming, every other Republican senator refused to take sides.
"Senator Corker and the president obviously have differences they need to resolve, but Senator Risch has no intention of getting involved in this matter," said Kaylin Minton, a spokeswoman for Jim Risch of Idaho. Risch is the second-ranking Republican on the Foreign Relations Committee and is all but certain to succeed Corker as its chairman if the GOP retains control of the Senate in 2019. Corker chose to retire rather than run for a third term next year, a decision that's at the heart of his feud with Trump. A former Trump rival, Senator Ted Cruz, similarly sidestepped the fray at an appearance Tuesday in Texas. "I am not going to get into the personality battles of Washington," he said, according to a quote passed along by his spokesman.
Senators Rob Portman of Ohio and Lamar Alexander of Tennessee each offered statements of praise for Corker without mentioning Trump. "Bob Corker has been a leader in Congress on issues as diverse as deficit reduction and combatting terrorism, and he is a man of unwavering integrity," Portman said. "If we're going to accomplish our economic and national security agenda, we're going to have to work together, period."
Alexander, who is Tennessee's senior senator, said:  "I work with Bob Corker nearly every day. He is a terrific United States senator, and I'm disappointed he's decided not to seek reelection."
That was the tack adopted by Senate Majority Leader Mitch McConnell, another favorite GOP target of Trump's ire. At an appearance in Kentucky, McConnell called Corker "a valuable member of the Senate Republican caucus," the Associated Press reported. He also alluded to a potential pitfall of Trump's decision to go after Corker—the Tennessean's seat on the Budget Committee. That panel just approved a budget resolution necessary to accomplish the party's goal of tax reform, and Corker's support for both the budget and the eventual tax legislation will be crucial to the GOP's chances of success in the closely-divided Senate.
The Republican senators keeping quiet included those who have most frequently criticized the president: John McCain and Jeff Flake of Arizona, and Ben Sasse of Nebraska. If Senator Lindsey Graham of South Carolina had an opinion on Trump's fight with Corker, he delivered it to the president himself: The two played golf on Monday, and Graham told MSNBC that he urged Trump to back off the feud. "I don't think it helps any of us to continue this," he said.
Just about the only Republican to defend Trump on the merits was Vice President Mike Pence, who issued a statement saying the president had achieved "real results on the international stage … while critics engage in empty rhetoric and baseless attacks."
Corker has been critical of Trump before, telling reporters in August that the president had not yet demonstrated "the stability or some of the competence" required for the job. Then last week he asserted that Secretary of State Rex Tillerson, Defense Secretary James Mattis, and Chief of Staff John Kelly should stay in their posts because they were all that stood in the way of "chaos" in the White House.
It was that comment that apparently set Trump off. The president lit into Corker in a series of tweets over the weekend, saying he did not "have the guts" to run for reelection and asserting that he had "begged" for his endorsement before abandoning his campaign. Corker replied first in a tart tweet that has been retweeted nearly 140,000 times, and then more expansively in an interview with The New York Times. Adopting a common public refrain of Democrats and a private complaint of Republicans, Corker charged that Trump was treating the presidency like his old reality show, "The Apprentice." "He concerns me," Corker told the Times. "He would have to concern anyone who cares about our nation."
The reticence of Republican senators to take sides was notable, but not surprising. Party lawmakers are keenly aware that while they may be rankled by Trump's pugnacious tweeting and his relish of a fight, the GOP base remains loyal to the president. For the most part, they just want the bickering to stop.
"Cool it," Senator Chuck Grassley of Iowa told both men at an event on Monday, according to the AP. "And I think it would help if the president would be the first to cool it."
If any statement could unite the increasingly tenuous coalition of Republicans in the Senate, it might be that.