Former Trump Campaign Chair Paul Manafort Faces 12 Federal Charges
An indictment against him for conspiracy against the United States, conspiracy to launder money, false statements, and other charges is the first to emerge from Special Counsel Robert Mueller's investigation into Russian interference in the 2016 election.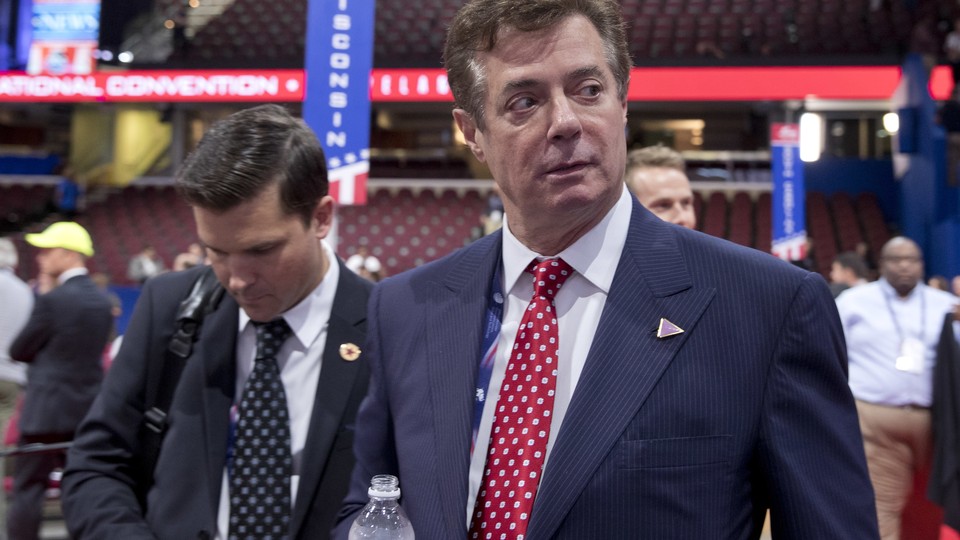 Updated at 4:39 p.m. ET
Paul Manafort, the veteran GOP operative who once chaired Donald Trump's presidential campaign, has been indicted by a federal grand jury for a variety of financial and lobbying crimes. The charges, lodged against Manafort and his business partner Rick Gates, arose from Special Counsel Robert Mueller's investigation.
The indictment, which was unsealed on Monday, contains 12 counts, including conspiracy against the United States, conspiracy to launder money, unregistered agent of a foreign principal, false and misleading statements under the Foreign Agent Registration Act, false statements, and seven counts of failure to file reports of foreign bank and financial accounts.
Both men pleaded not guilty Monday in federal court in Washington, D.C. The indictments represent the first cases to emerge from Mueller's apparently wide-ranging investigation into Russian interference in the 2016 election, including whether the Trump campaign colluded with Russians to influence the outcome. Reports on Friday indicated that the first charges were expected on Monday.
In addition, the special counsel's office announced a plea agreement with George Papadopoulos, a foreign-policy adviser to the Trump campaign, in which he acknowledged making false statements to the FBI about his contacts with Russians.
The indictment alleges an elaborate scheme, perpetrated by Manafort and Gates, to hide foreign income from the federal government and to move it into the U.S. without paying taxes. Prosecutors allege that the two men laundered $75 million through offshore accounts, using noted financial havens such as Cyprus, the Grenadines, and the Seychelles. They then slowly moved that money into the U.S., transferring it in round amounts. Manafort, the indictment alleges, used the cash to buy real estate, then obtained loans using the real estate as collateral—effectively laundering the money by concealing its origin.
"Manafort used his hidden overseas wealth to enjoy a lavish lifestyle in the United States, without paying taxes on that income," prosecutors wrote.
Even setting aside the money questions, however, prosecutors claim that Manafort and Gates worked to avoid disclosing their work for foreign governments, as is required by law. The indictment alleges that they concealed that work by hiring two firms to lobby on behalf of Ukraine's government, masking their own role. They claimed only that they had connected the government and the firms, and said they'd played no direct role in lobbying. Further, the indictment says that in November 2016 and February 2017, Manafort and Gates submitted false and misleading statements to the Justice Department in letters.
In a statement, Manafort attorney Kevin Downing said the indictment reinforced that there's no evidence of collusion between the Trump campaign and Russia.
"Today you see an indictment brought by the Office of Special Counsel that is using a very novel theory to prosecute Mr. Manafort regarding a FARA filing. The United States government has only used that offense six times since 1966 and only resulted in one conviction," Downing said. "The second thing about this indictment that I, myself, find most ridiculous is a claim that maintaining offshore accounts to bring all your funds into the United States, as a scheme to conceal from the United States government, is ridiculous."
There have been many signs that Manafort, 68, was a target of the Mueller investigation, including a no-knock, early-morning raid on an apartment that he owns in Alexandria, Virginia, in July. The indictment largely confirms press reports about alleged money laundering. It's unclear whether Mueller might bring more charges against Manafort or Gates. Among the other possible areas of interest are millions that Manafort apparently received from the political party of the deposed Ukrainian president Viktor Yanukovych, a client of Vladimir Putin for whom Manafort worked, and an agreement with Oleg Deripaska, another Putin ally with whom Manafort signed an eight-figure lobbying contract. In June, Manafort retroactively filed disclosures under the Foreign Agents Registration Act for work between 2012 and 2014.
Gates, who is 45, is a junior partner and Manafort's protégé. Like Manafort, he joined the Trump campaign. He remained after Manafort left, but was forced out of a pro-Trump outside group in April amid the Russia probe.
Political Repercussions
The first charges in Mueller's case come at a delicate time, and the way Washington reacts to them could set the stage for the next weeks, months, or even years in American politics.
Although the political world has been focused on questions of whether there were links between the Trump campaign and Russia, the charges unsealed on Monday do not get to that matter, nor do they involve President Trump himself, except through his hiring of Manafort.
In recent days, an increasing number of Republican officeholders and conservative pundits have suggested that Mueller's investigation should be disbanded. A campaign among conservative journalists has sought to recirculate an old story about a uranium deal as new information, framing it as more pressing than potential Russian collusion with the Trump team.
"The president tweeted last night that Republicans, all in caps, needed to 'DO SOMETHING,'" Representative Adam Schiff, the ranking Democrat on the House Intelligence Committee, told me Monday. "Hard to escape that was a reaction to the indictments. What is he asking Republicans to do? It certainly looks like he's asking them to focus on his vanquished opponent."
Although it sometimes feels as though the Russia probe has been years in the making, Mueller was only appointed to his post in May, shortly after Trump fired FBI Director James Comey. In comparison with other, similar investigations, like the Clinton-era Whitewater case, the first charges here come unusually soon. While Mueller, a respected former FBI director himself, has tended to shun politics, and his team has been unusually leak-resistant, bringing charges now could serve the purpose of justifying his investigation by showing results.
The president's reaction to the charges is another X factor. At times in the past, Trump and his allies have issued threats to the Mueller team through the press, attempting to restrict the scope of the investigation by suggesting that Trump might fire Mueller. Sunday morning, Trump tweeted, "All of this 'Russia' talk right when the Republicans are making their big push for historic Tax Cuts & Reform. Is this coincidental? NOT!"
Although Trump has been less eager to defend Manafort than some other former aides swept up in the investigation—former Press Secretary Sean Spicer once claimed that Manafort "played a very limited role" on the campaign—the president could still attempt to force Mueller out. That would threaten a reprise of the 1973 Saturday Night Massacre, in which President Richard Nixon, seeking to fire the Watergate special prosecutor, saw his attorney general and deputy attorney general resign. Solicitor General Robert Bork did fire the prosecutor, but the incident ultimately hastened the end of Nixon's presidency.
Manafort's Background
Although news of the pending indictment inspired fevered political oddsmaking over the weekend, Manafort should perhaps always have been the favorite for the first indictment. Although Mueller only assumed his role in May, he took over a preexisting investigation of Manafort. Reports in September indicated that Manafort had been under FBI surveillance in his apartment at Trump Tower for at least two stretches, once starting in 2014 and ending before Manafort joined the Trump campaign, and again starting sometime in 2016. In an unusual move this summer, Manafort spokesman Jason Maloni was compelled to testify before a grand jury. The Times reported in September that Mueller had been told he would be indicted.
Manafort, a veteran Republican operative, joined the Trump campaign in March 2016. He was hired for his expertise in counting delegates at conventions, which stemmed from his work successfully defending President Gerald Ford against a challenge from Ronald Reagan at the 1976 Republican National Convention. Manafort was also a former business partner of Roger Stone, the flamboyant on-again, off-again Trump adviser who is also said to be under scrutiny in the current probe.
Shortly after Manafort joined the team, Trump locked up enough delegates to effectively clinch the nomination. But on a troubled campaign filled with inexperienced and often ineffective workers, Manafort soon rose through the ranks, becoming the campaign chair in May. The previous campaign manager, Corey Lewandowski, was soon pushed out amid campaign struggles and a controversy over his grabbing and manhandling a journalist at a Florida campaign event.
In June 2016, Manafort was present at a meeting at Trump Tower with Donald Trump Jr., Jared Kushner, and several Russians, in which, according to emails, the Trump team expected to receive damaging information about the Hillary Clinton campaign. Trump Jr. was also told in emails that the Kremlin backed his father's campaign.
Although Manafort had made a name on that 1976 campaign, he spent much of the intervening time working abroad, including for some unsavory clients, such as Ferdinand Marcos and Mobutu Sese Seko. Curiously, despite his hired-gun approach to political work, Manafort agreed to work for the Trump campaign for free.
More recently, Manafort had worked for Yanukovych, a notoriously corrupt Kremlin ally who fled the country amid a popular revolt in 2014. Among other accusations, Yanukovych is alleged to have embezzled money from the state. In August 2016, The New York Times reported on handwritten ledgers that appeared to record nearly $13 million in off-the-books payments from Yanukovych's political party to Manafort.
Manafort also had done a variety of forms of business with Deripaska, many involving a series of offshore shell companies. In one case, Deripaska and Manafort were involved in an $18 million deal to buy Ukrainian cable-TV assets. In the mid-2000s, Manafort had signed a $10 million per year deal with Deripaska, which documents obtained by the Associated Press indicated was to boost Putin's profile overseas, though Manafort says the deal was simply a personal one with Deripaska. The two men apparently later had a falling out over a failed deal, with Deripaska filing a suit against Manafort in a Cayman Islands court.
Recently, my colleagues Julia Ioffe and Frank Foer have reported on emails between Manafort and a Deripaska aide in which Manafort appears to be trying to use his position on the Trump campaign as leverage in his relationship with Deripaska, asking, "How do we use to get whole"? Manafort appears to have been in debt to Deripaska over the failed deals. (In October, Maloni asserted to NBC News that Manafort was not in debt to any former clients, then revised his statement to remove that claim.)
Looking for Clues to the Mueller Strategy
Deputy Attorney General Rod Rosenstein appointed Mueller in May, one result of Trump's abrupt firing of Comey. Initially, the White House pinned the dismissal on Comey's handling of an investigation into Hillary Clinton's use of a private email address and server, but Trump himself soon said he had fired Comey over the Russia probe, of which he disapproved. Trump has also pressured Comey to publicly clear him, which Comey declined to do.
In the aftermath of the firing, with accusations of obstruction of justice being lobbed at Trump, and Attorney General Jeff Sessions already recused from any Russia matters, having failed to disclose meetings with Russians to the Senate during his confirmation process, Rosenstein took the unusual step of appointing a special prosecutor to handle the case, a tool that's used when the standard Justice Department faces too many conflicts to be seen as fairly handling a matter.
Mueller's appointment has been a source of friction between Trump and his Justice Department. The president has claimed ignorance of Rosenstein, whom he nominated for deputy attorney general, and claimed falsely that he was a Democrat. Trump also spent weeks this summer lambasting Sessions publicly and privately, upset that Sessions had recused himself and thus made the Russia probe a greater danger, and made it harder to fire Mueller.
Mueller's investigation has been, by the standards of today's leak-happy Washington, unusually opaque and careful with information. Much of what the press and the public have learned so far has appeared to come from other sources—Congress, other organizations with which Mueller is partnering, or defense teams.
In that low-information situation, the indictment of Manafort and Gates will be carefully scrutinized for clues to Mueller's strategy. Of particular interest is the fact that Trump appears nowhere in the indictment, nor are there allegations of election interference. Outside observers have long speculated that Mueller might attempt to "flip" Manafort, convincing him to testify against Trump in exchange for leniency. While the no-knock raid suggested distrust between Manafort and the special counsel's team, the focus on Manafort's personal crimes leads some analysts to believe that Mueller might still hope to flip him. One of the higher-profile members of Mueller's team, Andrew Weissmann, is an expert in witness-flipping. The focus on fara, meanwhile, could expand the Mueller probe into going after Democrats, too. Tony Podesta, brother of the Clinton campaign chair, John, and his firm, the Podesta Group, are also said to be under investigation for working with Manafort on matters related to the Ukraine.
This speculation is, however, just that. The public still knows very little about the Mueller investigation or when new indictments might emerge. But the Manafort–Gates indictment and the Papadopoulos plea mark two important milestones. First, they place the investigation close to Donald Trump, with a top aide with whom the president was reportedly still speaking as late as January. Second, they show that Mueller is willing to work incrementally, going after individuals as he has the evidence to charge them, rather than working toward a single, blockbuster conclusion.