Puerto Rico's Dire Health-Care Crisis
Over a month after Hurricane Maria, citizens are still facing limited access to medical help and the increasing threat of illness.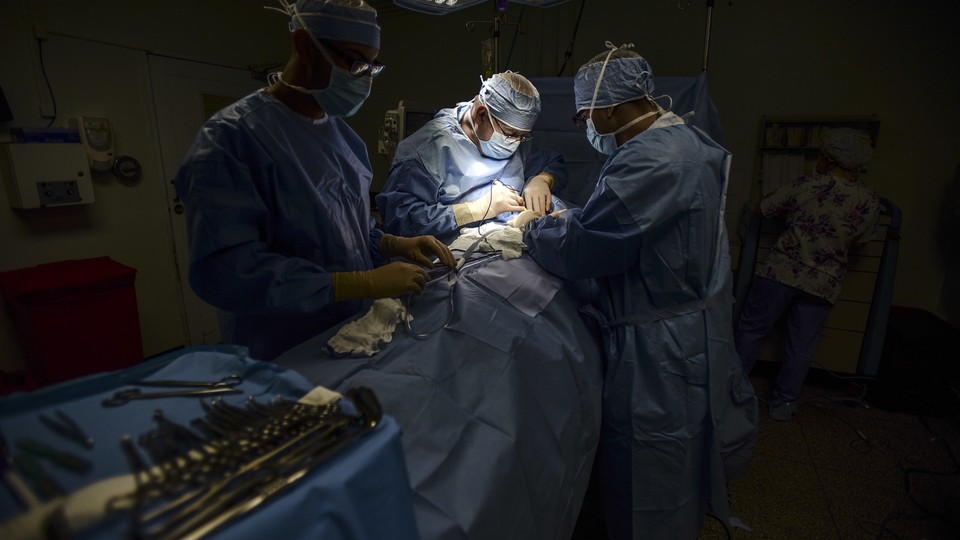 It's been over a month since the last of Maria's Category 4 hurricane-strength winds swept over Puerto Rico, but there is still damage yet to come.
The darkness is persistent. Power and clean water are still tenuous and reliant on generators and outside aid. Contamination threatens basic necessities for dozens of municipalities, and the death toll—already likely a serious undercount—is only rising as diseases and the attrition from devastated infrastructure take their toll. Even with the aid of the federal government and the military, a health-care system facing multiple threats might not be able to protect some of the island's most vulnerable citizens.
Many of those people are facing hard choices in Puerto Rico's hospitals, which are at the front lines of disaster-relief efforts. While most hospitals have recovered from the storm's early blows—which knocked most of them out of commission and left a few others dependant on generators—they have had to make do with shortages of power, water, and supplies; personnel crunches; and intensifying health-care needs from accidents and emergent diseases. Last week, a photograph posted by former Governor Alejandro García Padilla on Twitter showed doctors performing surgery by flashlight. From what physicians on the island tell me, such scenarios are common, as is physicians working double and triple shifts—circumstances made even more remarkable by the fact that the doctors themselves are victims of the storm.
Carolina Pichardo, a pediatrician working shifts at both the neonatal intensive-care unit at the University Pediatric Hospital in San Juan and at the pediatric emergency room at the HIMA San Pablo Hospital in nearby Caguas, is one of those doctors. Pichardo lives in a complex in San Juan where power is still tenuous, and she's had to balance a survival routine with the extraordinary demands of her job.
During the night, when the generators run, she and her husband take cold showers; cook their canned food rations on a charcoal grill for dinner; and try to, by turns, avoid the heat and mosquitoes—keeping their door open to let in the breeze as they put their four-year-old daughter to bed, and closing it to hold off the insects. In the mornings, Pichardo sometimes braves standstill traffic in the capital's newly congested transportation grid; sometimes it takes up to two hours just to get to Caguas, which is only 20 miles away.
At both hospitals, Pichardo has faced new challenges. At first, doctors and nurses dealt with a total collapse of power, which Pichardo said was the "scariest change" immediately after the storm. Hospitals couldn't communicate with other hospitals; specialists often couldn't be reached if they were needed; and patients were transferred to trauma centers or other facilities without any knowledge of whether those institutions could handle more patients.
While lines of communication have at least partially been restored, Pichardo said that problems still abound. "At this point, everything has become challenging," she told me by email. "Many primary-care physicians are unable to provide services at their practice locations, so more and more people are using the emergency rooms for everyday medical problems. This places a larger burden on the emergency rooms and increases wait time among patients. Children have fallen behind on their immunization schedules, because either their pediatricians are not currently practicing or they have lost their refrigerated vaccines due to power outage."
The collapse of primary-care structures on the island was a common theme of my conversations with medical professionals there. Primary care was already a bottleneck point for the Puerto Rican health-care system before this season's hurricanes—with a mass exodus of doctors to the mainland and an increasing concentration of children, pregnant women, and elderly people back on the island. But now, with many doctor's offices and smaller facilities closed, people with chronic health needs often have to go without care or seek it in emergency rooms, which can mean sitting in triage for hours. The shortage exacerbates the burden of both chronic and acute conditions as patients compete for space and resources.
Carmen Zorrilla, a professor of obstetrics and gynecology at the University of Puerto Rico, and one of the island's expert voices on managing the health-care needs of women with HIV, echoed those concerns. "The whole health-care system for the past 35 days has switched from primary care, prevention, and provision of basic services to emergency and acute care," Zorrilla told me. Her clinic, one of the only facilities on the island dedicated to women and mothers with HIV, has seen its volume of patients drop and health problems intensify. The clinic serves high-risk pregnant women who have other potential childbirth complications in addition to HIV. They have to follow closely managed health plans in order to survive childbirth and avoid HIV transmission to their infants.
Maria has disrupted those plans. "During the week after the hurricane, I had one of my patients who had HIV, she had a planned C-section delivery," Zorrilla said, referring to the recommended delivery practice for preventing mother-to-child transmission. That patient was not able to make it to the hospital for the procedure after Maria, because roads from the interior of the island had been washed out. Instead, the woman was forced to deliver at home, and while the virus has not been detected in the infant, the delivery was essentially a gamble.
Some of Zorrilla's other patients, who hail from all over Puerto Rico, have also been forced to alter their birth plans, delivering children in hazardous conditions and in facilities that might not be familiar with HIV management. And even for mothers without HIV, labor and delivery are increasingly fraught scenarios without consistent power and water available on the island.
Other patients with chronic diseases are facing crises as well. The risks to elderly people from any disaster are well known, and according to experts, any disaster region can expect up to 10 percent of all nursing-home patients to die in the aftermath. Puerto Rico so far has been no different. Many elderly patients, as well as nursing-home residents of all ages, initially faced critical shortages of electricity for medical devices. Some had to be airlifted to hospitals for continuous care.
A Los Angeles Times story published earlier this month illustrated some of the challenges facing nursing homes after Maria—especially those in places that aren't particularly close to San Juan or to major federal-relief assets. While the official death toll on the island remains a subject of contention, that report noted that older Puerto Ricans are now dying much faster than normal:
About 100 people died in the three days after the storm in the Lajas region, twice the typical rate, according to a local funeral director. Eight elderly people have died in Lajas since the storm, at least one directly related to a shortage of medical supplies.
One common post-disaster failure is the scarcity of dialysis for people with diabetes, end-stage renal disease, and other kidney disorders. Dialysis requires regular visits from patients, fully staffed facilities, electricity, and a constant source of clean water, all of which have been lacking after Maria.
Mike Spigler, the vice president of the American Kidney Fund, a nonprofit organization that helps support dialysis patients and centers across the country, said that Puerto Rico has presented a one-of-a-kind challenge. "In all three [recent] instances of hurricanes, I will say that dialysis companies have done a good job at dealing with these problems," Spigler told me. "But especially in Puerto Rico, you see stories of staff working triple and quadruple shifts at a time just to keep the clinics open. So you see people making really heroic efforts." Even so, many centers have lost track of patients, and many patients have seen their conditions worsen.
Access to dialysis itself is only half the battle for some of them. "The No. 1 cause of kidney failure is diabetes, so about 41 percent of dialysis patients will have special diabetic diets," Spigler said. Special diets, daily water-intake requirements, and other pieces of regular health maintenance are all but impossible for those patients, especially those who now live in shelters and depend on shipments of whatever food and water rations are available.
The storm's threat to patients with chronic illness could alone constitute a public-health emergency. But they aren't the only ones at risk. State epidemiologists recently announced spiking rates of leptospirosis, a fever disease spread by water contaminated with animal waste. While leptospirosis is rare on the mainland, it is a relatively common disease in tropical regions like Puerto Rico. While the island usually only sees 60 cases a year, according to CNN, there have been over 70 confirmed cases so far this month, at least two of them fatal. The deaths are a clear sign of the disarray of the health-care system, as leptospirosis is usually mild and manageable with early detection and care.
Puerto Rico's other endemic calling card is the threat of mosquito-borne diseases, but so far the island has been spared. While the sheer destruction of the storm likely devastated existing mosquito populations, some experts and physicians fear that over the long term, standing water; lack of air conditioning; and increasing clustering of the population will create the conditions for outbreaks. "It's a matter of time to know whether there's going to be an epidemic of Zika, dengue, or chikungunya," Zorrilla told me.
It's unclear how effective federal intervention has been in averting or turning back these health issues. A spokeswoman for the United States Army North, the command currently in control of military relief operations in Puerto Rico, told me that "three military units are assisting the Puerto Rico Department of Health with mosquito-borne vector surveillance and control." She continued: "Other activities to support the mission assignment include assessing the privately owned water supply system in mountain areas, assessing medical laboratory capabilities, and testing purified water produced from [reverse osmosis water purification units]." Despite those efforts, reports of citizens in mountainous areas drinking contaminated water are still numerous, and visitors to the Combat Support Hospital in Humacao have also reported extraordinarily long waits.
The Navy's famed, state-of-the-art floating hospital, the USNS Comfort, has largely been a non-factor, with only 30 or so of its 250 beds filled as of last week, despite multiple hospital failures and hundreds of patients in need. Puerto Rico's governor, Ricardo Rosselló, blamed the lack of transfers on "the disconnect or the apparent disconnect" in communication between hospitals and the island's Department of Health. While that's reportedly been remedied, the number of patient transfers still hasn't increased; according to a CBS reporter, on Tuesday just 34 beds were occupied.
The health department has not responded to multiple requests for comment, nor has it provided press updates over the past week. But its coordination efforts will be just as necessary in the coming months as they've been since Maria. The entire health-care system has shifted to emergency-response mode without the capacity to manage all of those emergencies. And some of the most pressing concerns—like the potential return of mosquito-borne diseases and the predictable burden of post-disaster mental-health problems—are still largely theoretical.
It's too soon to say what the future holds, but the current picture in Puerto Rico is dire enough. Health is built through years of personal choice and ability to access care. It's often destroyed not in swift blows, but through attrition. Millions of Americans lacking basic services are facing that attrition now.