A New Pro-Trump Super PAC Takes Aim at the Republican Establishment
Leading figures from the right-wing alternative media are launching a political group to support candidates in contested primaries.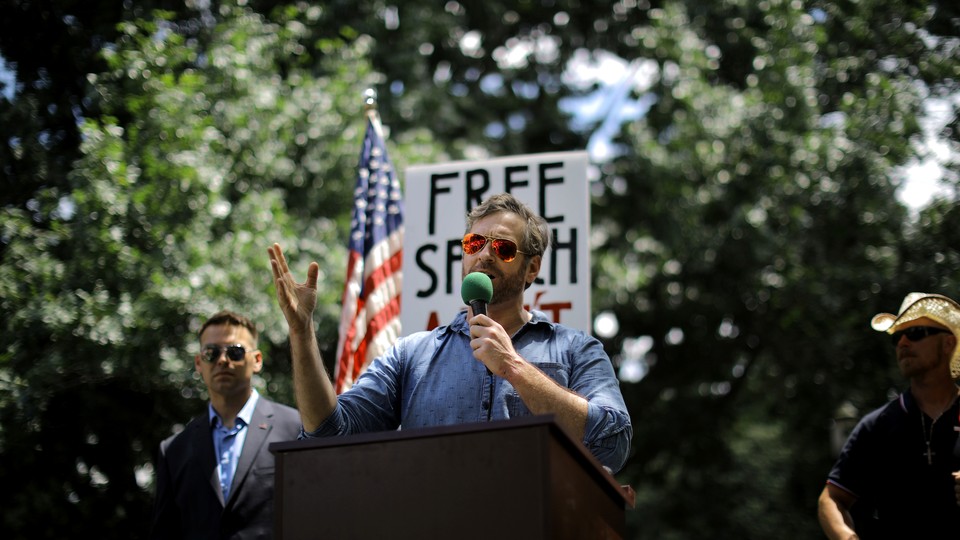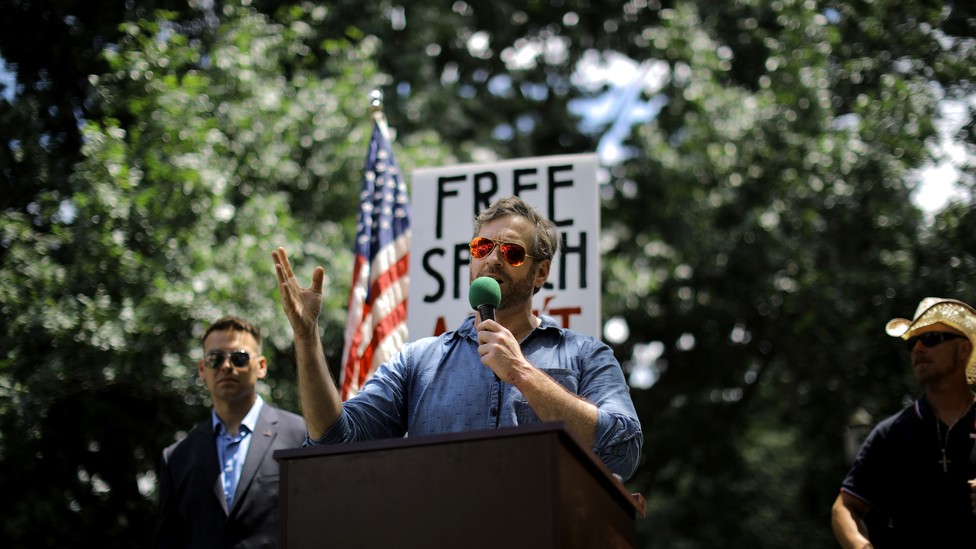 A group of pro-Trump media figures are launching a super PAC aimed at making an impact in the 2018 midterms.
Jeff Giesea, Mike Cernovich, and Jack Posobiec, organizers of the "Deploraball" party to celebrate President Trump's inauguration earlier this year, are behind the super PAC, which is being called #Rev18. All three are known quantities in the pro-Trump alternative media that emerged during the campaign and presidency, powered by Trump's rise; they have since distanced itself from more extreme alt-right figures, often favoring the term "new right." Cernovich has become known as an occasional breaker of news about the White House, while Posobiec rose to prominence after playing a key role in the #MacronLeaks story.
The trio plans to back anti-establishment primary challengers in the midterms.
"Our goal is to top-grade the GOP," Giesea said in a press release the group will release on Monday. "This means defeating entrenched establishment politicians and replacing them with candidates who support American sovereignty and prosperity, and who put the American citizen first." The group's first endorsement is of Josh Mandel, the Senate candidate in Ohio, who is one of three Republican primary candidates there.
The mission is of a piece with what other figures in the Trump base are trying to do this election cycle. Steve Bannon, the former White House chief strategist who has returned to the helm of Breitbart News, backed Roy Moore in the Alabama Senate primary; Moore's victory, as well as the retirement of Breitbart target Senator Bob Corker, has emboldened Bannon in his plans to back other insurgent primary challengers against establishment candidates.
Giesea filed the super PAC paperwork with the Federal Election Commission last month. "The board is me, Mike, and Jack for now," Giesea said in an email. "We have an expanded board of advisors who are helping and which we'll announce later."
Giesea, who at one point worked for Trump donor Peter Thiel at Thiel Capital Management, said the trio expects to attract big donors but has not done so yet.
"I'm the first donor with a 50k personal investment," he wrote. "We expect major donors come in soon but we want to prove the model and get the grassroots involved first. It's safe to say we are broadly aligned with Team Bannon."
Asked whether someone like Thiel might get involved, Giesea said "Not naming names but certainly Thiel and Mercers would be fits. We're hoping to broaden the base of contributors as well."
Bannon's efforts have a powerful donor family backing them: the Mercers, his political patrons, who have invested in Breitbart and who are some of the most important donors in Trumpworld. The New York Times reported last week that Bannon has secured the Mercers' backing for a "political coalition" similar to that of the Koch brothers, designed to support candidates running against the Republican establishment.
Bannon is already tied to a pro-Trump super PAC that was involved in the Alabama race, Great America Alliance. His former political advisor in the White House is now a senior advisor with Great America.
Giesea, Cernovich, and Posobiec's effort is notable as one of the first forays of the mostly atomized, online pro-Trump movement into standard electoral politics. The three, particularly Cernovich and Posobiec, have mostly been viewed as consigned to the margins of the political sphere.
It's also a sign of the Trump movement's growing independence from Trump himself. The Alabama result showed that Trumpism can survive and thrive even when Trump doesn't; Giesea, in the group's press release, emphasizes this, saying "#Rev18 is not a cult of personality. Our loyalty is to the America First agenda Trump ran on and the movement he galvanized more than to Trump himself."