Protecting Heroin Clinics From Prosecution
The next district attorney of Philadelphia plans to condone safe-injection sites, where people can use the drug under medical supervision.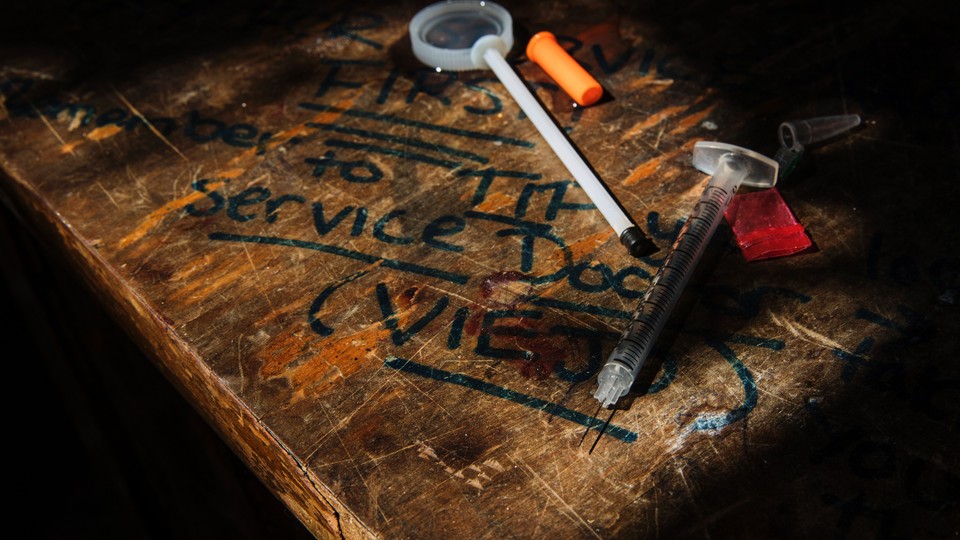 PHILADELPHIA—The rolling green lawn, jungle gym, and quaint public library inside McPherson Square in the city's Kensington neighborhood attracts both families from the neighborhood and people from across the country with opioid addictions. The small park, like the streets around it, has become a destination for so-called "drug tourists" in recent years, drawn by the plentiful supply of heroin sold here and the growing community of those addicted to it.
From her nearby stoop, 27-year-old Sherly Parede told me she regularly sees people injecting heroin in and around the park. "They usually do it in front of whoever," she explained, though she doesn't think her three small children have witnessed it. When they walk past someone nodding off, Parede said, "I just tell them they aren't feeling well."
Lately, stakeholders in Philadelphia have contemplated whether the city could shift this drug use out of sight and into safer environs by opening clinics where people can use heroin under the supervision of trained medical staff. Similar government-run facilities are found in Canada and Europe, and officials in Seattle, New York, and San Francisco—among others—are considering opening their own. But Philadelphia's presumptive next district attorney thinks his city could take a different route—becoming the first in the country to have privately run clinics protected by the prosecutors' office.
Philadelphia Mayor Jim Kenney began weighing the prospect of city-run clinics earlier this year; he plans to send a delegation to observe an existing site this fall, likely one in Vancouver. Larry Krasner, the Democratic nominee for DA who's expected to win his race in November, has proposed circumventing this exploratory process. After announcing his support for the clinics last month—a key victory for advocates—he told me he'd legally condone them in advance of any action from Kenney's government.
Essentially, Krasner hopes to create an environment where private organizations can open these facilities, known as safe-injection sites, without fear of being targeted by his office. Overall, he'd rather see a community-based nonprofit run them. "In my mind, this is not a government program," he told me, likening the sites to the needle exchanges that cropped up during the AIDS epidemic and were run by community groups. He represented one in the early 1990s.
"Individual activists and organizations come together to create a thing, and then it's up to the government to not attack it," Krasner continued. "A prosecutor who actually knows the criminal law would say I have the discretion to not prosecute this type of behavior."
Krasner could face backlash from other levels of government, as well as from residents wary of actively inviting drug use into their proverbial back yard. While Kenney's own task force on opioids recommended opening safe-injection sites, "there are serious legal, practical, and law-enforcement issues that have to be considered" beforehand, his spokeswoman told the Associated Press.
Philadelphia could be a strategic location to test the clinic model in the United States—the rates of overdose are remarkably high here, three times higher than in New York City. Advocates argue that safe-injection sites have inherent public-health benefits. Nurses and doctors are on hand to provide clean needles; monitor people; and administer naloxone, the overdose-prevention medication with the brand name Narcan. Absent these facilities, police, EMS, and other addicted people are charged with bringing overdose victims back from the brink.
Until it was cleared this summer, a notorious needle-filled encampment along Kensington's railroad tracks was "the closest thing [Philadelphia] had to a safe-injection site," Philadelphia Inquirer columnist Mike Newall reported. "Outreach workers supplied the users here with Narcan. They kept one another alive." Though 75 to 100 people congregated by the tracks on any given day, only 17 of the city's 907 fatal overdoses occurred there in 2016.
Beyond providing short-term medical intervention, Krasner said, a safe-injection site would reach people who wouldn't typically enter rehab on their own. "The biggest benefit is that you will end up with people getting treatment because they will establish a relationship of trust with medical professionals, and with well-trained people in the recovery movement," he said.
In Vancouver, where a safe-injection site has operated since 2003, such relationships have proven key to its success, said Ryan McNeil, a medical professor at the University of British Columbia who has conducted research at the site. "People who use drugs often don't seek out doctors," he said. The site has acted as a bridge to addiction services: People come to the clinic for injection supervision and get to know the staff there; in turn, the staff introduces them to treatment options.
In 14 years, 3.6 million people have gone to the Vancouver clinic. Staff members have intervened in about 6,500 overdoses and provided treatment services to nearly 50,000 people. A series of evaluations published in 2009 found that the program cut down on public injections and mitigated behavior that can spread HIV, such as needle sharing.
Still, these sites aren't panaceas. In 2016, a record 914 people fatally overdosed in British Columbia, 25 percent of them in Vancouver itself. In Philadelphia, there's concern that sanctioned drug use would come with considerable liabilities. "Say somebody goes to a safe-injection site, gets in a car, is driving home on I-95, and overdoses and kills a family of six," said Patrick J. Trainor, a Drug Enforcement Agency special agent who attended opioid task-force meetings. "You can't discuss safe-injection sites and not include that conversation." Another concern is whether a clinic could curb the epidemic in the long term. Kensington resident Noble Bey told me he sees no problem with opening one, but doubts it would bring noticeable change. "The dealers will still be out there, dealing in front of my house," he said. "I see it like a finger in the dike."
There is at least one community organization interested in Krasner's plan. Jose Benitez, the executive director of a drug harm-reduction nonprofit in Kensington, said his group would be willing to launch a site, and he suspects several others would be, too. "I think there's definite interest in the community," said Benitez, whose organization is called Prevention Point. But he'd want to hear from other elected officials before making any moves; his chief concern is that the site and its clients would be vulnerable regardless of Krasner's position. "You still have a state and federal government to deal with," he noted.
Benitez's instincts are correct: Krasner could not prevent state and federal prosecutors from targeting the sites. Pennsylvania Attorney General Josh Shapiro has not commented publicly on the idea, though he's advocated in the past for treating addiction as a medical issue. "We will continue to monitor information on the proposal," said his spokesman, Joe Grace.
At the federal level, it's almost impossible to imagine Attorney General Jeff Sessions supporting drug use in any setting, given his mission to amp up the prosecution of drug crimes. However, the Justice Department has so far stayed mum in the debate over safe-injection sites, which has been going on in cities across the country for several years. "It will be very interesting to see whether they want to take their limited resources and go after idealistic doctors and activists and people who are saving lives in the name of federal drug laws," Krasner said. (The Justice Department did not respond to a request for comment, and the Philadelphia Police Department declined to comment.)
In Seattle, city officials are banking on the Justice Department not intervening with its proposed clinics, which would be run by the local government. Asked about the prospect of federal intervention, Seattle and King County Public Health Department spokesman James Apa said that "we're responding to a health emergency under the authority of our local health officer." Seattle's government has been working toward a site far longer than Philadelphia's has, but several issues have slowed it down—like finding a community willing to host and a new ballot initiative that will allow residents to veto the plan. They'll vote on it in February.
Philadelphia At-Large Councilman David Oh, a member of Kenney's task force, worries about where a clinic could go in his own city, and if it would have a negative impact on the surrounding community. "While it may be beneficial to some people, it also is difficult to find a place where you could put it," he said. Oh is waiting until the city delegation returns with more information before deciding whether to support a site.
Back in Kensington, Judy Moore, the local library's manager, told me she would welcome a place in the neighborhood where people could inject themselves out of sight. "It gets it off the streets so all my little kiddies here don't have to see it, plus there won't be needles thrown around," she said. Moore was sitting at her desk in the children's section as a few kids read quietly at small tables nearby. "The obvious advantage is that if they overdose there is somebody right there," she said. For a time, the library's bathroom was a popular injection site; four people overdosed there in the past two years, though none fatally. Now all staff members are trained to administer Narcan, and they hired a bathroom monitor who keeps tabs on visitors.
Down the street, Manny Marte stood outside the unmarked door of a sober living home. Inside, his 20 housemates had started gathering in the living room for dinner. The 53-year-old kicked his decade-long heroin habit three years ago, and considers himself lucky to be alive. Many of his friends weren't so fortunate. He told me the deaths of two close friends haunt him because he was by their side when they overdosed. "If there was a safe place we could have gone, yeah, maybe they would have made it," he said.