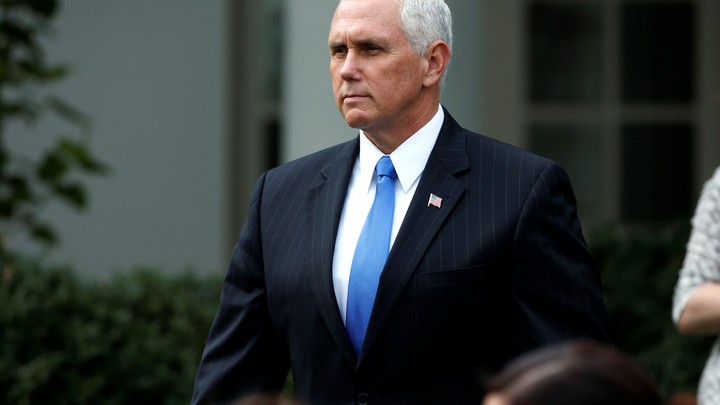 Vice President Mike Pence has recently been on a circuit of conservative Christian conferences discussing religious persecution in the Middle East. He addressed Christians United for Israel in July, spoke at Franklin Graham's conference on international religious freedom in May, and regularly incorporates the issue into his public statements.
On Wednesday, he continued this tour with a speech at the In Defense of Christians conference, where he announced that he will be visiting persecuted minorities in the Middle East in December. He also said the Trump administration will redirect aid money formerly granted to the United Nations to the U.S. Agency for International Development, or USAID, satisfying a long-standing conservative policy priority. As the Trump administration moves to slash the State Department's aid budget, this announcement suggests it will continue to prioritize religious issues in its foreign-policy agenda—at least rhetorically.
In his comments on Wednesday, Pence made it clear that the Trump administration is specifically focused on protecting Christians as part of its national-security agenda. "Christianity is under unprecedented assault in those ancient lands where it first grew," the vice president said. "Across the wider Middle East, we can now see a future in many areas without a Christian faith. But tonight, I came to tell you: Help is on the way." He specifically called out the "radical Islamic terrorists" who have perpetrated "vile acts of persecution animated by hatred for Christians and the Gospel of Christ." He promised to "[take] the fight to terrorists on our terms, on their soil," and that "we will not rest, we will not relent, until we hunt down and destroy ISIS at its source, so it can no longer threaten our people or anyone who calls the Middle East home."
All of this is familiar territory for the Trump administration. Since the president took office, he has been promising to eradicate terrorism and eliminate the "beachhead of intolerance" created by radicalism. What was different here is that Pence promised a policy shift to accompany the rhetoric: Based on claims that the United Nations often denies funding requests from faith-based organizations and provides only "ineffective relief efforts," the administration will now "provide support directly" through USAID.
Conservative religious-freedom advocates have long pushed for money to be redirected away from the UN. "I am overjoyed," said Nina Shea, the director of the Center for Religious Freedom at the Hudson Institute. "The [UN] projects that are taking place are superficial and cosmetic projects—coats of paint rather than a renovation or a reconstruction." This funding shift, she said, is "a battle won."
It seemed clear from Pence's speech that religious aid organizations have been influential in bringing about this decision: The vice president specifically mentioned Carl Anderson, the head of the Knights of Columbus, a Catholic group that provides aid to Christians in Iraq and elsewhere, for his humanitarian efforts. "The hope this announcement will give to Christians in the Middle East—and the real world impact it will have on the survival of threatened minority communities—cannot be underestimated," Anderson said in a statement.
Despite the Trump administration's previous promises to help persecuted religious minorities, it hasn't necessarily backed its words with dollars. At a congressional briefing earlier this month, former Republican Representative Frank Wolf testified that "U.S. government assistance has not been forthcoming to Iraq's Christian and Yezidi communities even though the president, vice president, Congress, and secretary of state have declared them victims of genocide." Even now, it's not clear how much money is going to shift to USAID: The agency said in a statement only that "the administration is exploring options for how to better ensure our assistance effectively reaches vulnerable communities."
Last spring, the Trump administration proposed a 27-percent, 10-year reduction to USAID's operational budget. "The schizophrenia is that they don't like international aid," said Shaun Casey, the director of the Berkley Center for Religion, Peace, and World Affairs at Georgetown University and former head of the State Department's religious-outreach office. "They could absolutely devastate the global USAID budget, but if they come up with $10 million to put in the hands of a group of conservative Christian NGOs on the ground, that's how they're going to take credit."
It's a bit misleading to suggest that foreign-aid money will now go "directly" to Christian communities. As with other USAID programs, this money will likely be granted to private NGOs, including religious groups like Catholic Relief Services and World Vision, two of the agency's top grantees, which will then be charged with distributing assistance. Casey—who served as a political appointee in the Obama administration—sees the funding shift as a way to "throw [conservatives] some crumbs"; "to give a chunk of change to USAID, and say, 'Fly over Iraq at 50,000 feet and throw out sacks of money at mom-and-pop Christian NGOs.'"
In December, when Pence visits the Middle East, "one of the messages I will bring on the president's behalf … is that now is the time to bring an end to the persecution of Christians and all religious minorities," he said on Wednesday. The Associated Press reports that he will visit Israel and meet with Abdel Fattah el-Sisi, the president of Egypt. While "the Trump administration came in saying they don't want to do nation building," said Shea, she argued that this focus on persecuted Christians is something different: "It's a moral obligation and a legal obligation to, in a broad sense, help them recover from the genocide."
In words, at least, the Trump administration seems to agree. "Under this president, you can know with confidence that America condemns the persecution of any faith, in any place, at any time," Pence said on Wednesday. "And we will stand against it with all the might of this great nation."
We want to hear what you think about this article. Submit a letter to the editor or write to letters@theatlantic.com.
Emma Green
is a staff writer at ​
The Atlantic
, where she covers politics, policy, and religion.