One Harvey Weinstein in Hollywood, Another in the White House
A pair of conservative responses to the Hollywood mogul's downfall illustrate the split within the movement.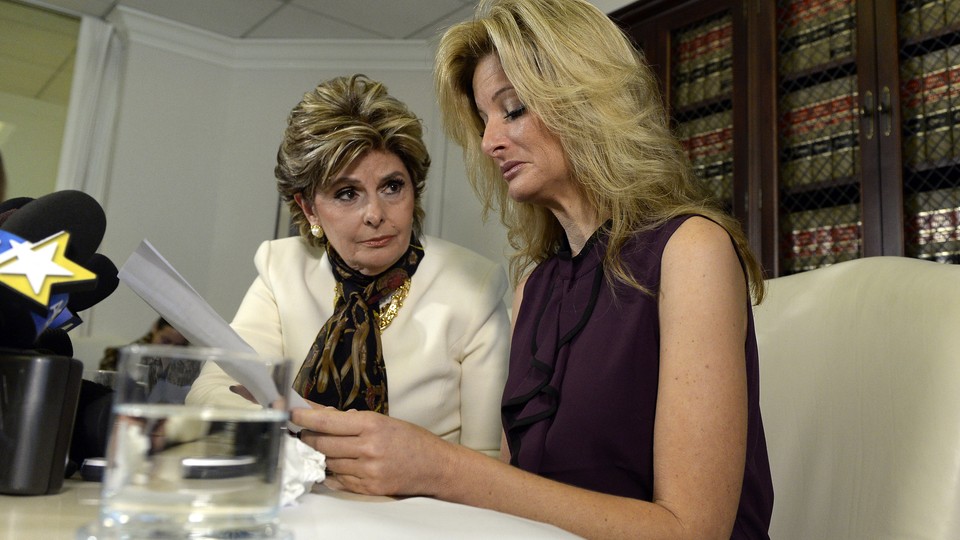 As the Hollywood producer Harvey Weinstein reels from a New York Times exposé that describes years of abusive behavior towards women, many right-leaning pundits are seizing the opportunity to discuss predatory male behavior in the liberal tribe, much as lefty pundits used Bill O'Reilly's downfall to discuss bad actors on the right.
Many of these efforts offer worthwhile insights. And two contributions are most illuminating when juxtaposed with one another. Their authors approach the subject with some of the same assumptions. Both are appropriately scathing toward awful behavior by prominent Democrats. Yet the first effort represents the best of what American conservatism has to offer the country. And the second reveals odious moral rot.
Comparing them is hugely instructive.
What Principled Conservatism Looks Like
In "The Pigs of Liberalism," Ross Douthat, the principled social conservative, opines that progressive industries may finally be feminist enough to "put their old goats out to pasture," but that there is a less optimistic way of viewing the present scandal.
It might just show...
...that a certain kind of powerful liberal creep only gets his comeuppance when he's weakened or old or in the grave. The awfulness of Ted Kennedy, at Chappaquiddick and after hours in D.C., can be acknowledged only now that he's no longer a liberal lion in the Senate. The possibility that Bill Clinton might be not just an adulterer but a rapist can be entertained now that he's no longer protecting abortion from the White House.
He adds, "it would be nice to say that cultural conservatism offers an alternative, one that welcomes female advancement while retaining useful ideas about sexual difference and restraint," but concedes that while he "might have argued as much once," today's right, "in the age of Donald Trump and Bill O'Reilly, 'pro-life' hypocrites in Congress and the alt-right online cesspool... is its own sort of cautionary tale." Still, he offers, several conservative ideas might help liberals "to restrain the ogres in their midst." The column concludes with three specific suggestions:
First: Some modest limits on how men and women interact professionally are useful checks on predation. Many liberals were horrified by the revelation that for a time Mike Pence avoided one-on-one meetings with women not his wife. But one can find the Pence rules too sweeping and still recognize that life is easier for women if their male bosses don't feel entitled to see them anywhere, anytime. It would not usher in the Republic of Gilead if it were understood that inviting your female subordinate to your hotel room, Weinstein-style, crosses a line in a way that a restaurant lunch does not.

Second: Consent alone is not a sufficient guide to ethics. Caddishness and predation can be a continuum. If you cheat on your wife you may be more likely to harass subordinates. Promiscuity can encourage predatory entitlement. Older rules of moral restraint were broader for a reason. If your culture's code is libertine, don't be surprised that worse things than libertinism flourish.

Third: You can't ignore moral character when you make decisions about whom to vote for or work with or support. This was something conservatives used to argue in the Clinton years; under Trump, many have conveniently forgotten it. But it remains true. Yes, sometimes you have to work with a bad person or vote for a bad person or hold a fund-raiser with a bad person for the greater good. But not nearly as often as you think.
Agree or disagree with those suggestions, they are constructive, coherently rooted in conservative insights, and offer plausible if contested courses for bringing about less abuse. They suggest a commentator who has thought carefully about the world, including his own coalition's failings, and written with an earnest desire to make it better.
What an Utter Lack of Principle or Integrity Looks Like
Like Ross Douthat, the talk-radio host Rush Limbaugh begins his commentary on Harvey Weinstein by situating him alongside prominent Democrats Ted Kennedy and Bill Clinton.
"I'm gonna tell you where all of this really began," he said. "It all began in 1969 at Chappaquiddick, when Ted Kennedy was allowed to get away with manslaughter at all costs…"
He continued:
And then we move forward to Bill Clinton in the second term of his presidency with the Monica Lewinsky episode. And once again, after the full era of militant feminism and the modern era had become entrenched into our society, the Democrat Party defending Bill Clinton at all costs, led by his wife, Hillary Rodham Clinton, is what gave us the ongoing behavior of major prominent Democrats up to and including Harvey Weinstein.

Ted Kennedy, you might say, made it all possible. Bill Clinton came along and put an exclamation point behind Ted Kennedy. And now even with Harvey Weinstein, look at what he thinks he has to do to save himself: Come out as an even more strident leftist, promise to take out Wayne LaPierre, promise to take out Trump, endow $5 million worth of charity work for women's issues and so forth. And it's that simple to buy off the left.
He added:
...the details of this story and the elements of it as it continues to unfold are once again a gigantic teachable moment. You know what else they are? They're a giant See, I Told You So. Twenty-five, 30 years of See, I Told You So. But I'm telling you, folks, do not discount this. The Democrat Party and the media going out of its way at all costs to defend Bill Clinton sends a signal to every other Democrat heavyweight predator. It sent a signal to virtually every powerful individual on the left that they were not going to be held to account. That excuses would be made and tolerances would be expanded if they remained devoted to the cause or causes. Now, the Harvey Weinstein situation, look at what everybody is saying about how everybody knew. Everybody knew for all these years…

...I mean, he was a thug, he was a pig, he was powerful, he was a bully, and everybody was afraid of him and was sucking up to him and did everything they could to try to make sure Harvey never got mad at them. But all that time people were seething that he was getting away with it, and nobody had the guts to come out and say it.
I am not here to analyze or adjudicate whether or not the shameful passes that many Democrats gave Ted Kennedy and Bill Clinton did or did not influence Harvey Weinstein.
I'm observing the way Rush Limbaugh believes the world works: he believes that when a political faction allies with "a thug," "a pig," and "a bully," that when that faction excuses years of abusive behavior toward women because it is politically convenient, or because no one has the guts to challenge a very powerful man, that faction is sending a signal that directly leads to more women being abused in the future.
What I find morally odious is believing the world works that way … and nevertheless being an enthusiastic, prominent supporter and defender of Roger Ailes and Donald Trump, two of the biggest male chauvinist pigs and serial bullies in American life.
Gabriel Sherman reported at length on how Ailes treated his female employees––and Ailes was taken down by Fox News staffers, not any cadre of conspiring liberals.
As for Trump, Limbaugh appeared to recognize that he had talked his way into a corner.
"Trump hasn't done diddly-squat compared to Harvey Weinstein. Trump is nowhere near Harvey Weinstein's league," Limbaugh said. "There's a big difference here. Donald Trump talked. Donald Trump talked the talk with some host at NBC coming out of a trailer—and interestingly, Trump was talking about what celebrities like Weinstein could get away with simply because they're celebrities. But Trump? There's no record of Trump doing any of this. Trump can't hold a candle to Weinstein in this regard. Weinstein walked the walk. All Trump was doing was talking about the very kind of behavior that is permitted when celebrities are involved."
That is mendacious nonsense.
The infamous Access Hollywood tape, where Trump bragged that when you're a celebrity you can do anything you want to women without even asking, even grabbing their genitals, isn't the sum total of allegations comparable to those Weinstein faces. In fact, lots of women have accused Trump of sexual misconduct on the record.
New York has summarized many of the allegations.
For example:
"Former Miss USA contestant Temple Taggart McDowell claims Trump kissed her on the lips on at least two occasions without consent when she was just 21 years old… Trump has called the accusation 'ridiculous.'"
"In a New York Times report published October 12, Trump was accused of fondling the breasts of Jessica Leeds when she was 38 years old. Leeds, now 74, reportedly met Trump in the first-class cabin of a flight to New York more than 30 years ago, and claims he also attempted to reach under her skirt during the flight. She called the incident 'an assault.' Trump has vehemently refuted the allegation."
"Another revelation from the incendiary New York Times report: In 2005, receptionist Rachel Crooks was allegedly assaulted by Trump in the elevator at Trump Tower. She was working as a receptionist for a real-estate firm in the building when she ran into Trump in the elevator. After they shook hands, he allegedly refused to let go, kissed her on the cheeks, and also on the mouth… Trump has also denied this allegation."
"Natasha Stoynoff, a staff writer at People, came forward as an alleged victim of Trump on October 12. In an essay, Stoynoff wrote that Trump assaulted her and forcibly kissed her in 2005 while she was on assignment for the magazine."
"Mindy McGillivray claims Donald Trump groped her 13 years ago while she was visiting Mar-a-Lago with her companion, photographer Ken Davidoff. According to the Palm Beach Post, Davidoff brought his friend McGillivray with him to the estate... Only 23 at the time, McGillivray allegedly had her ass grabbed by Trump while he stood next to his then-fiancée, Melania."
"In a Facebook post earlier this year, former Miss Washington USA Cassandra Searles claimed Trump grabbed her ass and invited her back to his hotel room, according to Rolling Stone. She called Trump a 'misogynist' and accused him of treating women like cattle."
"Four women who competed in the 1997 Miss Teen USA beauty pageant have accused Trump of walking into their dressing room while the contestants were changing, BuzzFeed News reported."
"Makeup artist Jill Harth filed a lawsuit against Trump in 1997, accusing him of cornering her and groping her in his daughter's bedroom."
"The 1993 book Lost Tycoon: The Many Lives of Donald J. Trump revealed that, in depositions for their contentious divorce case, Ivana Trump accused her then-husband of rape. The Daily Beast reported that, in the book, Harry Hurt III wrote that Trump confronted Ivana after a painful scalp reduction surgery to reduce his bald spot. He allegedly yelled that her 'fucking doctor' ruined him, and then held back her arms and pulled out fistfuls of hair from Ivana's scalp, before ripping off her clothes and forcing his penis inside her. Trump denied the allegation, including the scalp surgery. 'It's obviously false,' Donald Trump said in 1993. 'It's incorrect and done by a guy without much talent … He is a guy that is an unattractive guy who is a vindictive and jealous person.' Trump's legal counsel told the Daily Beast that Ivana was talking about how 'she felt raped emotionally … She was not referring to it [as] a criminal matter, and not in its literal sense, though there's many literal senses to the word.'"
"When Vanity Fair editor Graydon Carter invited Trump to the White House Correspondents' Dinner in 1993 as a 'novelty guest,' he allegedly got more than he bargained for. Forty-five minutes after Trump sat down next to Swedish model Vendela Kirsebom, Carter claims she came over to his table, almost in tears, begging him to move her. 'It seems that Trump had spent his entire time with her assaying the 'tits' and legs of the other female guests and asking how they measured up to those of other women, including his wife,' Carter wrote."
"Kristin Anderson, who worked as a model and makeup artist in New York in the early 1990s, told the Washington Post that Trump groped her when she found herself sitting next to him on a couch at a Manhattan nightclub. 'It wasn't a sexual come-on. I don't know why he did it. It was like just to prove that he could do it, and nothing would happen,' she said. 'We didn't even really look at each other. It was very random, very nonchalant on his part.'"
"Summer Zervos, a contestant on the fifth season of The Apprentice, says she was both kissed and groped by Trump after her run on the show was over and she was discussing possible employment opportunities with him. She alleges that he had her meet him at his bungalow in the Beverly Hills Hotel, where he kissed her, groped her, and thrust his genitals at her. Because she was up for employment within his organization, Zervos says 'I wondered if the sexual behavior was some kind of test, or whether or not I had passed.'"
"Cathy Heller and her family were enjoying a Mother's Day brunch at the Mar-a-Lago Club when Trump came by to introduce himself. According to Heller, Trump aggressively kissed her in front of her family — including three children and various in-laws — and other members of the club after a brief introduction."
"Karena Virginia told reporters she was standing outside the 1998 U.S. Open Tennis Championship in Flushing, Queens, waiting for a car to take her home when Donald Trump approached her… 'He then walked up to me and reached his right arm and grabbed my right arm. Then his hand touched the right inside of my breast. I was in shock. I flinched. 'Don't you know who I am? Don't you know who I am?' That's what he said to me. I felt intimidated, and I felt powerless."
"Ninni Laaksonen claimed on October 27 that Donald Trump grabbed her bottom in New York in 2006, shortly after she was crowned Miss Finland, the Telegraph reports. After being contacted by local paper Ilta-Sanomat, Laaksonen said Trump groped her moments before she was set to appear on the Late Show With David Letterman, alongside Trump himself and three other contestants."
So to summarize: Trump was caught on tape bragging that he gets away with groping women without their consent because he's famous; a long list of women say, on the record, that Trump manhandled them in much the way he bragged about doing; Rush Limbaugh summarizes this as, "All Trump was doing was talking."
Limbaugh embodies that which he hates.
He has given cover to Ailes and Trump in just the same way that many gave cover to Weinstein and Clinton, not because he finds two sets of female accusers not credible and two other sets credible, but because Ailes and Trump belong to his political faction.
And he defends Ailes and Trump, despite condemning those who gave cover to Kennedy and Clinton, even though Trump himself prominently gave public cover to Bill Clinton.
Here's what Trump said at the time:
Trump said Clinton was a "victim" and critiqued the physical appearances of various women with whom Clinton had been accused of having extramarital relations at different times. "It's like it's from hell, it's a terrible group of people," Trump said in an interview with FOX News' Neil Cavuto on Aug. 19, 1998. Asked by Cavuto if Clinton's image as a "quasi-sex symbol" stood to somehow benefit from the alleged extramarital relations, Trump took issue with the characterization.

"I don't necessarily agree with his victims, his victims are terrible," Trump said. "He is really a victim himself. But he put himself in that position."

"The whole group, Paula Jones, Lewinsky, it's just a really unattractive group. I'm not just talking about physical," he said.

"Would it be any different if it were a supermodel crowd?" Cavuto then asked.

"I think at least it would be more pleasant to watch," Trump replied.
By Limbaugh's logic, Trump bears partial responsibility for Harvey Weinstein's victims. Yet Trump is the man that Limbaugh helped to empower, the man that Limbaugh unapologetically praises each week on his radio show. By his own logic, Limbaugh is contributing to the future abuse of young women. Yet he doesn't possess the strength of character to distance himself from Trump, like so many in his mercenary faction who've sullied their souls during Trump's predatory rise.
Limbaugh has abandoned any pretext of conservative principle, refuses to grapple with the failings of his faction, and offers nothing constructive to a country he harms weekly. Would that conservatives less compromised by moral rot would rise in his stead.