New Storms Set Back Relief Efforts on Puerto Rico
Fresh rain fell on saturated soil Wednesday, elevating the threat of landslides and slowing efforts to distribute relief.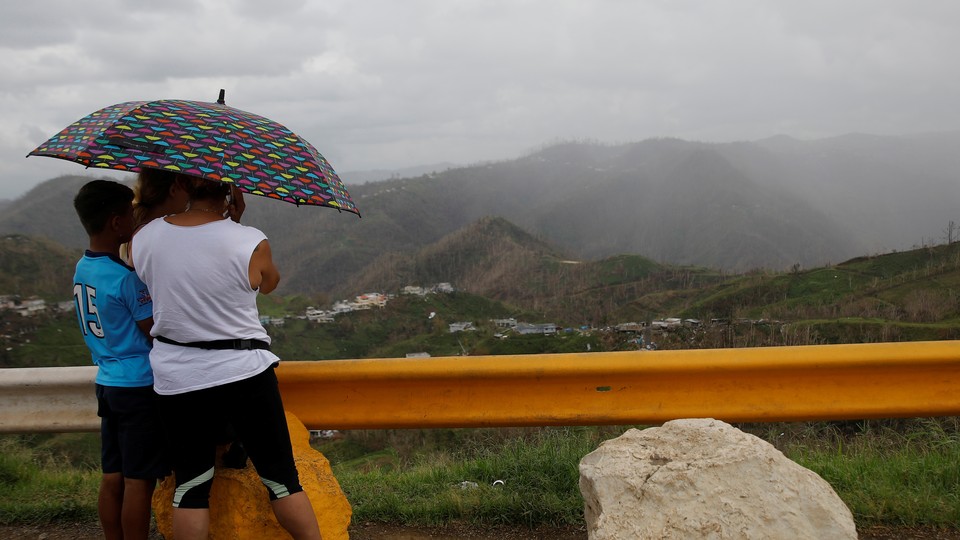 SAN JUAN, P.R.—The hurricane is long gone, but it's the regular storms that are now providing some of the biggest challenges to relief and recovery in Puerto Rico. On Tuesday, heavy rainfall from a tropical wave affected most municipalities, which face flash-flood watches through Wednesday night. While a brief reprieve is expected Wednesday morning, rain has been forecast for most of the next week. Storms like these are common on the tropical island, but in the post-Maria landscape here, they can be ruinous and deadly all on their own.
On Tuesday, the rainfall affected roads almost immediately. The soil remains saturated from Irma and Maria, and just minutes after the first drops fell, segments of major roads became partially flooded or unusable. Traffic slowed to a standstill in most outbound directions from San Juan, turning the drive to nearby city Caguas—normally a 20- to 30-minute proposition—into a half-day exodus. Carolina Pichardo, a pediatrician who works in Caguas and lives in San Juan, told me that her commute to work took about two-and-a-half hours each way.
Pichardo's story is indicative of the kinds of barriers that make relief work so difficult, especially in rough weather. San Juan is something of a nerve center for much of Puerto Rico, and many people—including doctors, nurses, and social workers—who work in rural parts of the island regularly commute from their homes in the city by road. While the gasoline shortages that once caused kilometer-long queues at stations have eased near the capital, the roads themselves are bottlenecks for aid, and for rebuilding other parts of the island's infrastructure.
Maria Elena García, an environmental activist based in San Juan, says that the weather turned a routine supply run yesterday to Corozal, a mountain town to the southwest of San Juan, into a nightmare. "It took us the whole day," she says. "One of the main bridges was washed out, then on the back roads we had to inch down roads that felt like they were going to collapse at any minute. We were afraid we might trigger landslides."
The worsening weather poses a real and dire threat of landslides for the interior of Puerto Rico. Mountainous areas are already prone to landslides, and Maria itself caused many such disasters. The town of Utado was impacted severely by a landslide in the aftermath of the hurricane, and government analysis of satellite imagery shows dozens of other hard-hit areas.
Carlos Burgos, a chef whose family resides in the interior municipality of Barranquitas, said that washed-out roads and landslides "had totally disconnected" that town and others like it. And in Barranquitas, as in many other places on the island, immediate relief has had to come from concerned citizens like Burgos and García, as organized relief efforts based out of San Juan have been slow and hyper-centralized.
Sustained rainfall can only make these problems worse, and is almost certain to make the distribution of aid—even from FEMA and the military, which have access to helicopters and airplanes—more difficult and slow-going. The infrastructure has trouble coping with regular rainfall. But now, the weather compounds a deeper misery.