The Necessity of Questioning the Military
Honoring the sacrifice of servicemembers requires understanding why they were put at risk, and demanding that those who did so hold themselves to account.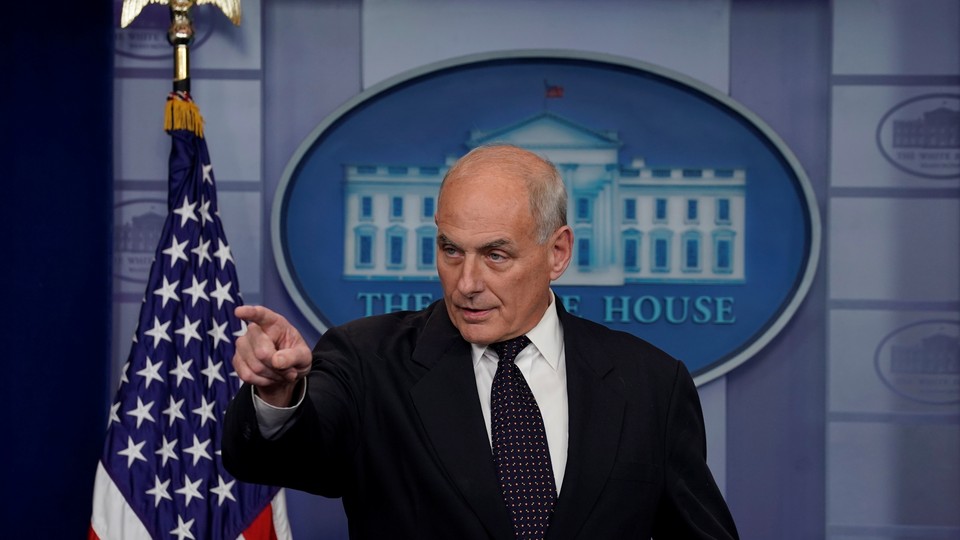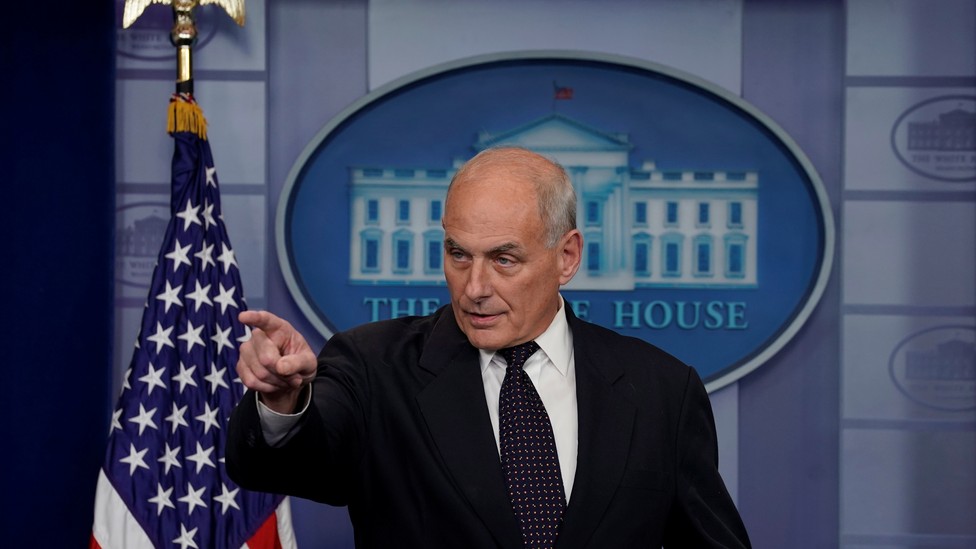 On Thursday morning, I planned to write a pointed screed decrying President Trump's propensity to view the military community as a problem he can buy off with a check. Then, on Thursday afternoon, White House Chief of Staff John Kelly, himself a Gold Star father, decried the noxious politicization of the deaths of servicemembers and how we treat their families in the aftermath. His remarks gave me pause, as they were meant to.
"Let's not let this maybe last thing that's held sacred in our society, a young man, young woman, going out and giving his or her life for our country, let's … keep that sacred" he implored, lamenting the ugly and voyeuristic events of the past week.
Who better to set the protocol and define the limits of this sacred space than a father who lost his son in Afghanistan? Unless you've walked in his shoes, don't ask questions.
Don't question the military response, Secretary of Defense Jim Mattis said regarding the tragic ambush in Niger that left four soldiers dead. We can't always tell you the numbers, he said earlier this month regarding the number of troops in Afghanistan, and, earlier in Iraq and Syria. I think it's appalling, Kelly commented, regarding Representative Frederica Wilson listening in on Trump's call to Sergeant La David Johnson's widow and then sharing her sense that it was disrespectful. There's been total silence from the White House for a week regarding the deaths of four soldiers in Niger, and the administration remains relatively silent regarding the scope of their mission, and its own counter-ISIS and Afghanistan strategies.
I am not a member of a Gold Star family, or a veteran. I spent years as a civilian in the Department of Defense, and yes, I know Gold Star families. But these facts don't make me more qualified than anyone else to note that Kelly has only defined part of what makes these men and women sacred. Who am I to contradict him? It makes me terribly uncomfortable to do so. But one fundamental part of honoring the sacrifice of servicemembers is understanding why they were put at risk, and demanding that those who did so hold themselves to account.
These questions are inherently political, and raising them in conjunction with the immediate loss of a Gold Star family becomes easily politicized and ugly. We have centuries of stories of shying away from such introspection: If you don't support the war, you don't support the troops. Questioning why they died tarnishes their loss.
By focusing on keeping the sacrifice of a Gold Star family sacred, I think Kelly missed the point of this last week's distress. There is literally nothing a president can say or do to salve the grief of a parent or spouse who has lost a loved one serving their country. Nothing can rightly acknowledge or even measure the hole in their lives—no phone call or letter, not the benefits or life insurance provided by the Department of Defense, not even a personal $25,000 check offered to a grieving father. We shouldn't fool ourselves into thinking there is a "right" way to mitigate their loss, though that shouldn't stop us from trying.
The commander in chief and his key advisers have a duty to these men and women in uniform. The practice is complicated, but at heart it is simple: to do their utmost to define missions that will entail risks, but which have a purpose that the people in these positions own. When the worst happens, their job is to take on the pain of grieving families as an accounting for the decisions they made that cost the lives of young Americans.
I have no expectation that Trump will know what to say in the face of a grieving mother or husband. I wouldn't either. I do, however, want to know that he feels that loss and has put the full weight of the U.S. government into considering why that risk was appropriate. Americans' right to that knowledge is part of what makes the men and women who give that last full measure of devotion sacred. And for the moment, I have little confidence that he understands any of this.
Perhaps the public outcry is simply making the president a scapegoat for grief and responsibility that the American people, sheltered from nearly two decades of war, don't want to feel. But Trump, like many Americans, seems deeply uncomfortable with this duty. He has not yet visited a war zone, and the litany of dismissive and insulting statements he has made about servicemen and women has almost lost its shock value. His administration has made little progress in making a public case for its strategies in Afghanistan and in Iraq and Syria. His general approach to the military is delegation and deference.
And this week, we learned he met a father's grief with the promise of a check. That may reflect a common impulse. Americans all want to honor and compensate the military; nothing is too good for our troops. But much of the public is also apparently happy with the arrangement that leaves their sacrifices out of sight, and excuses their children from service.
Understanding the incalculable price that such families have been asked to pay on our behalf takes effort. Bob Gates has written and spoken movingly about his nightly ritual of penning condolence letters while Secretary of Defense.
I was determined that these young people would not just become statistics for me. And so I started out by handwriting parts of the—of the condolence letters. And then—and even then that wasn't enough, I felt. And I so then I started asking that every time one of these packets came to me, that it'd have a picture of the—of the soldier or sailor, airman or Marine who'd been killed, along with the hometown news so that I knew, you know, what their coaches and their parents and their brothers and sisters and teachers were saying about them, so I felt like I had some personal knowledge about each one of them. And I would write those condolence letters every evening … In those evening sessions, writing the condolence letters, there probably wasn't a single evening in nearly 4 1/2 years when I didn't—when I didn't weep.
These letters may have provided some comfort to their recipients, but as Kelly pointed out, the most important calls and notes came from the friends and fellow servicemembers of their son. The larger objective of the practice, I believe, was to give each death meaning, and even, to Gates, accountability. He signed the orders that sent them to their final resting place.
When I worked for Gates, I sat just down the hall from the young woman who put together these packets for him and occasionally saw her crying at her desk as she performed this awful duty. It was a keen reminder of the real consequences of these operations undertaken for our "national interest," now underway for 16 years. I wish she would have placed those packets, pointedly, on my desk, on everyone else's on that corridor, and on the nightly news, and started, rather than closed, conversations on these conflicts.
I worry that Kelly and Mattis, by making the loss of troops so sacred and dissuading hard questions about the objective of the risks they took, are widening the divide they so often lament between those who serve and those totally disconnected with the military. That would be ironic and sad, given that they are better positioned than almost anyone else to aid in closing this gap. Kelly's decision to only accept questions from reporters who know Gold Star families was unsettling, later explained by a White House official: "What he wanted to convey … is that this was a serious time, and attacks were being lobbed that were not factual or fair—from people unqualified to make them and who had not suffered." Did he make a point? Yes. But placing restrictions on the ability to ask questions about the rationale for a servicemember's mission that cost his life makes that loss less sacred, not more.
I still have many questions. I want to be sure that the president does not treat the death of a servicemember who knew he or she might die like writing off a cost of doing business. I want him to affirm that he sees the risks men and women in uniform take on behalf of the United States as a matter that accrues most to him, regardless of their success or failures. I want to believe that he does not see military families as a problem he can keep quiet with a check. I want to be assured that he does not only pause to consider the cost of today's wars when someone dies. And I want him to be able to explain, if asked, why they died.
Two weeks after the deaths in Niger, as my colleague Philip Carter notes, we still lack any real explanation of what they were doing there at all. "It would add insult to injury," he writes, "for us to let this outrage blind ourselves to the bigger questions about how and why these troops died."