Mueller Moves Against Paul Manafort
The former chair of Donald Trump's campaign and his business associate Rick Gates were reportedly told to surrender to federal authorities on Monday morning.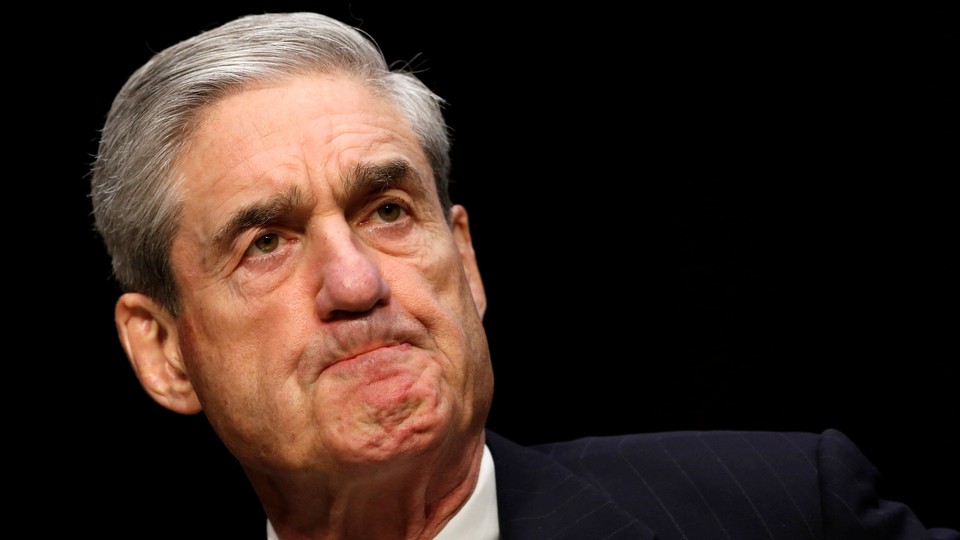 Updated at 8:28 a.m. ET
Paul Manafort, the taciturn lobbyist who served as Trump's campaign chairman during the summer of 2016, surrendered to federal authorities on Monday morning as part of Special Counsel Robert Mueller's investigation. The New York Times reported that Rick Gates, a Manafort associate, will also turn himself in on Monday. It's unclear what charges each man faces.
Manafort had been the target of the most aggressive of Mueller's publicly known efforts over the past six months. He had already reportedly been under Justice Department scrutiny for his business relationships with pro-Kremlin politicians in Ukraine, including former president Viktor Yanukovych. Mueller's team carried out an early-morning raid in July at Manafort's Virginia home that reportedly seized business records and financial information. Reports emerged in September that federal investigators obtained a FISA warrant against him as well. Manafort himself has denied any wrongdoing.
Multiple news outlets reported Friday night that Special Counsel Robert Mueller obtained a sealed indictment from a federal grand jury in the nation's capital—the first one of the Russia investigation.
The process for getting a sealed indictment is pretty straightforward. A federal prosecutor can obtain an indictment if at least 12 grand jurors vote in favor of it after hearing the requisite evidence. Once issued, a federal judge can then seal the indictment to prevent its public disclosure until the defendant has been taken into custody. A sealed indictment isn't necessarily unusual in a high-level case like this, although its public disclosure last week surprised experts.
What's been reported about Mueller's work over the past six months points towards a broad, multifaceted investigation. At the core of the special counsel's inquiry is Russian meddling in the 2016 election. U.S. intelligence agencies concluded last year that Moscow targeted Hillary Clinton's campaign with cyberattacks and document leaks to damage her candidacy in favor of Trump's presidential bid. There's precedent for Mueller to indict Russian nationals overseas who are believed to have played a role: The Justice Department charged five Chinese military hackers in 2014 for cyberattacks against U.S. companies.
Former FBI Director James Comey told Congress in March that federal investigators were looking into whether the Trump campaign colluded with Moscow to undermine Clinton's campaign. Mueller is believed to have continued that inquiry, although his progress is unknown.
Other threads of the investigation have reportedly scrutinized Michael Flynn, Trump's former national-security advisor, for his Turkish lobbying deals. Trump fired Flynn in February for lying about his conversations with Russian Ambassador Sergey Kislyak. Carter Page, a one-time Trump campaign advisor who traveled to Moscow in the summer of 2016, reportedly spent hours answering questions for the special counsel's office and the Senate Intelligence Committee.
Members of Trump's family are also reportedly under Mueller's scrutiny. Donald Trump Jr. revealed in July that he welcomed an offer of damaging information about Clinton from a Russian lawyer tied to the Kremlin during the summer of 2016. He, Jared Kushner, and Manafort met with the lawyer and her associates at Trump Tower shortly thereafter; Mueller has reportedly requested documents about that meeting last year and Trump's role in crafting statements about it earlier this year. Kushner, Manafort, and the younger Trump denied wrongdoing and collusion with Russia and said no information was exchanged during the meeting.
Mueller's most explosive line of inquiry involves Trump himself. The president suddenly dismissed then-FBI Director James Comey in May and subsequently indicated the Russia investigation played a role, among other factors. After his removal, Comey leaked contemporaneous memos to the press that described Trump pressuring the director to drop the Flynn investigation and announce that the president himself wasn't under investigation. Multiple legal experts told me in May that Trump's behavior likely amounted to obstruction of justice, a federal crime that factored into the impeachment efforts against Richard Nixon and Bill Clinton.
Just as the Russia investigation has shadowed Trump's presidency so far, the possibility that the president could fire the special counsel loomed over Mueller's efforts. Trump reportedly considered ousting Mueller in June shortly after Comey testified before Congress, but apparently decided against it. As the head of the executive branch, Trump can force the special counsel's dismissal by ordering Deputy Attorney General Rod Rosenstein, the acting attorney general for the Russia investigation, to fire Mueller.
Rosenstein, for his part, told Congress in June that he hasn't seen the requisite "good cause" to lawfully fire Mueller. No president has ordered the Justice Department to remove a special prosecutor since Richard Nixon directed the removal of Watergate prosecutor Archibald Cox in 1973. Attorney General Elliot Richardson and his deputy resigned instead of carrying out the order in what was dubbed the Saturday Night Massacre. Cox's removal came at tremendous political cost for Nixon and likely hastened the end of his presidency.
But what we know about Mueller's investigation is dwarfed by what we don't know. By all accounts, the special counsel's office is running an extraordinarily tight ship. Mueller hasn't spoken a word publicly since releasing a short statement on the day he took over the Russia investigation. Neither has anyone on the team of prosecutors he's handpicked from private law firms and the Justice Department spoken openly.
There have been a healthy amount of leaks about the investigation along the way. But it's worth remembering the array of actors involved in the process. Information could pass to reporters from members of the congressional committees probing Russia and their staffers, from FBI agents tapped to assist Mueller's team, from Justice Department officials briefed on its developments, and from the defense lawyers who interact with Mueller himself.
And some of the biggest public developments in the Russia saga weren't even reported until months after they took place. Mueller's July raid on Manafort's Virginia home wasn't reported until August. The special counsel's office reportedly began presenting evidence to a federal grand jury in Washington for weeks before reporters caught wind of it. What all this secrecy underscores is how little is actually known about what Mueller's doing—and what he might do next.