Mike Pence's Flagrant Waste of Taxpayer Money
The vice president spent more than most Americans make in a year traveling to an NFL game to perform a political stunt.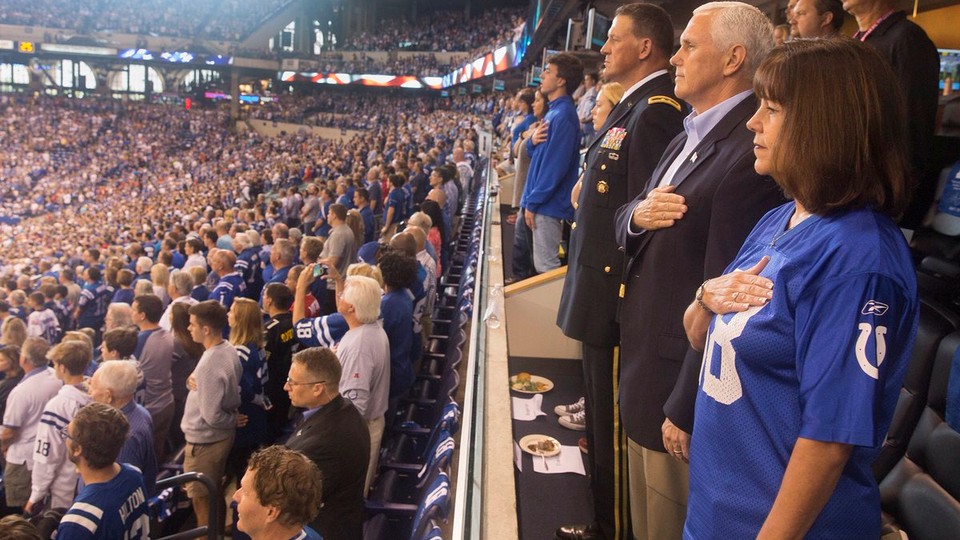 On Sunday, Vice President Mike Pence made a big show of leaving an NFL game early. He declared himself upset that some players knelt during the singing of "The Star Spangled Banner." "I will not dignify any event that disrespects our soldiers, our flag, or our national anthem," he declared, as if attacking those things was the intent of the athletes.
The NFL players knelt in protest because they believe that African Americans are being denied their self-evident rights to life and liberty by a prejudiced criminal-justice system.
"This is not about the military, this is not about the flag, this is not about the anthem," 49ers Safety Eric Reid later told reporters. "My mother served in the armed forces. Three of my uncles served … I have the utmost respect for the military, for the anthem, for the flag … This is about systemic oppression that has been rampant in this country … I will keep doing what I feel is necessary, to use the platform that I have, to make changes. It's really disheartening when everything you were raised on, everything I was raised on, was to be the best person I can be, to help people who need help, and the vice president of the United States is trying to confuse the message that we're trying to put out there. I don't know what to say about it."
Pence is not compelled to agree with how players protest. But by fleeing the entire NFL game, he adopted the tactics of a childish, petulant snowflake who reacts to speech he dislikes by misrepresenting it, expressing umbrage, and retreating to a "safe space."
The major difference?
When an immature teenager makes a show of fleeing from expression that he regards as politically incorrect, he's typically evading ideas he ought to confront on his own dime. Whereas Pence spent taxpayer money to get to that NFL game. Lots of it.
He began his travels in Las Vegas, Nevada, marking the carnage of the recent massacre there on Saturday. And he ended up in California, where he'll headline a GOP-fundraising luncheon at a fancy country club in Newport Beach on Monday. But rather than go from one to the other—a long drive or a very short, cheap flight—he first flew all the way cross-country to an Indianapolis Colts home game.
The flight to Indianapolis alone cost an estimated $100,000. The total price tag will also include ground transportation and security. It's more than most Americans earn in a year.
An aide to the VP told CNN that the trip to Indianapolis "was planned for weeks because former Colts quarterback Peyton Manning was being honored." Spending six figures to send an official to honor a multimillionaire athlete epitomizes the swamp. That is the best way that Pence can find to spend our money and his time? And that's assuming the trip really was meant to honor a player. According to President Trump, the two men discussed the possibility of players protesting during the national anthem and planned on Pence leaving if that happened. In other words, the president and the vice-president made a premeditated plan to spend six figures traveling to an event knowing it was very likely Pence would not even attend.
After the fact, Pence's office tried to defend the indefensible by insisting that "if the  vice president did not go to Indiana for the Colts game, he would have flown back to D.C. for the evening—which means flying directly over Indiana. Instead, he made a shorter trip to Indiana for a game that was on his schedule for several weeks."
But in that hypothetical scenario, he would have wasted his time, and taxpayer money, flying all the way from Las Vegas to Washington, D.C., for the night, only to turn around and travel to Newport Beach, California, the next day. That would've warranted criticism, as well, had it happened. Instead, his wasteful trip to Indianapolis happened—flagrant squandering of time and money on what turned out to be a political stunt.