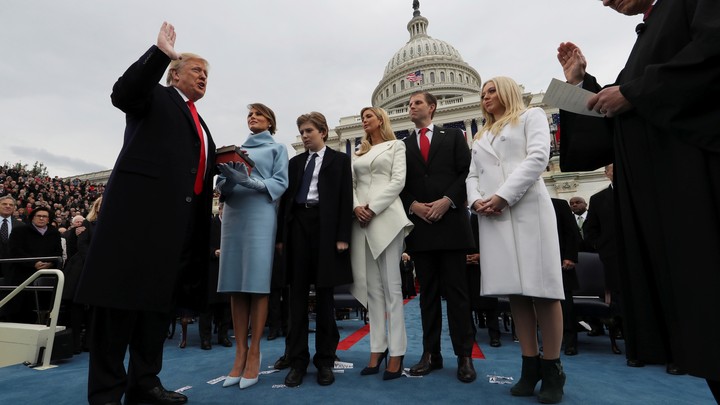 Whereas Donald J. Trump stood beneath American flags on the steps of the United States Capitol on January 20, 2017, placed his hand on a Bible, and spoke these words:
I, Donald John Trump, do solemnly swear that I will faithfully execute the Office of President of the United States; and will, to the best of my ability, preserve, protect, and defend the Constitution of the United States, so help me God.
Whereas the Constitution of the United States reads in part, "Congress shall make no law respecting an establishment of religion, or prohibiting the free exercise thereof; or abridging the freedom of speech, or of the press; or the right of the people peaceably to assemble, and to petition the government for a redress of grievances."
Whereas Trump has responded to news coverage he dislikes by advocating that the freedom of the press be abridged by bureaucrats and legislators; and by calling the press a public enemy and a target of his "drain the swamp" agenda.
For example:
Whereas Trump has responded to protected speech he dislikes by calling for a punitive government response and issuing commands to private citizens like a king or tyrant.
For example:
Whereas the aforementioned statements, individually or in aggregate, establish a clear pattern of failing to defend the Constitution and repeated attacks on its Bill of Rights.
Whereas it is a high crime to violate one's sworn oath to the supreme law of the land.
Wherefore, Donald John Trump, through flagrant violations of the oath he took before God, country, and flag, warrants impeachment, trial, removal, and public disgrace.
We want to hear what you think about this article. Submit a letter to the editor or write to letters@theatlantic.com.
Conor Friedersdorf
is a California-based staff writer at
The Atlantic,
where he focuses on politics and national affairs. He is the founding editor of
The Best of Journalism
, a newsletter devoted to exceptional nonfiction.