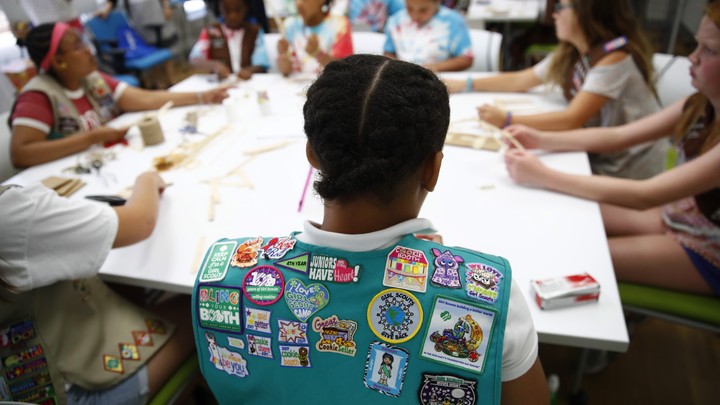 Last week, the Boy Scouts of America announced it would reverse its century-old policy of no girls allowed—and the Girl Scouts aren't happy.
"Why not ask us how we could help them serve the 90 percent of the boys they're choosing not to serve instead of pursuing serving girls?" asked Lisa Margosian, the Girl Scouts' Chief Customer Officer, in an interview.
On October 11, the Boy Scouts said it will begin accepting girls into its Cub Scouts program, as well as establish a program for older girls to earn their Eagle Scout Award. The reaction from many, including some former Boy Scouts, was one of outrage: Why should girls join a boys' organization when there's already one specifically designed for girls? The Girl Scouts felt the same way. In a blog post on October 11, the organization called itself the "girl leadership expert," and stressed the power of the "single-gender environment."
The Boy Scouts' decision is a major reversal from an organization that has always been staunchly committed to single-sex programming, and has, in its early history, bristled at the idea of girls getting involved in scouting. While the change does offer another choice for young girls, it also introduces a new competitor into the field of girls programming, which could ultimately hurt the Girl Scouts and undermine their mission to cultivate leadership skills and self confidence in young girls. (For full disclosure, I was a Girl Scout throughout elementary and high school, although I'm no longer directly involved with the organization.)
Starting next year, the Cub Scouts, which is an introductory Boy Scout program made up of boys in first through fifth grades, can opt to create girls-only packs or co-ed packs with girls-only dens. (In Cub Scouting, packs are comprised of dens, which are smaller groups of scouts.) And by 2019, the Boy Scouts say they will also offer a program for older girls to earn the Eagle Scout Award. The Boy Scouts currently offer a handful of smaller co-ed programs, like Venturing and Sea Scouting, but none are as prominent as the Cub Scouts.
The Boy Scouts say they're doing it to make life easier for busy families with multiple children who might want to enroll their kids in a single organization. But the move could also help the organization grow its steadily declining membership.
In its official response to the news, GSUSA accused the Boy Scouts of adding an "accelerant" to its "house fire" of an organization, referencing recent allegations of sexual abuse within the Boy Scouts, as well as accusing it of offering "deficient programming." Margosian told me she was disappointed when she learned of the Boy Scouts' decision. "In many communities across the country we've really worked together to serve youth," she said. "So I think it's disappointing that when they started to contemplate this three years ago, they didn't reach out."
The two organizations disagreed over how clued-in the Girl Scouts were before the decision to admit girls was made. The Boy Scouts said they held several phone and in-person meetings with the Girl Scouts to discuss the move, but the Girl Scouts say that no one from BSA reached out to them before or after the announcement—that the Girl Scouts  took the initiative to contact BSA but were only able to after the issue of admitting girls was already decided.
In clear contrast with the Girl Scouts' swift and aggressive comments denouncing the Boy Scouts' decision, Margosian said she isn't worried that girls will choose Boy Scouts over Girl Scouts. "There will be some girls who make that choice, but the reality is we, for 105 years, have really focused on serving girls and their emotional, psychological, and developmental needs," she said. "We'll be sorry for those girls because they will miss out on the best experience, and that's just a shame."
The experts I spoke with were doubtful that the Girl Scouts' current membership would be significantly affected—but they acknowledged that they might lose some potential scouts. "I don't think there's going to be a whole lot of impact as far as a whole bunch of Girl Scouts deciding to join the Boy Scouts," said Elizabeth Searing, an assistant professor of public administration and policy at SUNY Albany and Director of the Institute of Nonprofit Leadership and Community Development. "The experience of the two organizations are very different."
Both groups, Searing says, are embodiments of existing cultural norms—their mottos, their structures, and even their messaging. The Girl Scout program is designed to build girls' confidence and promote girls' participation in STEM fields, where there are historically fewer women than men. It's also designed with the idea that single-sex environments work best for developing girls' leadership skills.
"Who this is going to capture are the girls who are not into what Girl Scouts does," Searing said, noting that she used to be a Girl Scout troop leader but that she and her daughter both left the organization to focus more on camping. She says the development might be good for girls like her daughter who simply weren't interested in the Girl Scout model.
The Boy Scouts say their Cub Scouts' program offers a more gender-neutral approach, and they don't plan on tailoring it for girls. From a societal perspective, their decision means more options for girls to pursue their interests. As my colleague James Hamblin wrote on Monday, accepting girls into the Cub Scouts might put the Boy Scouts in a better position to address gender fluidity and will give boys more opportunities to interact with girls.
But it doesn't seem like the move was intended that way.
"I find it interesting that now it seems to be cast as a progressive move on the part of the Boy Scouts," said Susan Miller, an assistant professor childhood studies at Rutgers University. "It's hard for me to believe it's a philosophical change." Rather, she said, "it's kind of an attempt at a hostile takeover."
In an interview, Boy Scouts spokeswoman Effie Delimarkos denied this. "This isn't an intent to take away any membership from the Girl Scouts. This is an effort to try to extend the benefit of scouting to families." she said. "If families love the Girl Scout program, then we hope they stay and grow and advance in the program."
But the about-face on gender is surprising, and experts say they were just as blindsided as the Girl Scouts claim to have been. After all, the Boy Scouts have never been as welcoming or open to change as the Girl Scouts. Barbara Arneil, a political science professor at the University of British Columbia, told me that observing the complicated relationship between the two organizations "is all the context you need to understand why the Girl Scouts are quite justifiably upset about this decision."
In a 2010 essay published in Perspectives on Politics, Arneil described the Girl Scouts' progressive streak as being baked in at the organization's conception. In 1910, the father of scouting, Robert Baden-Powell, established the Boy Scouts Association in the United Kingdom. But, despite enthusiasm from girls who had eagerly attended the first Scout Rally in 1909, he excluded them from the group, and later started a separate group for girls called the Girl Guides.
In 1912, Juliette Gordon Low held the first U.S. meeting of the Girl Guides in Savannah, Georgia. The Boy Scouts were vehemently against the group, and took pains to disassociate themselves from the girls: After the Girl Guides changed their name to the Girl Scouts in 1915, the Boy Scouts sued them for using the word "scouts," claiming they "sissified" the word. And during the Girl Scouts' early years, the Boy Scouts encouraged them to emphasize domesticity over traditional scouting. "From that very beginning they were two different organizations," Arneil said, "with Girl Scouts speaking to the equality of girls."
The scouting movements grew throughout the early 20th century, but in the 1970s, both groups' membership began to decline. The organizations offered different responses to the changes brought on by the Civil-Rights Movement, with the Girl Scouts making a point to embrace diversity and be open to change, while the Boy Scouts, Arneil said, became "very reactive, very conservative, and very exclusionary."
Though it originally had segregated troops, the Girl Scouts pushed for desegregation in the 1950s, and in 1956, Martin Luther King Jr. described the organization as "a force for desegregation." The Girl Scouts were organized as a non-sectarian group, and in 1993, the organization voted to allow girls to substitute another word for "God" in the Girl Scout Promise, encouraging members "to establish for themselves the nature of their spiritual beliefs." In 2011, the Girl Scouts clarified that it would accept all girls who identify as female, including lesbian and transgender girls.
The Boy Scouts, on the other hand, have had many well-known membership controversies. The organization continues to prohibit atheists and agnostics from its membership, and it wasn't until 2015 that it lifted the ban preventing "open and avowed homosexuals" from holding leadership positions. Transgender boys were allowed to join the organization starting in January of this year. Because of these differing policies, Arneil said, "the Girl Scouts grew back in numbers, whereas the Boy Scouts continually declined."
When asked about her organization's history, Delimarkos told me that the Boy Scouts have made a great effort to improve communication with their membership, and make scouting accessible to all kids. After all, she says, all youth organizations need to focus on nurturing all young leaders, regardless of their gender.
But the experts I spoke with, including Arneil, aren't so sure it's an overall positive move. "It's taken so long for the Boy Scouts to embrace change, so I think that the idea of them opening up … is a very good thing," Arneil said. But ultimately, their choice to include girls and take on their sister organization as a market competitor, could be seen as "another example of this long history of hostility toward the values of the Girl Scouts."
We want to hear what you think about this article. Submit a letter to the editor or write to letters@theatlantic.com.
Elaine Godfrey
is a staff writer at
The Atlantic
, where she covers politics.