How Did Any of These Guys Get Hired by Trump?
Whatever else Monday's indictments revealed, they confirm that the president exercised extraordinarily poor judgment in staffing his campaign.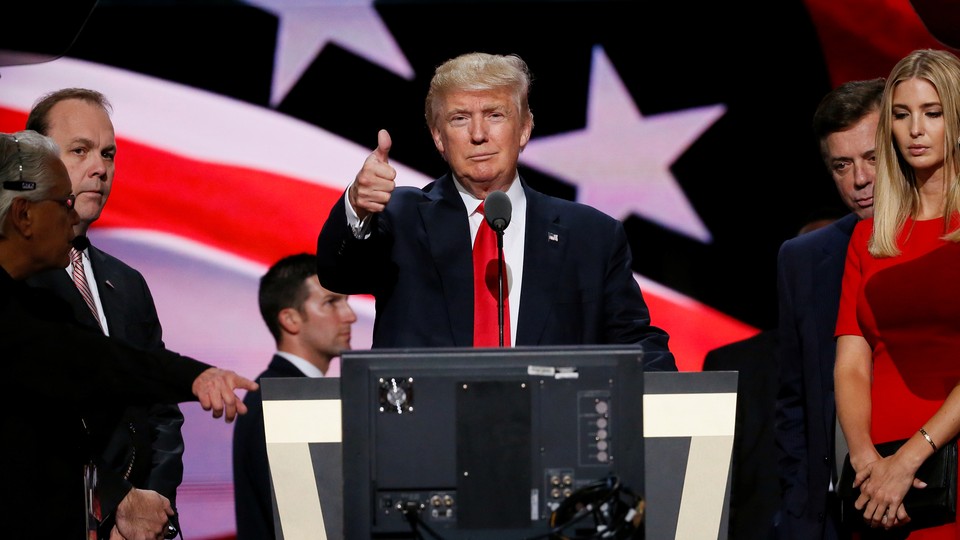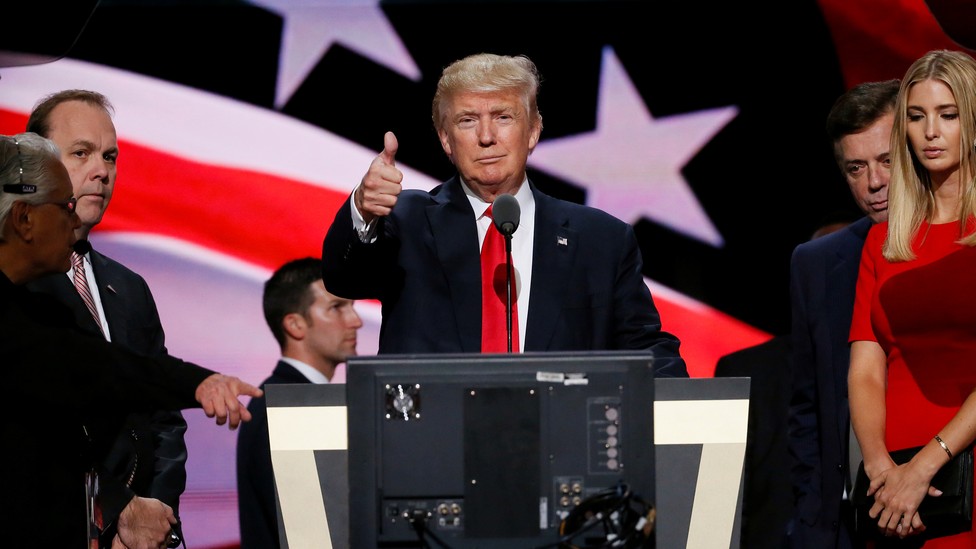 Monday's double blockbuster from Special Counsel Robert Mueller's investigation—indictments of Paul Manafort and Rick Gates, and a plea deal with George Papadopoulos—is at once an enormous advance in the story and highly unsatisfying. While these are important milestones in the probe, their import on the most interesting question, of whether the Trump campaign colluded with Russia, is opaque.
For the time being, however, there's one clear takeaway: Paul Manafort, Rick Gates, and George Papadopoulos should have never been anywhere near a major presidential campaign, and their hiring reinforces concerns about President Trump's judgment.
Trump is not a policy expert, and although he occasionally boasted that he would learn what he needed on the job, his real sell to voters was that he would be an effective manager and dealmaker. For the details, he promised repeatedly, he would hire the best people. Instead, his campaign empowered a pair of aides who, according to prosecutors, were years into a $75 million money-laundering scheme, and named a foreign-policy aide with little experience who fancied himself a savvy global operator. The reasons why Manafort, Gates, and Papadopoulos were disastrously unwise picks were different, although they are all converging in the special counsel's investigation.
When Manafort joined the Trump team, in March 2016, the campaign had little capacity for vetting. The barebones team had unexpectedly rampaged through the Republican presidential field, in spite of repeated missteps and gaffes. But the campaign team consisted of inexperienced, flailing aides, and the campaign was in danger of facing a floor fight for the nomination at the Republican National Convention. Manafort had experience in floor fights, dating to a 1976 battle between Gerald Ford and Ronald Reagan, and besides, he came recommended by his former business partner Roger Stone, an occasional adviser to Trump.
(Stone, too, has been swept up in the Mueller probe, with scrutiny on his contacts with a hacker calling himself Guccifer 2.0, who U.S. officials believe was a Russian agent. Trump's reliance on Stone, an eccentric with a history of racist comments and veneration of Richard Nixon, also suggests questionable judgment.)
In a tweet Monday, Trump downplayed the Manafort indictment. "This is years ago, before Paul Manafort was part of the Trump campaign," he wrote. Trump couldn't have known the full scale of Manafort's alleged money-laundering operation—there had, to that date, been no charges filed against him. (Manafort pleaded not guilty Monday in federal court in Washington.) But there were plenty of reasons to be wary. Bloomberg View's Eli Lake warned, "Trump just hired his next scandal," noting the lengthy series of corruption scandals to which Manafort had been linked.
The fact that Manafort, a hired-gun operative, was willing to work for free ought to have raised alarms. It's also hard to imagine that Trump didn't know about Manafort's work for Yanukovych, for example. And once the campaign knew, it could easily have checked and discovered that Manafort (and Gates) had not disclosed the work under the Foreign Agent Registration Act. He should also have been aware of Manafort's long ties to the Kremlin, especially through Oleg Deripaska. His campaign should have asked Manafort if he was indebted to Deripaska, as appears to have been the case. There's no indication that Trump saw these facts as weaknesses; Trump was arguing for improved relations with Russia, and after Manafort was pushed out of the campaign, in part over reports about almost $13 million he received from Yanukovych's party, several of Trump's friends floated him large loans.
Manafort's decision to join the Trump campaign is somewhat baffling. Although he pleaded not guilty to charges including false and misleading statements under the Foreign Agent Registration Act, Manafort retroactively filed under FARA earlier this year, indicating that he realized his failure to file might become a legal problem. Even if Manafort couldn't have anticipated the scope of the Mueller probe, putting himself in a top role in a presidential campaign was a surefire way to draw scrutiny to his past ties and to any legally dubious behavior.
Manafort left the campaign in August—in addition to the Yanukovych allegations, he was unhappy, had found himself unable to control Trump, and was pushed into a more limited role by the ascension of Steve Bannon and Kellyanne Conway. But Gates, who faces the same charges as Manafort and also pleaded not guilty Monday, stuck around long after that. First, he served on Trump's inaugural committee, and then he went to work for an outside political group lobbying on behalf of the administration, from which he was forced out in April as the Russia probe intensified. Even though Gates lacked Manafort's track record, his closeness to Manafort should have rung all the same alarm bells.
Papadopoulos's role on the campaign reflects a different sort of dubious judgment. Rather than bringing excessive baggage like Manafort and Gates, he arrived at the campaign's doorstep carrying only a flimsy valet. A 2009 college graduate, he was hired as a foreign-policy adviser despite a resume so thin that he cited Model UN experience in college as a qualification.
Almost immediately, there were signs of his unreadiness. The statement of the offense, a government document that lays out the facts both sides agree on in relation to his guilty plea, paints Papadopoulos as having been quickly cultivated by Russian actors, credulously believing one's claim of relation to Putin. Meanwhile, inside the campaign, his constant pushing for meetings between the campaign and the Russian government or a trip by Trump to Russia raised concerns among higher-ranking staffers, who saw the idea as at least improper and possibly illegal. Manafort wrote to Gates, "Lets discuss. We need someone to communicate that DT is not doing these trips. It should be someone low level in the campaign so as not to send any signal."
It appears, from the statement of the offense, that Papadopoulos viewed himself as a swashbuckling globetrotter, establishing contacts in the Russian government and foreign ministry, jetting the globe, and brokering meetings. Once questioned by the FBI, Papadopoulos lied to them and then attempted to cover his tracks as though he were in a movie, deleting his Facebook account (through which he'd communicated with Russians) and getting a new cellphone.
The indictments of Manafort and Gates and the guilty plea from Papadopoulos appear to be only the very start of Mueller's investigation. One potential target is Michael Flynn, the former national-security adviser fired for lying to the vice president about his contacts with the then-Russian ambassador. It's astounding that Flynn, too, was a central figure in the Trump campaign and even more that he was named national-security adviser. He, too, has filed a retroactive FARA disclosure, having worked on behalf of the Turkish government while working for the Trump campaign, right up to his appointment. He was also engaged in a peculiar plan to build nuclear reactors in the Middle East, and reportedly did not disclose a trip to and payment from Russia for a celebration of RT, the Kremlin-funded propaganda channel.
Trump's faulty hiring process has continued to bedevil him, with frequent turnover in the adminstration—he's on his second national-security adviser, third communications director, second press secretary, second chief of staff, and has seen several other positions clear out as well. During Monday's White House briefing, Press Secretary Sarah Sanders downplayed the day's news. "Look, today's announcement has nothing to do with the president, has nothing to do with the president's campaign or campaign activity," she said. As my colleagues Matt Ford and Adam Serwer report, that's likely a premature judgment about where Mueller's probe is going, but it's also misleading to say these cases don't reflect on the campaign or the president. The campaign's hiring processes suggest grave lapses in the president's personnel decision and his judgment.