House Republicans Take a Practice Run at Compromise
In a narrow vote on Thursday, GOP lawmakers agreed to pass the Senate's higher-spending budget proposal to allow the party to skip ahead to tax reform.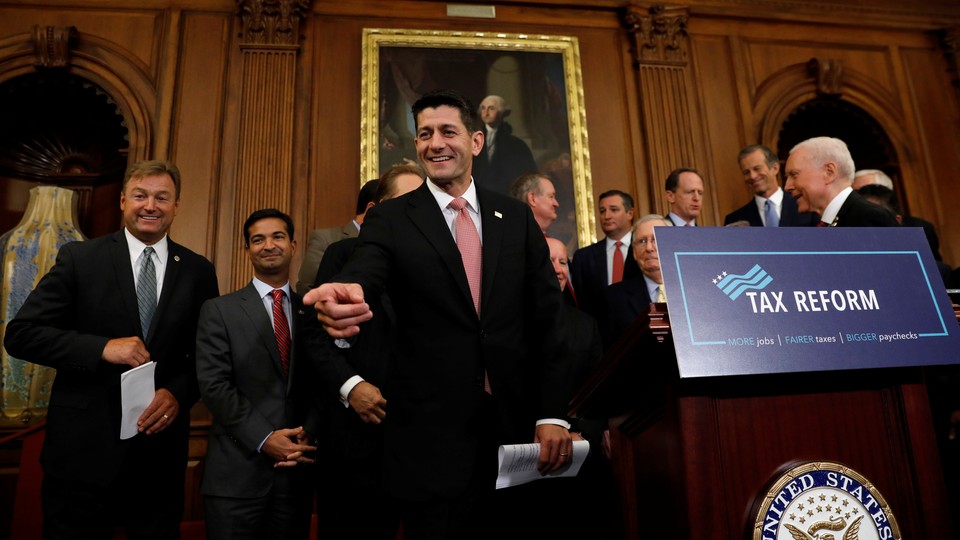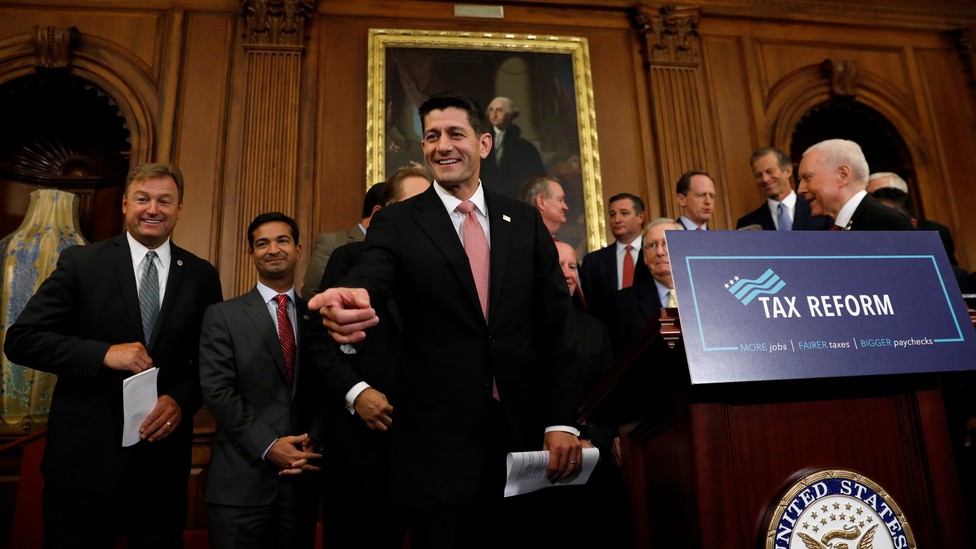 Updated on October 26 at 11:41 a.m.
If congressional Republicans are going to enact their ambitious and complicated tax overhaul, they're eventually going to have to agree to things many of them don't particularly like in service of the larger goal. That may involve eliminating some loopholes but not others, making some people pay more so most others can pay less, or increasing a deficit they vowed to shrink.
In other words, they'll have to make concessions—that necessary evil of deal-making which Republicans often rejected in eight years of opposing Barack Obama and during the trying first year of the Trump administration.
On Thursday, however, the House took an important practice run at compromise, as GOP lawmakers approved a $4 trillion Senate budget resolution that few of them enthusiastically supported. In a narrow party-line vote, the measure passed 216-212, as Republicans overcame 20 defections from a mix of moderates and conservatives to push it across the floor.
The budget is a means to an end for tax reform, establishing the parameters for legislation while unlocking the reconciliation process that will allow Republicans to pass it with a filibuster-proof 51 votes in the Senate. House Republicans narrowly cleared their own budget resolution earlier this month, but rather than spend the next few weeks bridging the gap with the proposal Senate Republicans approved last week, House leaders decided just to swallow hard and accept their version in the interest of time.
"This was an enormous step in the direction toward getting comprehensive tax reform and tax cuts for middle class families over the line, into law, done," Speaker Paul Ryan said after the vote. He and other party leaders, including President Trump in a conference call with members on Sunday, had urged Republican lawmakers to put off a fight over the budget so they could skip to the bigger and more important one over taxes. If the House had not accepted the Senate budget, the two chambers would have had to reconcile the two documents in a conference committee and held two more tough votes.
"This speeds up tax reform by more than two weeks, so it starts the process faster so we can get this done this year," House Majority Leader Kevin McCarthy said Wednesday morning on Fox News.
The biggest difference between the House and Senate proposals is in fiscal philosophy. House Republicans called for deficit-neutral tax reform and an extra $200 billion in cuts to mandatory spending programs, while the Senate version ignores the extra spending cuts and allows the tax bill to add $1.5 trillion to the deficit over 10 years. "The key piece here is urgency," Representative Dave Brat of Virginia, a member of the conservative House Freedom Caucus, told me on Wednesday.
The Freedom Caucus held up approval of a House budget earlier this year because they wanted to see at least some of the details of the tax plan the leadership was drafting in secret. Frustrated with the delays on tax reform, the group reluctantly agreed to back the Senate budget this week in exchange for a commitment from party leaders to unveil the long-awaited tax legislation in the next two weeks. But the bigger concession conservatives have made is an acknowledgment that most Republicans in the Senate—not to mention Democrats—have no interest in the cuts to entitlement programs that many in the party have been pushing for years. "The spending up here is the swamp," Brat told me. "It doesn't look like we have any way of fixing that."
Conservatives, for once, are going to take what they can get. "We've asked for tax reform and we've asked for spending reform. The Senate has said you can only have one," Representative Scott Perry of Pennsylvania said Tuesday at an event hosted by the conservative Heritage Foundation.* "We're not thrilled with it, but we understand the situation."
GOP leaders expressed confidence the Senate budget would pass, but heading into the vote, it was no sure thing. Democrats were uniformly opposed to it, and Republicans lost 18 of their own members when the House voted on its own proposal in early October, 219-206. They only had a few more votes to spare to keep a majority, and GOP leaders were reportedly scrambling on Wednesday evening to nail down support.
Several members from New York and New Jersey who backed the earlier version were threatening to vote no on Thursday unless the leadership agreed to a deal on the state-and-local-tax deduction in the upcoming tax bill in advance. The provision has emerged as a stumbling block in the tax reform debate; senior Republicans want to scrap the deduction to pay for steeper rate cuts, but lawmakers from higher-tax states are worried it will result in a net tax increase for many of their middle-class constituents.
Nor were all conservatives on board with the Senate budget. "I find it a little condescending to be asked to vote for a budget that nobody believes in when we don't even get to see the tax bill that's supposed to be the great savior of the American economy," said Representative Matt Gaetz of Florida, a first-term member who voted for the House budget but warned he was "not there" on the Senate version. Representative Justin Amash of Michigan denounced the proposal as "a big-government budget" that conservative leaders would have criticized under President Obama. "What happened to fiscal conservatism?" he asked on Twitter.
In the end, Republican leaders were able to find the votes for the budget only because rank-and-file members know they'll have another chance to fight over the details of tax reform later on. A number of lawmakers from New York and New Jersey carried through on their threat to vote no, including Representatives Peter King, Dan Donovan, John Katko, John Faso, and Elise Stefanik from New York, and Representatives Tom MacArthur, Frank LoBiondo, and Chris Smith of New Jersey. But party leaders overcame some of the losses by flipping Representatives Barbara Comstock of Virginia and Pennsylvania Representatives Charlie Dent and Pat Meehan, who had opposed the House version earlier in the month.
Ryan has taken to comparing the situation to a white-water rafting trip. "We've been going through Class 3 rapids, which is nice. It's a pleasant ride. Everybody pretty much stays in the boat," he said Wednesday during an interview with Reuters. "But we're about to go through Class 5 rapids, which is the biggest rapid you can go through. And we've got to make sure everybody stays in the boat and we get the boat down the river."
Republicans are now about to reach the tax-reform gantlet, and with Thursday's budget vote, they cleared their first test ahead of the choppier waters to come.
---
* This article originally misidentified Representative Scott Perry of Pennsylvania as Representative Markwayne Mullin of Oklahoma. We regret the error.