Can Democrats Revive the Possibility of a Public Option for Health Care?
Senator Brian Schatz is introducing legislation that gives states the option of allowing anyone to buy into Medicaid. Will the party's progressive wing embrace it?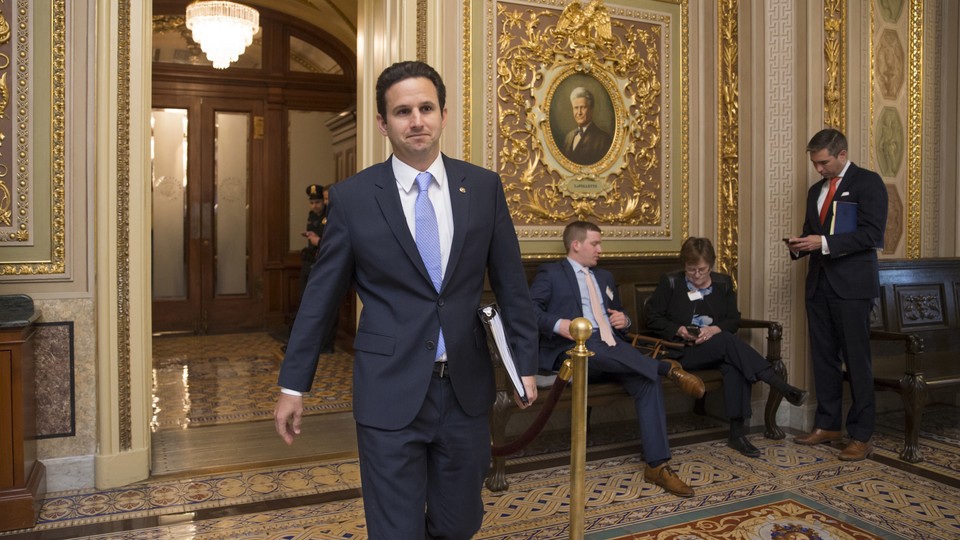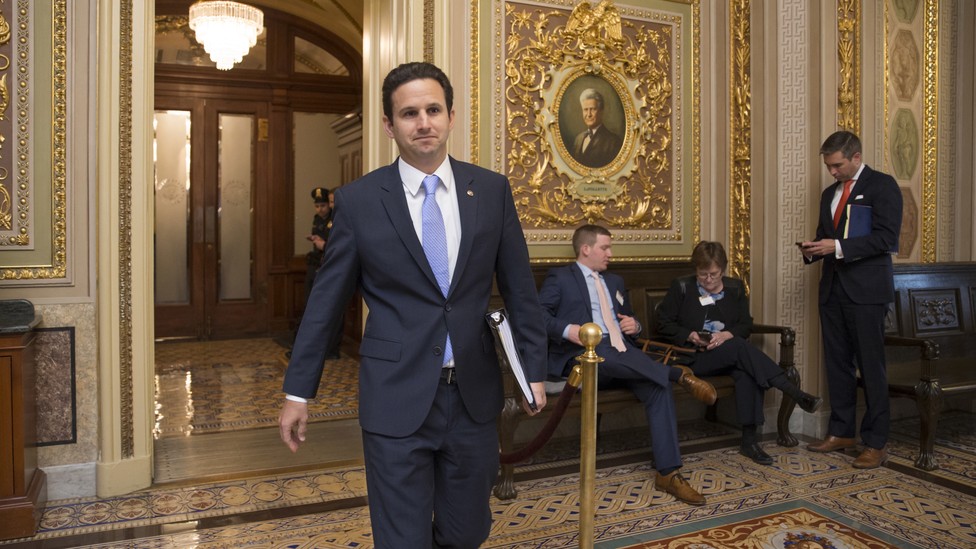 Ever since a so-called "public option" failed to pass as part of the Affordable Care Act, there hasn't been much talk in Washington about setting up a government-run health-insurance plan that could compete with private insurers. Democratic Senator Brian Schatz of Hawaii wants to change that.
On Wednesday, Schatz is introducing legislation that would allow states to set up their own public option by expanding Medicaid, the insurance program paid for by both the federal and state governments that currently covers low-income individuals, to any American who wants to buy into it.
The legislation joins a growing list of ideas offered up by congressional Democrats as they try to make an appealing pitch to voters about what they would do if they ever win back the House, Senate, and the presidency.
It's not the only public option proposal: Democratic Senators Tim Kaine and Michael Bennet recently introduced what they described as "Medicare-X," legislation to create a public option on the Affordable Care Act exchanges that taps into the Medicare network of doctors and providers.
It's also not the most high-profile or ambitious policy idea out there: Vermont Senator Bernie Sanders, by some measures the most popular politician in the country, introduced "Medicare-for-all" legislation last month to create a government-operated, taxpayer-funded universal insurance plan for all Americans.
Schatz, who supports the Sanders single-payer bill, insists that these ideas don't have to be in direct competition with one another. The Democratic senator argues instead that Democrats should put forward a range of ideas, which the party should debate, rigorously vet, and then determine what will work best. What Schatz doesn't want is for the party, or its left flank, to impose ideological litmus tests on health-care policy.
"With health care, somebody at some point decided that there was a bright line and that you had to pick sides. Well, I reject that view," Schatz told me in an interview. "I think we should respect each other as colleagues, respect each other as progressives, enough to take all of these bills, and have hearings, and subject them to scrutiny."
The senator argued that as a party, Democrats don't insist there's only one good policy option to deal with major issues like what to do about crumbling infrastructure, the threat of climate change, or how to reform the nation's tax code—and he doesn't want to see the party take a different approach with health care.
"Health care has gotten really weird politically," Schatz said, referring to that kind of single-minded approach. "We've sort of tied ourselves in knots on this issue in a way that we don't do ... for criminal-justice reform, or tax policy, or climate policy. If someone wants to do a carbon fee and someone else wants to do a cap on emissions or a renewable portfolio standard, we don't start labeling each other as more or less progressive."
Sanders has explicitly said that he doesn't see single-payer as a litmus test, but some of his allies have taken a different line, insisting that it would be political malpractice not to endorse single payer. Incremental proposals to expand coverage introduced by other Democrats may face criticism from the party's progressive wing, even if not from Sanders, as a result.
One thing working in Schatz's favor is that Sanders himself has signed on to support the public option legislation, another signal that the Vermont senator believes there's room for Democrats to consider a variety of health-care reforms. Sanders has previously said that he believes a public option should be available in every state as a short-term measure on health care, while he sees single payer as a long-term health-care policy solution.
"I like Bernie's plan too, and Bernie likes my plan, so why don't we just go ahead and have a hearing and figure this all out," Schatz said.
Schatz's legislation has 18 co-sponsors, all Democrats except for Sanders, who remains an Independent. A number of high-profile Democrats talked about as potential 2020 contenders have signed on in support, including Cory Booker, Kamala Harris, Kirsten Gillibrand, Elizabeth Warren, and Chris Murphy. Booker, Harris, Warren, and Gillibrand are also co-sponsors of Sanders's single-payer bill.
The goal of Schatz's legislation would be to increase the number of Americans with health insurance, and the senator says he believes it would even be possible for the bill to "achieve universal coverage." But there would be no guarantee of that.
One way people might miss out on the opportunity to gain coverage through a government-run plan would be if states decided not to offer a public option in the first place. A number of states have opted not to expand Medicaid eligibility under the Affordable Care Act, including conservative strongholds with Republican governors like Kansas and Oklahoma. A similar dynamic might play out if Schatz's legislation were ever enacted into law.
The senator acknowledges that possibility, but argues that hold-out states may later decide to adopt the public option if they see it driving down health-care costs as a result of increased competition in states that implement it. "Eventually the logic of providing more people with insurance at a lower rate is going to win the day," he said. In the meantime, Schatz argues that "flexibility is key" and that the structure of his plan "increases the likelihood that it can actually pass."
That's part of the reason why Schatz describes the legislation as "the most practical progressive path" for health-care policy, though he recognizes that there's not likely to be any viable path for the legislation in Congress just yet. "The temperature is too high," he said.
Unlike Sanders's single-payer legislation, which would eliminate out-of-pocket spending on things like deductibles, though co-pays for prescription drugs could still be imposed, the Schatz legislation would allow states to set up deductibles, premiums, and other measures to defray the cost of providing coverage.
The Sanders single-payer bill does not have a specific funding mechanism attached, but would likely be paid for by a tax increase. Schatz doesn't think his state-run public-option plan would necessitate any new taxes, but added that he can't say for sure. "We do need an actuarial analysis of this bill, we do eventually need a CBO [Congressional Budget Office] score," he said. "How this is financed is a serious question, and needs to be addressed head on."
There are other questions that Schatz doesn't have all the answers to as well, including what would happen to private insurers that have to compete with a public option under his plan.
When I asked the senator if he thinks legislative action should be taken to address any resulting disruptions to the private insurance market, he said, "I think we cross that bridge when we get to it. Generally speaking, competition is good, and I believe that some private insurers will be able to provide competitive coverage. But if you can't compete with the public option, then that says something about the value that you were providing."
Another key difference between Schatz's proposal and the single-payer plan from Sanders is that the Hawaii senator wants to use Medicaid, rather than Medicare, as the vehicle for expanded health coverage.
Congressional Republicans targeted Medicaid for funding cuts as part of their so far failed attempts to dismantle the Affordable Care Act since President Trump's election. So much so that a Washington Post headline from July read, "Republicans' Obamacare repeal is starting to look like Medicaid repeal."
Despite, or perhaps because of those threats, Medicaid remains broadly popular. A Kaiser Health poll published in July found that a majority of the public, at 65 percent, opposed cuts to federal Medicaid funding as part of an effort to rollback the Affordable Care Act. There was a partisan opinion gap, however: 88 percent of Democrats opposed Medicaid cuts, compared to only 38 percent of Republicans.
In the wake of Republican efforts to pass legislation that budget analysts predict would decrease the number of insured Americans, Democrats have coalesced around a different objective: The party agrees on the goal of expanding coverage.
But if the party wants to pass its own legislation to expand coverage if and when it regains power in Washington, Democrats may need to work out the details of their policy ideas in advance. That means grappling with questions like cost, and what would happen if proposed legislation creates upheaval in the current health-care market.
If Democrats can't do that, the party may face the same fate that Republicans have so far and end up without health-care legislation that can pass Congress.
For now, the most viable health-care legislation moving through Congress may be a deal from Republican Senator Lamar Alexander and Democratic Senator Patty Murray intended to improve and stabilize the Affordable Care Act. Passage is no sure thing, however, and President Trump has sent conflicting messages as to whether he would support the measure.
When I asked Schatz whether he has had a chance to talk to Senator Alexander, who chairs the Senate committee on health, education, labor, and pensions, about his own legislation, he said that he hadn't, partly because he doesn't want to distract from efforts to pass the rare, bipartisan deal. "I don't want to do anything to complicate their negotiations," he said.