The Strangest Political Attack Ad of 2017
A new TV spot in the Virginia gubernatorial election captures an unusual political moment for criminal-justice reform.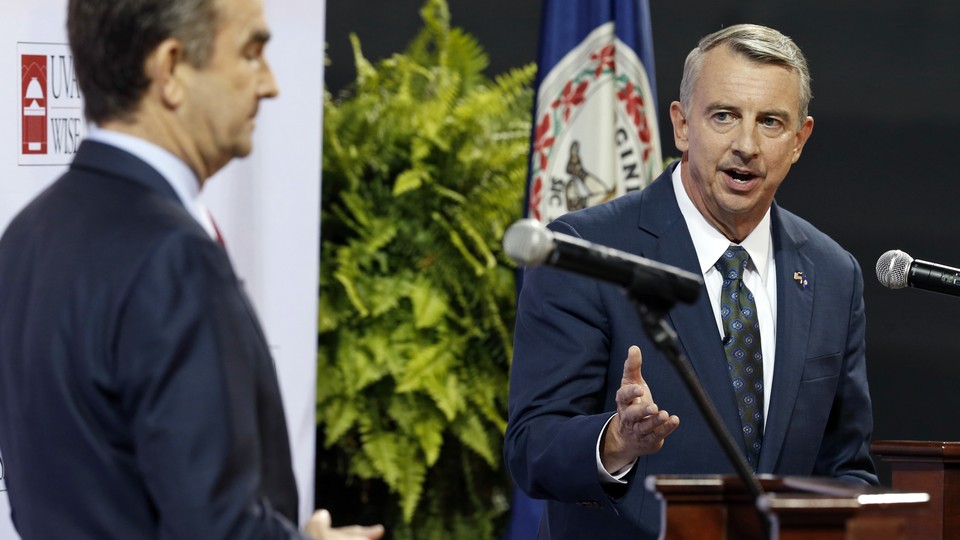 Virginians aren't enjoying a one-year pause in campaign ads like most other Americans in 2017. The commonwealth's airwaves are saturated by TV spots from Ralph Northam, the state's Democratic lieutenant governor, and Ed Gillespie, a former Republican National Committee chairman. Whichever candidate takes the governor's mansion will also hand their party a morale boost ahead of next year's midterms.
Into this high-stakes contest Gillespie has dropped one of the most unusual campaign ads of the year, which melds tough-on-crime fear-mongering—long a staple of political persuasion—with establishment-Republican nods to compassionate criminal-justice reform. In doing so, the spot highlights reform's unpredictable future in the age of Donald Trump and Jeff Sessions.
The ad takes aim at current Virginia Governor Terry McAuliffe's program restoring convicted felons' right to vote. Virginia is one of four states where a person loses the franchise entirely after they are convicted of a felony-level offense. McAuliffe first tried to use his pardon power to restore the rights of 200,000 Virginians in one blow. Republican lawmakers successfully challenged the en masse order in court, so the governor began signing the orders individually, totaling more than 168,000 to date. McAuliffe's move stands out as perhaps the boldest concrete step to reverse mass incarceration's effects on individuals' agency that the country has seen so far.
At the same time, the policy's breadth left it open to narrow attacks like the one made by Gillespie. Here's the first half of the ad's narration:
Last year, Terry McAuliffe and Ralph Northam instituted the automatic restoration of rights for violent felons and sex offenders, making it easier for them to obtain firearms and allowing them to serve on juries. One of these felons, John Bowen, had his rights restored two months after being found with one of the largest child-pornography collections in Virginia's history. Forty-three prosecutors—Republicans, Democrats, and Independents—opposed Ralph Northam's reckless policy. Now, Virginia law enforcement has endorsed Ed Gillespie for governor.
This part of the ad somewhat obscures Bowen's timeline: The Times-Dispatch says McAuliffe restored the rights he lost from a previous conviction, and that Bowen had only been arrested and not yet convicted of the new offenses when the restoration happened. But the overall aesthetic evokes the tough-on-crime ads that dominated campaigning in the 1980s and 1990s: If you vote for my opponent, your family will be less safe.
In that sense, Gillespie's new ad isn't surprising, echoing its predecessors from all levels of American elections, with the infamous Willie Horton ad standing out in that dismal field. While the antagonist in this spot is white—unlike Horton, a black man George H.W. Bush's campaign spotlighted in 1988—Gillespie's campaign hasn't shied away from appeals to racial animus, especially in the context of public safety. He maintained his support for Confederate statues after the white-nationalist violence in Charlottesville, Virginia, in August. And he's run multiple ads portraying Northam as too soft on MS-13, a Latin American gang and a political specter frequently invoked by the Trump administration.
But what's truly unusual about the ad is how the message changes in its second half. From the transcript:
Virginians who have paid their debt to society and are living an honest life should have their rights restored. But Ralph Northam's policy of automatic restoration of rights for unrepentant, unreformed, violent criminals is wrong. As governor, I'll be both compassionate and protecting of Virginia families. I'm Ed Gillespie, candidate for governor, and I sponsored this ad.
The tonal shift is accompanied by an even more jarring visual one, as the ad cuts away from dark juxtapositions of Northam and an alleged child-pornography collector to a smiling, well-lit Gillespie at home. This is not a traditional closing pitch for tough-on-crime ads, to say the least, with Gillespie modifying the tried-and-true formula and conveying actual nuance in his policy prescription.
First, he endorses the general aim of McAuliffe's policy, even if he says he wouldn't apply it as universally as the current governor does. Second, he emphasizes that his interest in the issue goes beyond punishing criminals. Gillespie isn't promising to drop the hammer; he wants to be "compassionate and protecting of Virginia families."
It's a cliché that politicians campaign in poetry and govern in prose. But Gillespie appears to be campaigning in Trumpism while aiming to govern in criminal-justice reform. His website has a lengthy page devoted to the subject with testimonials to his "thoughtful and detailed approach" from state lawmakers and law-enforcement officials. Some positions are relatively modest, like reduced enforcement for marijuana laws and a toe-dip into legalizing medical marijuana. Others are more arcane but more substantive, like raising the felony larceny threshold from $200 to $500 and reducing driver's-license suspensions. With some notable exceptions, many of his criminal-justice proposals match those on Northam's website.
If he wins and enacts this agenda, Gillespie could be a signal to congressional Republicans north of the Potomac, where reform is slowly returning to the federal agenda after its election-year pause. Conservative proponents say they're optimistic that Congress will take up the matter next year after dispatching with tax reform (though that's easier said than done). A bipartisan group of legislators even proposed a new bill last month that aims to reduce mandatory sentences for drug crimes and reform harsher aspects of the current system.
At the same time, would-be reformers could wrestle with the potential opposition of President Trump, who rose to power by anointing himself as a "law and order" candidate, and Attorney General Jeff Sessions, a criminal-justice hardliner who helped torpedo the reform bill last year. A Gillespie victory could prove that Trump's presidency isn't necessarily fatal to modest efforts to rein in mass incarceration. Indeed, the candidate appears to be betting it'll take a little Trumpism to get there.