A Former Trump Adviser Pleads Guilty to Lying About His Contacts With Russia
George Papadopoulos heard that Russia had "dirt" related to Hillary Clinton in the form of "thousands" of hacked emails as early as April 2016.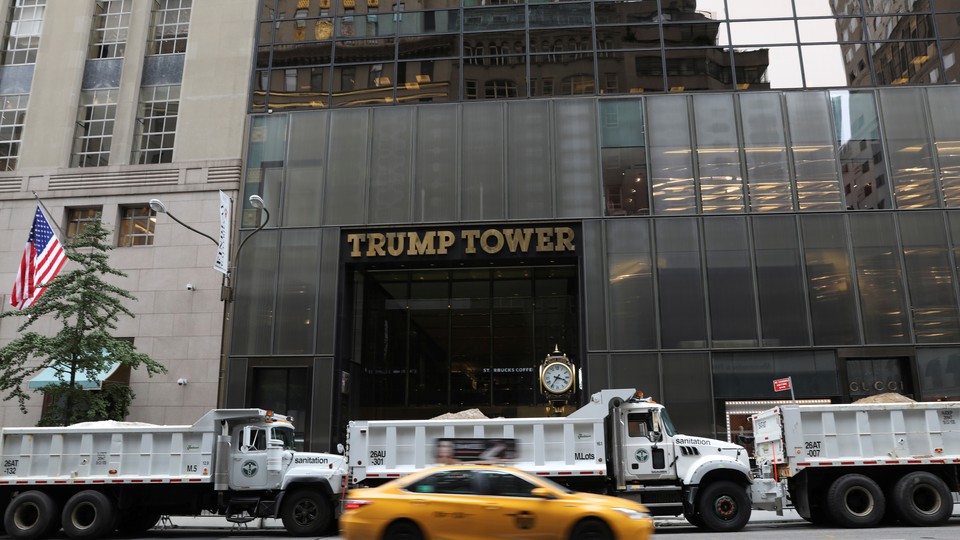 Updated at 4:54 p.m. ET
Special Counsel Robert Mueller's probe into Russian interference in the 2016 election has notched its first guilty plea—but the culprit isn't one of the bigger names in the case. George Papadopoulos, an obscure, low-level foreign-policy aide to the Donald Trump presidential campaign, pleaded guilty on October 5 to making false statements to the FBI.
Papadopoulos doesn't have the same profile as Paul Manafort, the former Trump campaign chair whose indictment was unsealed on Monday, but the case against him offers new information about possible ties between the Trump campaign and Russia.
According to a government filing, all of which Papadopoulos acknowledged to be accurate as part of the plea deal, he learned in March 2016 that he would be joining the Trump campaign as a foreign-policy adviser. Later that month, he met in Italy with an individual identified as "the Professor," who claimed to have extensive Russian government connections, and who took interest in his new job. The Professor in turn introduced Papadopoulos to a Russian woman who claimed to be a relative of Russian President Vladimir Putin, though Papadopoulos later learned she was not. Papadopoulos told Trump campaign officials about his contacts with the pair and received encouragement.
On March 31, 2016, Papadopoulos attended a Trump campaign meeting in which he claimed he could arrange a meeting between Trump and Putin. The Washington Post had previously reported on that offer, which apparently concerned Trump campaign officials, who worried such a meeting might be improper at best and illegal at worst. Over the coming weeks, however, Papadopoulos continued to try to establish meetings between Russian officials and the Trump team.
The biggest revelation in the plea agreement concerns an April 26 meeting in London. Papadopoulos met with the Professor, who told him that the Russians had "dirt" on Democratic candidate Hillary Clinton. The government filing says the Professor said that "the Russians had emails of Clinton," and in fact "thousands of emails."
If that is a reference to the emails stolen from the Clinton campaign, which were later leaked via WikiLeaks and other entities believed to be linked to the Russian government, it would be the earliest such mention. The U.S. has concluded that Russian state-backed agents hacked into the emails of Clinton campaign chair John Podesta and the Democratic National Committee. It was not until June 14, 2016, that the DNC disclosed that they believed they had been hacked, meaning Papadopoulos (and by extension the Trump campaign) may have known about the incursion months before it was public. In July 2016, Trump said he hoped that Russia would release stolen Clinton emails.
Representative Adam Schiff, the ranking Democrat on the House Intelligence Committee, said he believed this referred to the same tranche of hacked emails that was later released.
"I think it's very credible, because in fact we would later learn and confirm that they did have the emails," he told me. "We know that some of the intrusions predated that—that information is all too corroborated by other information."
Schiff said the Russian contacts with Papadopoulos had the hallmarks of a Russian intelligence operation, and he noted that although Papadopoulos was a low-level staffer, there were reports of contacts between Russian agents and Trump officials at many levels. "You might say, 'OK, he's one of several foreign-policy advisers and not at the top of the campaign,' but there's also an approach to the top of the campaign, in Paul Manafort and Jared Kushner and the president's own son. You have other interactions as well. You have Peter Smith. ... You have Roger Stone."
Following his conversation with the Professor, Papadopoulos continued to cultivate connections to Russians, including one who claimed to be tied to the Ministry of Foreign Affairs, and to pitch meetings to higher-ups in the Trump campaign. The Post reported in August 2017 that Manafort had rejected a Trump-Putin meeting suggested by Papadopoulos. Trump never traveled to Russia.
The FBI first interviewed Papadopoulos in late January, before Mueller was appointed special counsel. Papadopoulos made multiple false statements during that meeting, claiming for example that his conversation with the Professor about the emails preceded his work for the Trump campaign. He also downplayed his contacts with the female Russian national and claimed they'd taken place before he joined the Trump campaign. After meeting with the FBI again in February, Papadopoulos deleted his Facebook account and got a new cellphone number. Then, on July 27, 2017, Papadopoulos was arrested upon arriving at Dulles International Airport near Washington, D.C.
Although Papadopoulos could face up to five years in prison for the crimes to which he has pleaded guilty, the prosecution agreed to seek far less than that—zero to six months—as part of the deal, though a judge will make the final decision.
As with many Trump campaign workers, Papadopoulos brought scant experience to the table. He was unusually young for his role, having only graduated in 2009, and had few foreign-policy credentials: He listed participation in a Model UN as one on his resume. He had previously worked for Ben Carson's GOP presidential campaign.
Beyond the revelation that Russia claimed to have hacked emails as early as April 2016, it's hard to know how significant the Papadopoulos case is. While the indictment against Paul Manafort unsealed on Monday hinges on alleged personal financial crimes committed outside the auspices of the Trump campaign, the Papadopoulos plea actually strikes at the most politically charged element of Mueller's investigation: the question of whether the Trump campaign colluded with Russia. At the very least, it suggests that Trump and his aides, who have repeatedly insisted there was no evidence of collusion, were misleading in the statements they made about campaign contacts with Russia.
Yet Papadopoulos is hardly a big fish. The Post report shows that Trump campaign officials eyed his contacts with Russia with discomfort and skepticism, and aides with more obvious potential channels to the Kremlin—in particular Manafort—waved them off. It's also difficult to tell how seriously to take the Russians with whom he was in contact: The Russian female was apparently lying about her blood ties to Putin, while it's unclear what the Professor's links were, or whether the supposed Ministry of Foreign Affairs source really was one.
Papadopoulos's plea is notable because it represents a guilty plea by a Trump campaign official related to ties with Russia. The fact that he was arrested in July, but that Mueller managed to keep his case against him secret until Monday morning, is a reminder of how tight-lipped the special counsel's team has proven, and that Mueller may know things that have not yet been publicly reported or disclosed. The plea deal indicates that Papadopoulos is now cooperating with the probe. And although the documents disclosed Monday contain only limited details, it may ultimately prove significant if he proves willing and able to give Mueller's team new information about the Trump campaign's Russian ties or testify against his former colleagues.