Donald Trump's Obamacare Whiplash
Does the president want Congress to strike a bipartisan deal on health care? As with so many other issues, it depends on the hour.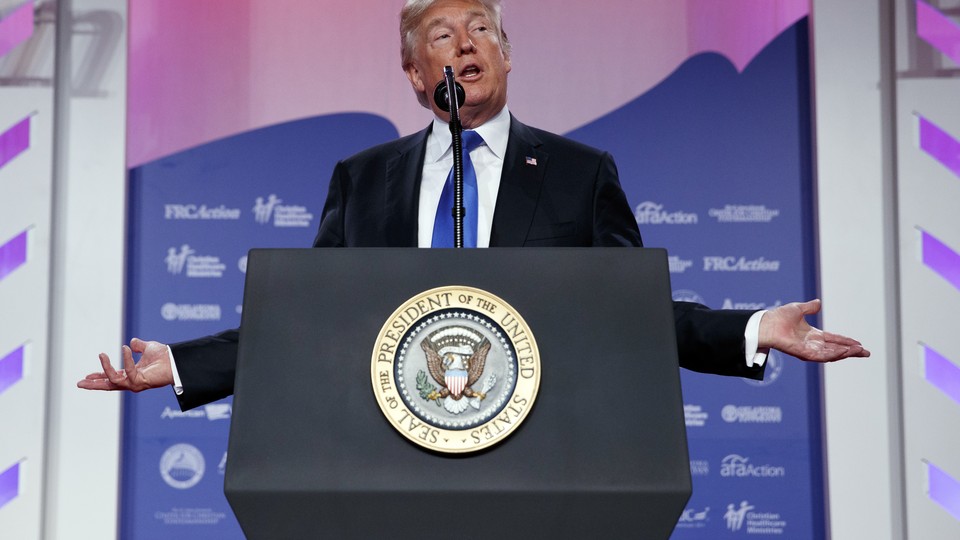 On Wednesday morning, another leading Republican senator suffered an injury that has struck lawmakers throughout the Capitol in the last nine months: presidential policy whiplash.
President Trump can't seem to decide whether he wants Congress to pass a bipartisan deal to shore up the Affordable Care Act. On Tuesday afternoon, the president praised and appeared to endorse an agreement that aimed to stabilize the law's faltering exchanges by restoring crucial insurer payments that Trump had cancelled last week. Hours later, however, Trump was telling a conservative crowd that he opposed "providing bailouts to insurance companies." And by Wednesday morning, the president had formalized his criticism in a tweet.
I am supportive of Lamar as a person & also of the process, but I can never support bailing out ins co's who have made a fortune w/ O'Care.

— Donald J. Trump (@realDonaldTrump) October 18, 2017
"Lamar" is Senator Lamar Alexander of Tennessee, the Republican health committee chairman who negotiated the bipartisan accord with Senator Patty Murray of Washington State, the panel's top Democrat. In the you've-got-to-give-something-to-get-something style of congressional dealmaking, the Alexander-Murray legislation would restore what are known as "cost-sharing reduction" payments to insurance companies for two years—a Democratic demand—while also making it easier for states to opt out of some of Obamacare's regulations, which Republicans insisted on. The goal of the bill is to shore up the law in the short term and head off premium increases resulting from Trump's refusal to reimburse insurers for subsidies they are required to pay out to lower-income consumers.
Unveiling the compromise on Tuesday, Alexander made sure to emphasize that Trump had encouraged his dealmaking, and the president himself had boasted—inaccurately—that his decision to cancel the insurer payments last week had brought both parties to the negotiating table. The president had called Alexander twice in the last two weeks, the senator said, and told him "he doesn't want people to be hurt in the interim." Trump said as much in public on Tuesday. "It will get us over the immediate hump," he told reporters. "It is a short-term solution so that we don't have this very dangerous little period."
The president called Alexander again on Wednesday morning to offer encouragement, the Tennesseean said at an event hosted by Axios. But Trump's subsequent tweet could scuttle the deal altogether, providing cover to conservatives who are already denouncing it as a cave to Democrats and a retreat from the Republicans' longstanding, if unrealized, commitment to repealing and replacing Obamacare entirely.
As if on cue, a spokesman for House Speaker Paul Ryan signaled opposition to the agreement after withholding judgment a day before.  "The speaker does not see anything that changes his view that the Senate should keep its focus on repeal and replace of Obamacare," Ryan spokesman Doug Andres said. In his own series of tweets, Alexander tried to offer a path forward, saying that while his legislation had "strong language" to guarantee insurers wouldn't simply pocket the payments from the government, he would work with Trump to make it even tighter.
Trump's flip-flop may be jarring to Alexander, but it's not surprising. For a president who campaigned as a decisive deal-maker, inconsistency has been a hallmark of his first year in office. Back in July, my colleague David Graham catalogued his ever-changing positions on health care.
But Trump's handling of this latest episode closely tracks his more-recent moves on immigration. In September, the administration announced an end to the Deferred Action for Childhood Arrivals program, raising the specter that millions of young people brought illegally to the U.S. as children could be at risk for deportation. As on the insurer payments, Trump couched his decision in legal terms, arguing that the administration could not act without the approval of Congress. Then, he surprised both his party and the public by floating the outlines of a deal with Democrats in which he would agree to protect DACA recipients in exchange for additional border security measures.
Yet that position, too, did not last long. After blowback from conservatives, Trump issued hardline demands that departed wildly from what he told Democrats he could accept. More than a month after Trump's first optimistic meeting with Democrats on immigration, the DACA deal has gone nowhere.
The flirtation with bipartisanship on health care could follow the same murky path. Once again, Trump revoked a policy and is forcing Congress to restore it. But his own inconsistency seems to be standing in the way. Lawmakers on Capitol Hill often issue vague demands for "presidential leadership" when they don't want to take responsibility for a problem or make a decision themselves. In this case, however, Trump's opinion matters to Republicans. They need to know, first of all, whether he would sign legislation if they pass it, and second, whether he will help defend the law to conservative voters who may recoil at a measure propping up Obamacare. "You cannot govern a country if you do not know what a bill does and keep a consistent policy about it," Senate Minority Leader Charles Schumer said on Wednesday.
The president's tweet isn't necessarily a death knell for the Alexander-Murray deal, just like his wish list on immigration doesn't preclude an eventual compromise on DACA. A number of Republican senators have already signaled their support for the Obamacare fix, and they could pressure the party leadership to bring it to a vote. Given that the agreement enjoys broad support among Democrats, it would likely have the votes to pass if it got the chance.
A more likely scenario, however, is that Democrats will demand that Republicans add the legislation to a broader deal to prevent a government shutdown in December. Democrats will also be pushing for a DACA bill at that time, and Trump likely will try to use those issues to extract victories of his own on a border wall, increased military spending, and other priorities.
Then again, Alexander and Murray might not have to wait that long for their Obamacare compromise to get a boost. With this president, few policy positions are permanent, and he might well change his mind again.