The Democrats' Pipeline Problem
The party's increasing reliance on younger and non-white voters is at odds with those who represent them.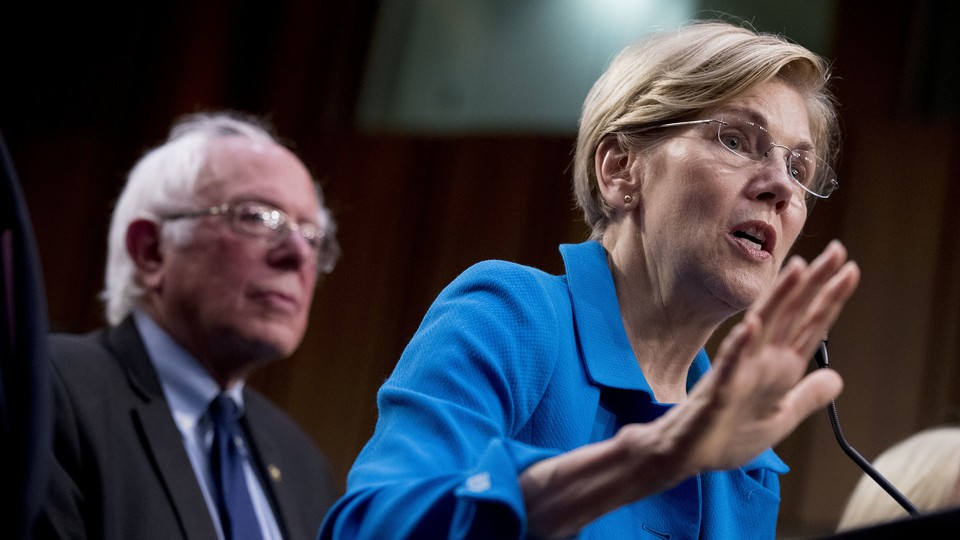 For a party banking on America's future, Democrats have grown top-heavy with leaders rooted in its past.
When Democratic Senator Dianne Feinstein of California announced this week she would seek reelection next year for a term that would extend past her 91st birthday, she underscored the generational logjam within the highest echelons of the Democratic Party. Though the party now increasingly relies on younger and non-white voters, its post-Barack Obama leadership—both in Congress and the top tier of possible 2020 presidential contenders—is almost entirely older and white.
The instability of this dynamic was evident in 2016, when Hillary Clinton, the party's 69-year-old presidential nominee, struggled to excite Millennial and minority voters despite the clear and present danger Donald Trump presented to almost all of the values they profess. "There is a great urgency for Democrats now to turn the generational wheel," said Simon Rosenberg, founder and president of NDN, a Democratic advocacy and analysis group. "It's a pragmatic, practical thing that the younger candidates are just going to do a better job of speaking to this emerging coalition that we have," which "has not been turning out with the frequency and intensity that we need."
Yet younger and diverse leaders remain as rare as MAGA hats at the very top of the Democratic ladder. In the Senate, Democrats are led by three white seniors: Minority Leader Chuck Schumer (age 67) and assistant leaders Dick Durbin (72) and Patty Murray (67). In the House, the big three are Nancy Pelosi (77) and Steny Hoyer (78), both white; and James Clyburn (77), who is black.
The top of the potential 2020 Democratic presidential field is just as white—and gray. The three possible candidates with the largest national followings are Bernie Sanders (76), Joe Biden (75 next month), and Elizabeth Warren (68). The younger Democrats who might join them—from Senators Cory Booker of New Jersey, Kirsten Gillibrand of New York, and Kamala Harris of California, to even longer-shot possible candidates like Representatives Seth Moulton of Massachusetts and Tim Ryan of Ohio—would begin far back on key measures like name recognition and fundraising capacity.
Congressional Republicans have an even weaker record on diversity—their top three leaders in each chamber are white men. But their leadership is younger; think House Speaker Paul Ryan, House Majority Leader Kevin McCarthy, and Senate Conference Chair John Thune. In the 2016 presidential contest, two 40-something Hispanic Republicans, Ted Cruz and Marco Rubio, fought their way into the race's final rounds.
The irony is that Democrats have the greater need to elevate leaders who can connect with younger and diverse voters. Whites older than 45 now routinely provide a majority of the votes for GOP presidential candidates. That means Democrats need to maximize both turnout and their margins among non-white and younger voters (who are themselves far more diverse than older generations of voters). Despite the provocation Trump provided, Democrats decisively failed on that front in 2016: Turnout among white and Hispanic Millennials disappointed, and it plummeted among younger African Americans compared with 2012.
"The Democratic coalition is full of new, episodic, and younger voters who are not yet regular voters," Rosenberg said. "Finding candidates like Obama who can excite this coalition that is far younger than the Republican coalition becomes a political necessity."
In fairness to Democrats, it may be harder for them to elect minority candidates to statewide office, because the GOP label makes it far easier for non-whites running as Republicans to attract more culturally conservative whites. But it's also true that grooming candidates who reflect the Democratic coalition hasn't been a priority for party officials in the racially diverse states that should be producing the next generation of leaders.
California exemplifies the problem. As of last November's election, the state's top elected positions were held by three white Democrats born before Pearl Harbor: Governor Jerry Brown and Senators Feinstein and Barbara Boxer. When Boxer retired, she created an opening for then-Attorney General Kamala Harris, the energetic daughter of an Indian mother and Jamaican father. Boxer was an effective senator, but Harris (52) has provided a charismatic jolt of electricity to Democrats nationwide.
Many California Democrats were hoping Feinstein, at 84, might similarly allow another new figure to shine—one like state Senate President Kevin de Leon (50) or Representative Adam Schiff (57), a leader in the House Russia investigation. "There are people who are yearning to see some younger blood in the state," Kimberly Ellis, who ran for state Democratic chair this year, told The New York Times after Feinstein's announcement.
Bill Carrick, Feinstein's longtime chief strategist, told me such considerations pale against the practical value of reelecting a senator with seniority—especially given the threat Trump presents to the state. "Do you want to give that up now and start with a freshman senator, or do you want somebody who is going to take them on on issues like immigration and has the skill and the clout to get things done?" Carrick asked.
That's a reasonable argument—and one voters will weigh if de Leon or another opponent (such as activist-meets-financial entrepreneur Joe Sanberg) challenges Feinstein in a primary next year. The problem for Democrats is what makes sense for any individual incumbent doesn't compute for the party collectively. While Sanders energized Millennial voters during the 2016 Democratic primary, and the salty Biden might project more authenticity to young people than Clinton did, Democrats are still tempting fate by trying to rally a coalition for the internet era with so many leaders who can distinctly remember their first color TV.