Democrats Warn Trump: Leave Mueller Alone
After Monday's indictments, lawmakers urged Republicans to join them in supporting the special counsel's investigation.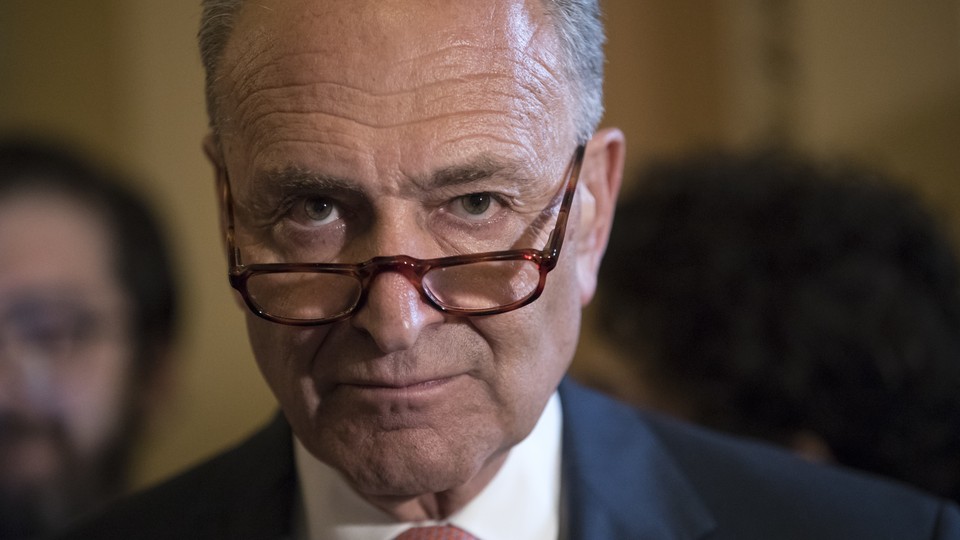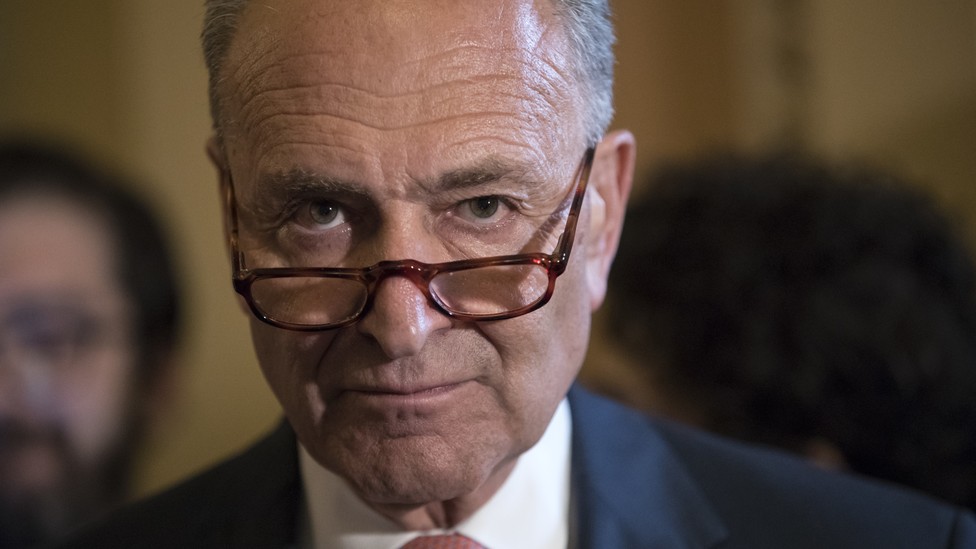 Updated on October 30 at 5:52 p.m. ET
Leading congressional Democrats responded to the indictment of Donald Trump's former top campaign officials not with jubilation, or relief, or even outrage, but with a blunt warning to the president: Leave Robert Mueller alone.
"The president must not, under any circumstances, interfere with the special counsel's work in any way," Senate Minority Leader Charles Schumer said. "If he does so, Congress must respond swiftly, unequivocally, and in a bipartisan way to ensure that the investigation continues."
Schumer issued his statement less than an hour after Mueller, the former FBI director leading a Justice Department probe into Russian meddling in the 2016 election, unveiled charges against Paul Manafort, Trump's former campaign chairman, and Rick Gates, another top adviser. But it set a tone for Democrats who are increasingly worried that the president will order the dismissal of Mueller as he closes in on Trump's inner circle. Such a move could provoke the kind of constitutional crisis unseen since President Richard Nixon demanded the firing of the special Watergate prosecutor and removed two senior Justice Department officials who refused to execute it.
The White House and Trump himself have said he has no intention of firing Mueller, a statement that spokeswoman Sarah Huckabee Sanders reiterated on Monday. "There's no intention or plan to make any changes with regard to the special counsel," she said. But the president has not ruled out going after Mueller, and Democrats remain concerned that he could change his mind at any time.  Sanders said multiple times the White House expected the special counsel to wrap up his inquiry "soon," but she wouldn't elaborate on why the administration believed that. The indictments on Monday gave the opposite indication—that Mueller was just getting started in a new, more aggressive phase of his investigation.
After Schumer's statement, Mueller's office revealed that a third former Trump campaign official, George Papadopoulos, had agreed to plead guilty to making false statements to the FBI about conversations he had with Russian nationals after he officially joined the campaign.
In recent days, calls by conservative commentators to shut down Mueller's probe or for Trump to begin issuing preemptive pardons have grown, most notably in the pages and on the airwaves owned by Rupert Murdoch. The president himself spent the weekend and Monday morning urging an investigation into his defeated opponent, Hillary Clinton, and the payments by Democratic organizations directed to research that led to a dossier of damaging but unverified allegations against Trump.
"Members of Congress, Republican and Democrat, must also make clear to the president that issuing pardons to any of his associates or to himself would be unacceptable, and result in immediate, bipartisan action by Congress," said Senator Mark Warner of Virginia, the Democratic vice chairman of the Intelligence Committee, which is continuing its own investigation into Russian interference in the campaign and potential collusion by the Trump campaign. The top Democrat on the Judiciary Committee, Senator Dianne Feinstein of California, issued a similar statement and said Mueller's "independence must remain sacrosanct." Asked specifically about the possibility of pardons, Sanders said only that the White House would let the "process play through."
Republicans largely kept quiet on Monday morning after the charges were announced, although several lawmakers reacted to the indictments later in the day after they returned to Washington. House Speaker Paul Ryan issued no statement of his own, but during an appearance on a Wisconsin radio show, he rejected the idea that the indictments would interfere with the GOP's top legislative priority: tax reform.
"I really don't have anything to add, other than nothing's going to derail what we're doing in Congress," Ryan said. Republicans on the House Ways and Means Committee plan to unveil the party's long-awaited tax legislation on Wednesday. Asked again about the news later in the day, Ryan said he hadn't read the indictments in detail. "That's what Bob Mueller was tasked to do," he said. "That's how the judicial process works."
Senate Majority Leader Mitch McConnell declined comment through a spokesman, and Republican leaders dodged questions about the indictment at a press conference on judicial nominations later in the afternoon. Senator Richard Burr of North Carolina, chairman of the Intelligence Committee, said the charges don't "change anything" about the panel's ongoing investigation into Russian election interference. Two senior Republicans, Chairman Charles Grassley of the Senate Judiciary Committee and Senator Orrin Hatch, the longest-serving Republican in the Senate and the committee's former chairman, did offer Mueller some back-up. "As always, it's important to let our legal system run its course," Grassley said in a statement. "The Judiciary Committee is continuing its work to ensure that the Justice Department and FBI are functioning free from inappropriate influence, consistent with our constitutional oversight responsibility." Grassley was more direct in an exchange with CNN: "The president should let the special counsel do his job," the Iowan said.
Late in the day, Hatch issued a statement calling the charges "serious" and saying it was "in the best interest for all parties involved to allow Bob Mueller to conduct a full and vigorous investigation."
In addition to Grassley and Hatch, one backbench Republican congressman, Representative Jim Banks of Indiana, also weighed in with a statement of support for Mueller. "Months ago I & many other Republicans vowed to support Mueller investigation & allow it to work its way through process to get the facts," he wrote on Twitter. "In light of today's indictments we must continue to support and allow the integrity of the process to work."
Some Democrats wanted to go even further, pushing for Congress to pass legislation prohibiting Trump from firing Mueller. But Republicans don't believe that's necessary. "I think he knows what to do and he's doing it," Senator John Cornyn of Texas, the chamber's second-ranking Republican, told reporters.
Republicans applauded Mueller's appointment by Deputy Attorney General Rod Rosenstein in May, viewing the former FBI chief as a respected and unbiased prosecutor who could get to the bottom of allegations against Russia and the Trump campaign. But among some conservative loyalists of the president, that praise has given way to criticism as Mueller and his team of veteran investigators have drawn ever closer to the Trump White House. Skeptical of GOP-led congressional investigations, Democrats have placed their trust in Mueller and want Republicans to join them in threatening a united front if Trump moves against him. But if the party's overall reticence on Monday morning is any indication, the Republican response is: No, thanks.