The Democrats' Luck Runs Out
The expiration of the Children's Health Insurance Program and the Trump administration's moves on immigration and climate policy highlight the limits of the party out of power.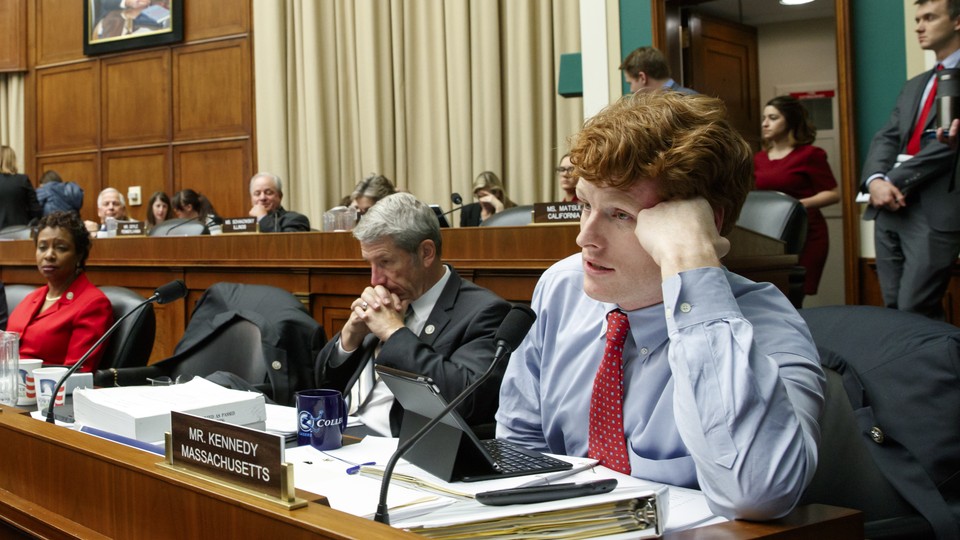 After a run of unlikely victories last month, it seemed possible for Democrats to forget—at least momentarily—that they were the party shut out of power in Washington.
They had watched in gleeful relief as Republicans failed yet again to repeal the Affordable Care Act. Democratic leaders Nancy Pelosi and Charles Schumer had persuaded President Trump to abandon the GOP leadership in a fiscal agreement, and they were poised to strike yet another favorable deal on immigration. Republicans were mired in the kind of infighting that usually follows defeat.
Yet the last two weeks have tested the limits of the Democrats' leverage, offering them bitter reminders that success for the minority party is relative, and often fleeting. On Sunday, Trump laid out a list of hard-line demands on immigration that seemed to extinguish hopes for a quick agreement to shield young undocumented immigrants from the threat of deportation. Then, on Monday, Scott Pruitt, the administrator of the U.S. Environmental Protection Agency, announced that the EPA would fully repeal the Obama administration's Clean Power Plan to combat climate change. And on Thursday, Trump signed an executive order that could ultimately destabilize Obamacare's insurance markets and achieve at least part of the outcome Republicans failed to accomplish legislatively.
All the while, Democrats have been frustrated at a Republican move they consider just as galling as Trump's ongoing effort to undo his predecessor's legacy—the GOP congressional leadership's refusal to take up legislation to reauthorize the Children's Health Insurance Program, or CHIP, and provide federal funding for community health centers. CHIP expired at the beginning of the month after Congress missed a deadline for extending the 20-year-old program, jeopardizing health coverage for nearly nine million kids in low-income families nationwide.
At least 11 states are likely to run out of federal funding by the end of the year, according to the Kaiser Family Foundation, and if Congress doesn't act soon, some of them will freeze enrollment and begin sending out letters warning parents that their children will lose insurance. CHIP has faced political challenges before: In 2007, President George W. Bush twice vetoed bills that would have expanded the program. But this is a new low, advocates said.
"This is the first time they've actually just let it expire," said Bruce Lesley, president of the nonpartisan group First Focus, which advocates for policies that benefit children.
First enacted in 1997 as part of legislation written by Republican Senator Orrin Hatch and the late Democratic Senator Edward Kennedy, CHIP has a long history of bipartisan support. The House and Senate are both considering bills that would extend the program for another five years, but the two parties are still haggling over whether and how to pay for its roughly $8 billion cost. In the Senate, the GOP's last-ditch effort to repeal and replace Obamacare forced party leaders to scrap plans to vote on CHIP at the end of September. And House Republicans postponed a vote planned for this week on a companion bill that might have lacked the support to pass.
At issue is the GOP's demand that funding for CHIP be offset by cuts to Medicare and the Affordable Care Act. The House proposal would force wealthier Americans to pay a larger share of their Medicare premiums, an idea once championed by Obama but only as part of a much broader deficit-reduction agreement. Democrats have rejected that, arguing that the U.S. can afford to provide health coverage for low-income families without stripping it for others.
"It is reflective of a continued vision for Republican leadership here, and under President Trump, that health care in this country for some reason is a zero-sum game, that you can only extend coverage and care for kids, for community health centers, at the expense of something else," Representative Joseph Kennedy III, a Massachusetts Democrat, said in an interview. "In order to cover somebody, you have to take it away or degrade the quality of care for somebody else."
"We don't have to do that," Kennedy said.
Democrats now face a choice. Do they agree to health-care cuts elsewhere to ensure that CHIP continues, or do they hold firm and bet that Republicans will not be willing to suffer the inevitable political blowback that will come once states start cutting enrollment? "They're going to lose this battle," Representative Jan Schakowsky, an Illinois Democrat, predicted to me. "CHIP is going to be reauthorized." Schakowsky added that the same political dynamic that stymied Republicans on Obamacare repeal would ultimately reemerge on CHIP. "People get health care," she said. "They may not get Russia. They may not even get North Korea. But health care is personal."
Yet having watched House Republicans pass Obamacare repeal despite plenty of evidence it was unpopular, Kennedy acknowledged that Democrats can't just assume the GOP will come around. "Republicans are in control of the levers of power here for the most part, and with that comes the opportunity to frame that debate and frame that discussion," he told me. "I'm disappointed and frustrated and saddened that this is the path that Republicans in Congress have taken. But I'm not surprised, at all."
Representative Greg Walden of Oregon, chairman of the House Energy and Commerce Committee, said this week the party had postponed a floor vote on the GOP's CHIP bill to buy time for more negotiations with Democrats. He warned, however, that "if the minority wants to reach a bipartisan agreement, time is of the essence." Lawmakers and aides predicted the dispute would ultimately get resolved, either with the passage of bipartisan legislation in the next few weeks or a reauthorization of CHIP as part of a year-end omnibus spending package. "They have to act before then," Lesley warned. "If they wait until December, you're going to have chaos in a lot of states."
The missed deadline has already had consequences, he said. States like Minnesota have been forced to request emergency transfers of money from the federal government to keep their programs running, and Lesley said other states are already shelling out funds to prepare contingency plans in case Congress doesn't act. "That's money coming out of the allotments that should be going to children's health coverage," he said.
Advocates are also worried about what will happen once families start receiving dis-enrollment notices. "That's a huge problem," Lesley said. "If you're a parent and you get a letter like that, that in 60 days your kid will be cut off of coverage, you don't sleep at night."
For Democrats, CHIP's precarious position is an obvious consequence of their minority status. There's little doubt that even with Republicans in control of Congress, a President Obama or Hillary Clinton would have made reauthorization of the program a priority. Trump, on the other hand, has never mentioned it in public, and while Republicans support its extension, CHIP has taken a back seat to a host of other issues. The GOP's slim congressional majority gives Democrats the power to block most legislation, and they've taken full advantage of situations when Republicans need their help to enact must-pass funding bills. But on issues where inaction is an option, that leverage dwindles. When it comes to things like gun control, immigration, and even health insurance for children, Democrats have found they have barely any power at all.