'It's a Shame the White House Has Become an Adult Day Care Center'
Tennessee Senator Bob Corker turns against the president he once played a crucial role in promoting.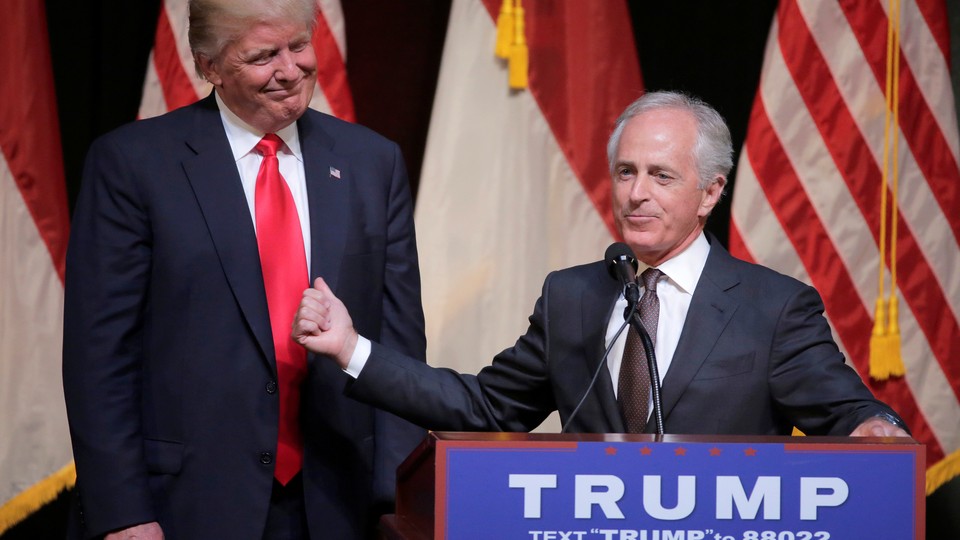 True to his state's nickname, and his alma mater's teams, Bob Corker has twice stepped up as a pivotal volunteer in the political career of Donald Trump—first, volunteering his support when few mainstream Republicans were willing to get near Trump, and more recently, after announcing his intention to retire from the Senate, putting himself forward as a leading elected critic of the White House.
After a series of remarks by the Tennessean over the last month, but especially more recently, Trump unloaded Sunday morning.
Corker responded with his most acid comment yet, belittling the president as mentally unfit for his job:
That's a dramatic and ironic turnaround, because Corker's word and credibility, as a senator respected for his principles and seriousness, was instrumental in paving the way for mainstream Republican acceptance of the Trump candidacy in spring of 2016.
By that point, Trump had solidified his status as the GOP frontrunner, and no longer looked like a mere novelty candidate. But few major elected Republicans had gotten in line behind him—Governor Chris Christie had been the first, and Senator Jeff Sessions followed at the end of February, but most mainstream GOP figures were still hoping for some way to stop Trump. He wouldn't effectively lock down the nomination until the May 3 Indiana primary.
On April 27, Trump spoke at the Mayflower Hotel in Washington, giving his first major foreign-policy address as a candidate. (The event is now infamous for a reception attended by Trump, Sessions, and then-Russian Ambassador Sergey Kislyak. Sessions failed to disclose the encounter, spurring investigations and questions.) As my colleague Russell Berman wrote at the time, Trump "delivered the most scripted, and stilted, speech of his 10-month presidential campaign on Wednesday. He used a teleprompter," promising "to develop a foreign policy that would both be 'unpredictable' and 'consistent.'" By clearing the low bar for knowledge the candidate had set up to that point, the speech won some cautious praise. But Corker was less reserved.
"Today, Donald Trump delivered a very good foreign-policy speech in which he laid out his vision for American engagement in the world," he said. And because Corker was (and is) the chair of the Senate Foreign Relations Committee, and is an establishment Republican, that statement carried a great deal of weight.
Corker began counseling Trump on foreign policy. At a time when opponents were arguing that Trump couldn't be trusted with America's nuclear arsenal, Corker vouched for him—or rather, he vouched for his faith that Trump's behavior would improve.
"I don't really worry about that caricature," Corker told the Tennessean. "Once you come into the Oval Office and you understand the tremendous decisions that you have to make and the magnitude of those and the effect that it's going to have on the world, I think that there's a tremendous soberness and typically when you go in, you end up with lots of very highly qualified people around you."
Corker must have seen a little of himself in Trump. He had moved seamlessly from a business career to the mayorship of Chattanooga, then the Senate, and finally the Foreign Relations Committee, learning what he needed along the way and growing into each new role. Corker, like Trump, had also bucked ideological hardliners in the GOP and earned a reputation as a dealmaker.
Even so, there were some notable differences between the men, including on policy. Corker, while critical of the Obama administration, had clinched a deal with Democrat Ben Cardin to prevent Iranian nuclear-weapons proliferation. Trump, at the Mayflower, called the agreement "a disastrous deal."
By May, Corker was rumored to be a leading contender to join Trump as a vice-presidential candidate. But he still had reservations. After Trump attacked Judge Gonzalo Curiel as unfit to preside over a Trump University fraud case because of his Mexican ancestry, the senator was critical.
"He's obviously stepped in it. He's made statements that are inappropriate," he said in June. "He's got this defining period that's over the next two or three weeks where he could pivot, can pivot, hopefully will pivot to a place where he becomes a true general election candidate."
How brave you found this depended on what you thought Corker's ambitions were. If he wanted to be vice president, this was some tough speech, but then again Corker was also simply saying what many Republicans, whether they supported Trump or not, believed: The campaign was on the verge of collapse.
Apparently Trump passed the three-week test (though he neither withdrew the Curiel attack nor notably moderated his tone and language), because a month later Corker was stumping for him in North Carolina, though he said on July 6 that he was withdrawing from the veepstakes.
Later that month, Trump was officially nominated for president, and most of the GOP rallied around him, as Corker had long before. When a tape emerged of Trump boasting about sexually assaulting women, Corker was critical—"These comments are obviously very inappropriate and offensive and his apology was absolutely necessary"—but did not step down from an advisory position to which he'd been appointed that day.
That looked like a wise (if ethically arguable) gamble after Trump won the race, surprising even himself, and Corker became a frontrunner to be secretary of state. Although many Republicans were eager for Corker to get the job—seeing him as a sober adult who would keep Trump in line—the senator said he doubted he'd get the pick, and in fact the job went to Rex Tillerson, who has endured a painful and ineffectual tenure that may end soon. Long-escalating tension between the president and his secretary of state has only intensified in recent weeks.
Corker has seemed to get more and more disillusioned about Trump as time goes on. In August, after Trump endorsed a soft white supremacy in the wake of the race riot in Charlottesville, Corker criticized him harshly.
"The president has not yet been able to demonstrate the stability nor some of the competence that he needs to demonstrate in order to be successful," Corker told Chattanooga website Nooga.com. "He has not demonstrated that he understands what has made this nation great and what it is today, and he's got to demonstrate the characteristics of a president who understands that."
Trump fired a warning shot shortly after that:
Whether or not that was true, Corker was indeed weighing running for reelection. On September 26, he announced he would retire when his term ends next year. That day, he made a statement that sounded like a warning to the Trump administration. "I also believe the most important public service I have to offer our country could well occur over the next 15 months," he said.
Since then, he has seemed liberated to speak more freely. On October 1, he said on Meet the Press that he stood by his post-Charlottesville criticism. On Tuesday, he suggested a willingness to vote against the White House tax-cut effort—a crucial piece of legislation for an administration that is still desperately seeking its first major legislative victory, some nine months into office.
Even more pungent were comments on Wednesday, after NBC News reported (and other outlets confirmed) that Tillerson had called Trump a "moron" behind closed doors, and had considered resignation.
"I think Secretary Tillerson, [Defense] Secretary [James] Mattis and Chief of Staff [John] Kelly are those people that help separate our country from chaos," Corker said.
It's a good bet those comments, which were discussed on this week's Sunday shows, are what caught Trump's attention. They also point to how the Iran deal, as the president's tweets indicated, remain another center of tension between Corker and Trump. Trump has continued to speak critically of the Iran deal, even as he has continued to leave it in place. Tillerson, Mattis, and Kelly all believe the deal should remain in place; the most recent reports suggest that Trump might try to pass the buck by decertifying the deal but allowing Congress to affirm it and leave it in place.
As to whether Trump's comments about not endorsing Corker are true, the president has a well-earned reputation for making things up. Although Trump has threatened to oppose GOP incumbents in Senate primaries, especially Arizona's Jeff Flake, CNN reported that Trump had indicated he would endorse Corker.
One interpretation of all of this is that Corker is an agile politician. He recognized early on that Trump was unstoppable and aligned himself with the candidate; he prudently removed himself from consideration as vice president, then has seen Trump repeatedly humiliate Mike Pence; he sidestepped the secretary of state role, and has watched Rex Tillerson grow increasingly miserable and repeatedly been undercut by the president. Now, he's attacking Trump as the presidency sinks into the quagmire—and leaving Washington before Trump can drag down the GOP around Corker.
Perhaps that is true, or perhaps Corker is genuinely appalled by Trump. Likely both are factors. But what is striking about Corker's more recent statements, from his judgment that Trump has not "demonstrate[d] the stability nor some of the competence" he needs to his much blunter, crasser "adult day care" tweet, is how neatly they invert what he said 18 months ago. Back then, many Americans seemed to wonder whether Trump had the maturity to take on the role of president, and Bob Corker was there to assure them he'd grow into it, especially with wise counselors.
Now it is Corker who is warning that Trump not only has not grown into the role, but is too juvenile for it and requires minding by so-called adults in the room like Mattis, Kelly, and Tillerson. The Tennessee senator is the latest to recognize, or at least to state publicly, that there is no new Trump, no blossoming into the role of the presidency, no maturation—so in the absence of the Trump pivot he promised in April 2016, the nation has instead received a Corker pivot in October 2017.