'An Utterly Untruthful President'
Trump and Senator Bob Corker are at it again, as the Tennessee Republican says the commander in chief is not a role model for the nation's children and vows not to support him for reelection.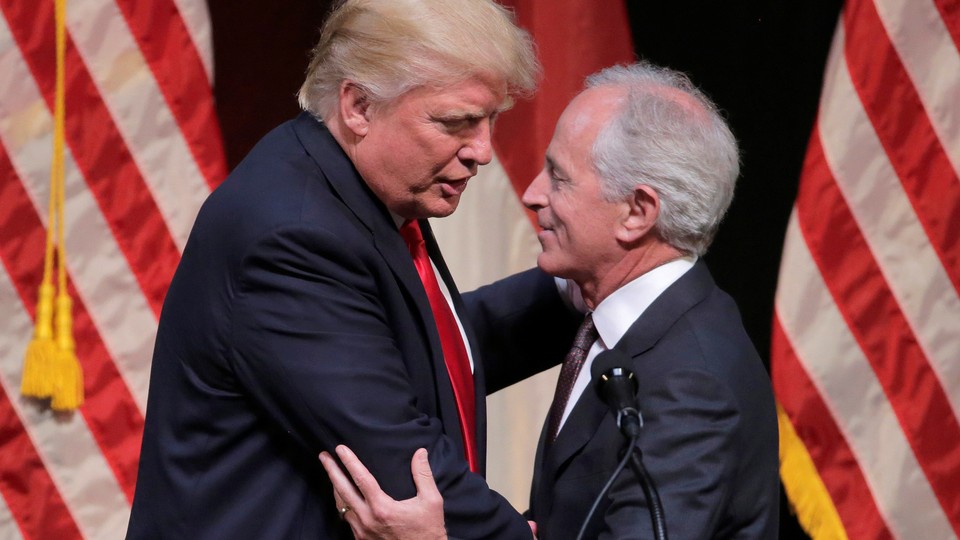 Updated on October 24 at 12:00 p.m. ET
If President Trump's relationship with his former ally Senator Bob Corker was frayed before, it now appears to be ruptured completely.
The two Republicans reignited their feud on Tuesday after the president did not take kindly to Corker's criticism of his leadership and his suggestion that Trump "stay out" of congressional negotiations over a tax bill.
In a trio of television interviews, the increasingly outspoken Tennessee senator repeated his dim assessment of Trump's performance and went further than he—or any elected Republican—has gone in questioning the president's fitness for office. Calling Trump "an utterly untruthful president," Corker said he was not a role model for the nation's children and declared unequivocally that he would not support him for reelection in 2020. "He's obviously not going to rise to the occasion as president," Corker said on CNN. He accused Trump of "constant non-truth telling" and said he would be remembered for "the debasing of our nation."
Asked by reporters later if he thought the president should be removed from office, Corker replied: "I'm not going to speak to that. The ballot box is where that happens."
The latest rhetorical volleys had begun earlier in the morning when Corker appeared on the CBS and NBC morning shows. As he did several weeks ago, Corker accused Trump of undermining diplomatic efforts to resolve the crisis with North Korea, and he said the president's meddling was detrimental to the GOP's goal of overhauling the tax code. On The Today Show, Corker belittled Trump's upcoming visit to the Senate Republican weekly lunch as "more of a photo-op."
As Corker lit into him, the avid TV viewer in the White House was apparently watching, and fired back on Twitter.
In fact, Corker opposed the Iran nuclear deal. As for the retiring senator's electoral prospects in Tennessee, he again accused the president of lying about their conversations regarding Corker's decision not to seek reelection next year. And in a tweet of his own, Corker reprised his famous comparison of the Trump White House to "an adult day-care center."
By mid-morning, Trump had called "liddle Bob Corker" an "incompetent" leader of the Senate Foreign Relations Committee and blamed him for the country's lackluster standing in the world.
The Trump-Corker fight has ramifications far beyond the two men. As chairman of the Foreign Relations Committee, Corker could cast the president's global policies in a harsh light and block a congressional review of the Iran agreement that Trump has sought. And as the president suggested, Corker is a potentially crucial vote in the Senate on tax reform, and they appear to have a fundamental difference over whether a reduction in rates for businesses and individuals should be paid for with tax increases elsewhere.
Unlike the first time Trump and Corker feuded, the Senate is in session, and Corker's GOP colleagues will face a tougher time evading questions about whether they agreed with one man or the other. That will begin right away on Tuesday, when the president joins Senate Republicans for a rare joint lunch in the Capitol—a meal that just got a lot more awkward, to say the least.