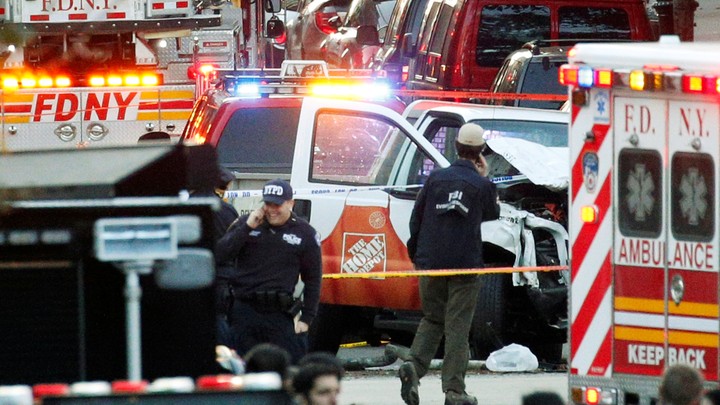 A man drove a truck down a pedestrian and bike path in Lower Manhattan on Tuesday afternoon, killing 8 people and wounding at least a dozen others in what authorities are describing as the deadliest terror attack in New York City since 9/11. Local police shot and then arrested the suspect, and New York leaders were quick to insist that the city would continue with its normal activities.
New York City Mayor Bill de Blasio described the attack as a "particularly cowardly act of terror" during a Tuesday afternoon press conference. No organizations have yet claimed responsibility. "At this point, there's no evidence to suggest a wider plot or wider scheme," New York Governor Andrew Cuomo said, describing the attacker as a "lone wolf."
The incident poses a test for President Donald Trump. In the wake of terror attacks, Americans look to their leaders for comfort, and for resolve. He has often been criticized for racing to level accusations after suspected incidents of jihadist terror, even before details are available, and for his contrasting silence in the face of suspected attacks by right-wing extremists. Trump's response on Tuesday night fit that pattern in some respects, but also proved notably more restrained than it has often been in the past.
As reports of the attack spread on social media, members of the Trump family took to Twitter to offer their condolences. "My heart breaks for [New York City] today," First Lady Melania Trump wrote. "Thoughts & prayers as we monitor the situation." Ivanka Trump added that she was "praying for the victims" of the "heartbreaking" attack.
President Trump, however, began by striking a different tone. "In NYC, looks like another attack by a very sick and deranged person," he wrote. "Law enforcement is following this closely. NOT IN THE U.S.A.!" One hour later, he added: "We must not allow ISIS to return, or enter, our country after defeating them in the Middle East and elsewhere. Enough!"
But a half-hour after that, he echoed the immediate response of his family members: "My thoughts, condolences and prayers to the victims and families of the New York City terrorist attack. God and your country are with you!" In a more formal statement from the White House shortly thereafter, Trump largely hewed to the language and tone of his predecessors in moments of tragedy.
"Our thoughts and prayers are with the victims of today's terrorist attack in New York City and their families," he said. After describing the federal government's response, he offered praise for New York's police and firefighters. "We offer our thanks to the first responders who stopped the suspect and rendered immediate aid to the victims of the cowardly attack. These brave men embody the true American spirit of resilience and courage."
Details of the attack remain unclear. NYPD Commissioner James O'Neill told reporters that the alleged assailant, whom he described as a 29-year-old man, drove a truck down a bike path on the west side of Lower Manhattan, striking bicyclists and pedestrians as he went. After slamming his truck into a school bus, the suspect got out and brandished fake guns at an NYPD officer who shot him in the abdomen, O'Neill said. City officials did not identify the man in custody.
The method itself was eerily familiar. Using cars, trucks, and other street-bound vehicles as implements of public murder is an increasingly common phenomenon. An ISIS publication praised the brutal, simple efficacy of ramming attacks after a jihadist-linked attacker killed 87 people by driving a 19-ton truck down a crowded street in Nice, France, on Bastille Day last year. Vehicles have been wielded as weapons in places as disparate as Stockholm, London, Barcelona, and Charlottesville, Virginia this year alone with tragic results.
The president has spoken about violence like this in controversial ways before. Then-candidate Trump's first response after a gunman slaughtered 50 people in an Orlando nightclub last July was to praise his own foresight. "Appreciate the congrats for being right on radical Islamic terrorism, I don't want congrats, I want toughness & vigilance," he wrote on Twitter. After the killing of Heather Heyer in Charlottesville this August, Trump responded first with silence, then with tepid condemnation, then with a forceful defense of "some very fine people" who took part in white-nationalist protests.
At times, Trump has also used the anticipation of future violence to underscore his political points. After taking office, Trump used the threat of terrorism to justify his original travel ban targeting seven Muslim-majority countries. A federal judge in Washington state blocked the executive order soon after its issuance, drawing the president's wrath. "Just cannot believe a judge would put our country in such peril," Trump wrote on Twitter on February 5. "If something happens, blame him and court system. People pouring in. Bad!"
Few other politicians, if any, respond this way to tragedies. On Tuesday night, Cuomo praised New York City's openness. He and de Blasio said regular events like the city's Halloween parade would go on, albeit with increased security. "The truth is New York is an international symbol of freedom and democracy," he said. "That's what we are, and we are proud of it. That also makes us a target for those people who oppose those concepts."
We want to hear what you think about this article. Submit a letter to the editor or write to letters@theatlantic.com.
Matt Ford
is a former associate editor at
The Atlantic
.