A Bipartisan Obamacare Breakthrough
A pair of key senators has reached a deal to stabilize the law, but Republican leaders in Congress—not to mention President Trump—could still sink its prospects.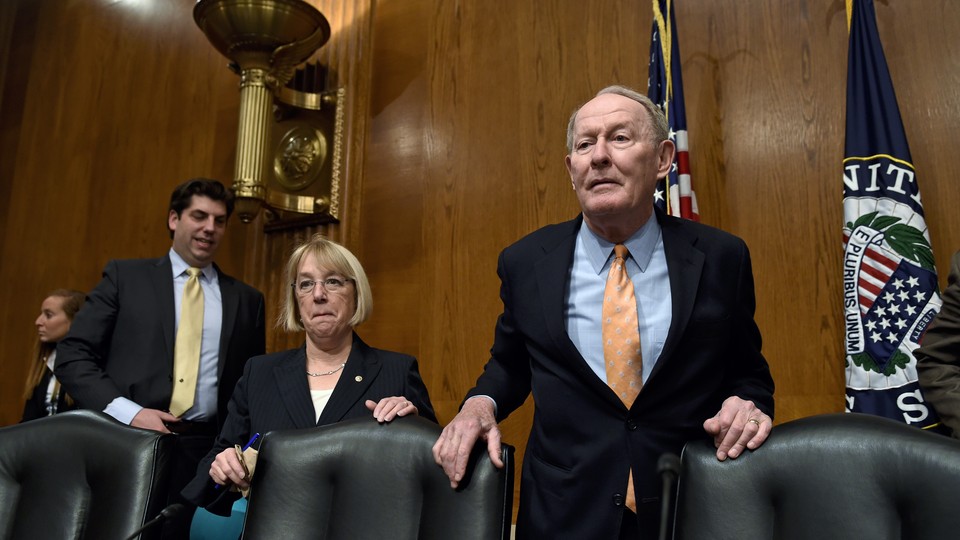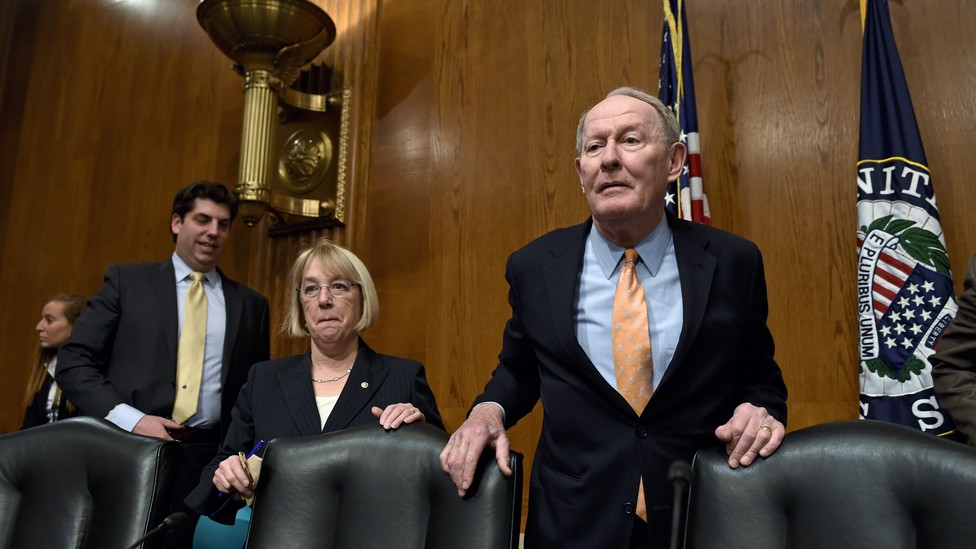 Updated on October 17 at 5:42 p.m. ET
When it comes to the Affordable Care Act, Congress may fix what President Trump tried to break.
Senators Lamar Alexander of Tennessee and Patty Murray of Washington state announced a tentative agreement on Tuesday that would shore up Obamacare's shaky insurance exchanges, offering the first glimmer of bipartisan dealmaking after months of GOP attempts to rip out the law.
The accord between Alexander, the Republican chairman of the Senate health committee, and Murray, the panel's top Democrat, would restore for two years the payments to insurance companies that Trump canceled last week. And in what Senate Minority Leader Chuck Schumer described as "anti-sabotage provisions," the deal would also force the administration to spend $106 million in funds that it cut from outreach programs to encourage enrollment in the health law's exchanges.
In exchange, Democrats agreed to expand eligibility for cheaper, catastrophic insurance plans and to make it easier for states to opt out of some of Obamacare's regulations—while still protecting the law's core protections for people with preexisting conditions and the requirement that insurers cover essential health benefits.
"Overall we are very pleased with this agreement," Schumer told reporters. After a lunchtime briefing from Murray, Schumer said there was broad support among Democrats for the deal. But more importantly, it appeared to win an endorsement from Trump just days after he scrapped the very payments—which he derided as an insurer bailout—the senators are trying to restore. "It will get us over the immediate hump," the president said when asked about the agreement at a White House press conference. "It is a short-term solution so that we don't have this very dangerous little period," he added, while insisting that Republicans would continue trying to replace the law entirely.
Alexander and Murray have been negotiating for more than a month, since the GOP's plan to repeal and replace Obamacare initially failed over the summer. But their talks took on new urgency after Trump announced last week that he was axing the payments known as "cost-sharing reductions," which reimburse insurance companies for subsidies that the federal government provides to lower-income Americans who buy coverage on the ACA exchanges. Those payments have been the subject of litigation from House Republicans over whether Congress explicitly signed off on them when it passed the health law. Trump cited the lawsuit in withholding them, but his administration had been making the payments anyway for months, and the timing of his decision to cut them off was widely seen as an attempt to unravel Obamacare just weeks before next year's enrollment period is set to begin.
The president's move prompted immediate spikes in premiums in certain states, and it raised the possibility that more insurers would leave the market altogether. Democrats were outraged, and many Republicans were annoyed over the possibility that they would draw the blame from constituents who'd see their health-care bills go up and their choices go down. "After he did what he did, the negotiations got better for us," Schumer claimed. A document sent to Republican offices summarizing the agreement on Tuesday warned of "chaos" in the insurance markets if it was not enacted and that the fallout would create a "four-lane highway to single-payer" favored by liberals.
While Trump's endorsement could be crucial, the fate of the Alexander-Murray deal is uncertain. It will need to win the support of Republican leaders in both the House and Senate, none of whom were willing to give it yet. "We haven't had a chance to think about the way forward yet," Senate Majority Leader Mitch McConnell said after the Republicans met on Tuesday. Before the Senate failed in its last repeal attempt in September, Speaker Paul Ryan had warned that the House would not consider an attempt to shore up the ACA. His office wasn't commenting on Tuesday.
It's also unclear just how firmly Trump will back the agreement once all of its details are known. In recent days, the president has veered from declaring Obamacare dead and boasting about his role in killing it to taking credit for spurring an outbreak of bipartisanship on Capitol Hill. As recently as Friday, Trump's budget director, Mick Mulvaney, was pooh-poohing the framework that Alexander and Murray were working on.
Alexander insisted to reporters and then in a speech on the Senate floor that Trump was encouraging his effort. The president, he said, had called him twice in recent weeks and told him he "doesn't want people to be hurt in the interim." But the Tennessee senator acknowledged that it wasn't his agreement with Murray that mattered, but whether "a significant number of Republican and Democratic senators" would soon get behind it. "We wouldn't have come to an agreement ourselves if we didn't think that was likely," Alexander said.
At a minimum, Republicans were demanding substantive changes to the ACA's waiver program that would relax insurance standards for states, and it remains to be seen whether the Alexander-Murray deal would meet their test. Democrats were willing to expedite the process and allow governors to sign off on waivers without approval from their state legislatures. But they were leery of changes that could allow states to wriggle out of Obamacare's core requirements, which is what Senators Ted Cruz of Texas and Mike Lee of Utah had been pushing for as part of the GOP repeal proposals.
Conservatives had been warning against any agreement to prop up what they consider to be a failing law. "A deal that helps people sign up for Obamacare when Obamacare should be repealed doesn't sound encouraging," tweeted Dan Holler, a spokesman for the advocacy group Heritage Action. Representative Mark Walker of North Carolina, chairman of the conservative Republican Study Committee, also panned the agreement. "The GOP should focus on repealing & replacing Obamacare, not trying to save it. This bailout is unacceptable," he said in a tweeted statement. Indeed, Democrats had been worried that Trump's attacks on the insurer payments as an industry payoff would doom their chances of winning Republican support for an agreement to restore them. But Schumer said the ultimate legislation would address that concern. "They cannot use the money for themselves," he said of the insurers. "They have to pass it on to consumers."