Borrowed Time
The president's cancellation of the Deferred Action for Childhood Arrivals program leaves its beneficiaries in fear of losing their work permits.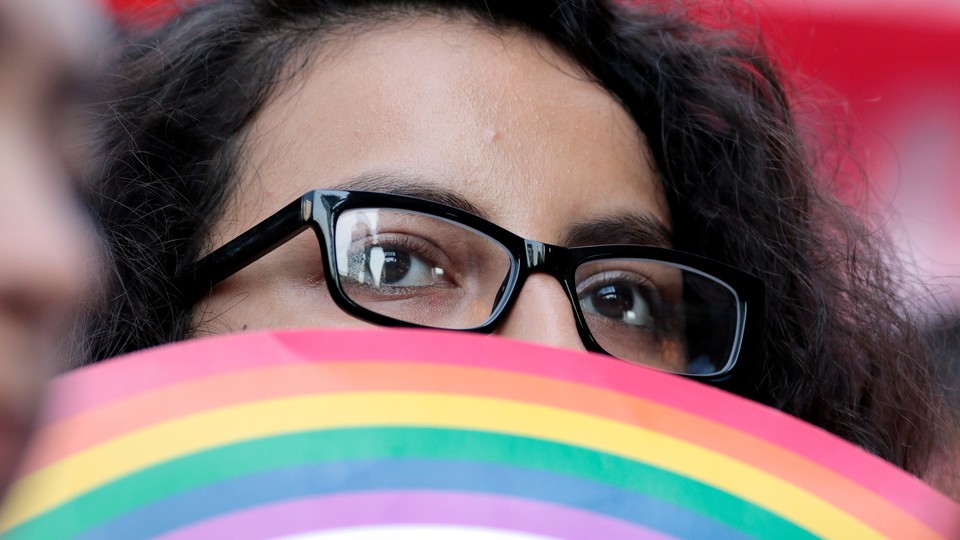 Yessenia Sontay fits the profile of thousands of American college students: she attends class, thinks about her future career (she wants to be a teacher), and works part-time to pay for university expenses, like tuition and books. But despite her planning, she may have to give it all up next year.
Sontay is one of the nearly 800,000 undocumented people affected by President Trump's cancellation of the Deferred Action for Childhood Arrivals program, which shields unauthorized immigrants who came to the U.S. as children from deportation and allows them to work legally in the country. This week, Sontay, a senior at the University of Utah, met with her mother to map out a plan for the coming months before her permit expires in May 2018.
"We were just kind of strategizing how much we need to save," she told me. "I try not to ask her for help for tuition because she's done so much already and her job does not cover everything. I have younger siblings she also has to take care of." Since the announcement, Sontay has begun marking down the expenses her and her mom incur in a notebook to keep track of how much needs to be saved and paid off before May rolls around.
The administration's decision includes a six-month delay, providing a window for Congress to pass a law granting DACA recipients permanent legal status, but that's little reassurance for those who are now stuck in a wait-and-see mode.
DACA was always intended to be a temporary fix in anticipation of legislation legalizing most of the roughly 11 million undocumented immigrants in the United States; Former President Barack Obama acknowledged this himself announcing the program in 2012. Trump promised to terminate the program as a candidate, and once he took office, many DACA recipients anticipated its end despite the president's reassurances that they could "rest easy." Still, Tuesday's announcement raised a slew of questions for many beneficiaries and cast doubt yet again on what their futures hold.
"There was always a two-year time limit that almost felt like borrowed time, but obviously under the Trump administration and what he had promised during his campaign, the fear and anxiety was completely different once he took office in January," said Maria Praeli, a DACA recipient who works as an immigration policy associate at FWD.us, a pro-immigration group.
The DACA program provides those who qualify protection from deportation for two years, which can be renewed, and allows them to legally work in the U.S. To qualify, applicants must have entered the United States before the age of 16, lived in the country continuously since 2007, and have no criminal record. Department of Homeland Security Acting Secretary Elaine Duke formally rescinded the 2012 memo that established DACA on Tuesday. While the department will no longer consider new applications, it will allow anyone with a permit expiring between now and March 5, 2018 to apply for a two-year renewal by October 5.
Ending the program has far-reaching ramifications: A recent study by FWD.us and the Center for American Progress found that as DACA work permits expire, more than 1,400 recipients will lose their ability to work every business day.
Lawyers around the country have fielded questions from beneficiaries, who are worried about what comes next for them. Earlier this week, McKinney Immigration Law, located in Greensboro, North Carolina, went on Facebook Live to answer queries. More than 200 people submitted questions, many of which revolved around whether recipients could apply for a renewal.
For many DACA recipients, gaining legal status is out of the question. To obtain legal status, immigrants must have a qualifying petitioner—for example, a family member or employer—that can sponsor them. But even if an individual has a petitioner, he/she is already hindered by the fact that he/she came in illegally. "It doesn't matter why you came in, it doesn't matter how old you were, if you were a baby or a toddler, it doesn't matter when it comes to these sets of laws. You still enter without inspection," said Jeremy McKinney, an attorney and secretary of the American Immigration Lawyers Association. There are exceptions, however, for those that have left the country and entered legally.
This is particularly worrisome for DACA recipients as they think through how to financially sustain themselves and often, their families, who depend on the legal income brought in by DACA recipients.
"My mother is going through some health issues and with DACA, I've been able to support her and my family to pay for her medication and her surgeries, so knowing that DACA is ending … I have a timer on how much I will be able to help my mom," said Nestor Ruiz, digital organizer at United We Dream, the largest immigration-youth organization in the country, and a DACA recipient.
California has the largest DACA population with nearly 223,000 initial recipients, followed by Texas at 124,300, and Illinois at 42,376, according to the Pew Research Center.
Eulalio Mendez is among those residing in California. Mendez, a senior at University of California Santa Cruz, wants to study law after graduation, but when the decision came down on DACA this week, he reconsidered those plans. "It's really painful to talk about it without getting emotional. It's really difficult to see a positive light knowing that I'm pursuing (an) education and that there won't be employment opportunities, so it made me question whether education was a good investment or if I really belong here. But I know I do," he said.
Before the DACA program, Mendez worked at a fast-food restaurant to pay for community college. He wonders if he'll have to return to that when his DACA expires in November 2018. "After DACA was announced … that same day all I could think was that I was probably going to go back to a fast-food restaurant or possibly working the fields," he told me.
Covering a range of expenses is a theme in the daily life of any American, and that's especially true for DACA recipients, many of whom are planning how they'll earn pay for gas, rent, tuition, mortgage, among other expenses.
Michelle Saenz-Rodriguez, an immigration lawyer in Dallas, Texas, has been receiving questions from recipients and employers alike regarding the expiration of work permits. By and large, the program's beneficiaries were often granted renewals, unless they no longer met the qualifications, therefore employers didn't have to worry about those permits expiring. That's no longer the case.
"Now that you know, if you know because some people might not even know that their employees are DACA … If you know, what is the employer's responsibility to make sure their systems are in check and that they're no longer employing somebody that's not authorized to work," Saenz-Rodriguez said.
Diana Montelongo, a DACA recipient, talked to her employer ahead of the September 5 decision, which had been influenced  by Republican state attorneys general opposed to DACA who threatened to take the administration to court if it didn't phase out the program. Montelongo, a middle school teacher in Sacramento, California, feared that Trump would rescind the program from the day he took office, prompting her to talk to her employer twice about her status.
"I kind of engaged in that conversation, starting it off with being completely honest," she said. "I have students who depend on me to be here every day, too, so I also brought that up. If anything were to happen, I wanted to know that they were aware." Montelongo's permit expires in January, so she qualifies for a renewal under Duke's memo.
Despite serious rifts in Congress over immigration, activists like Juan Escalante, the digital campaigns manager at America's Voice and a DACA recipient, are staying confident in light of the recent outpouring of support from lawmakers, celebrities, and communities. "This is exactly the scenario I've been preparing for since I became an applicant," Escalante said.