What the Russian Facebook Ads Reveal
A Kremlin-linked firm spent $100,000 on Facebook ads exploiting what it saw as America's weakest point—its diversity.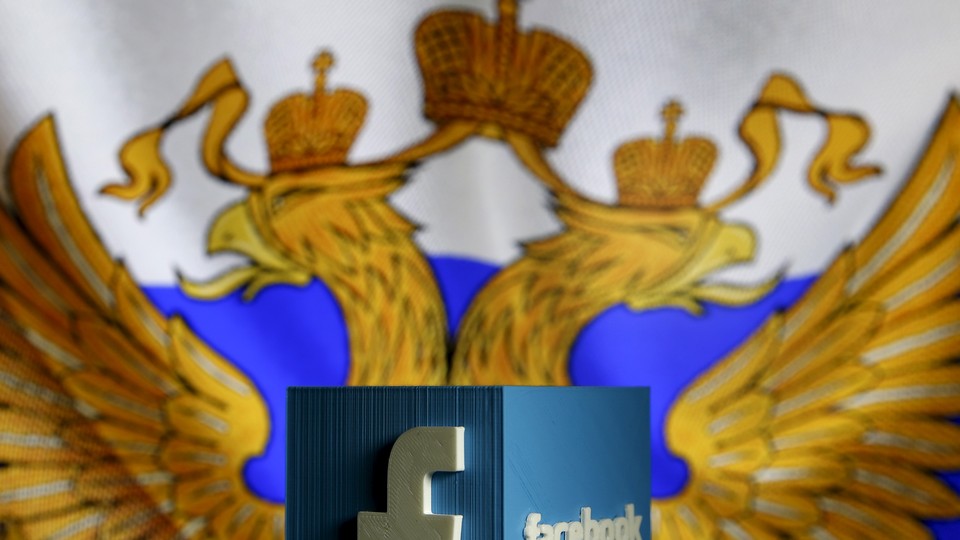 The news that Facebook ran tens of thousands of dollars worth of ads from a Putin-linked Russian troll farm is the latest evidence that the Kremlin has proved adept at turning those features of the American system it most detests into advantages for itself. Although Putin is an apostle of illiberalism, he has picked up on U.S. freedom of the press as a useful tool for Russian messages. In this case, propagandists for the nationalist Russian state are working to turn America's diversity against it, using potent wedge issues to create and widen social fissures.
Foreigners are prohibited from spending to influence an election, so there could be a violation of law and Federal Election Commission guidelines, but it's not like Russia is going to extradite anyone to the U.S. to face campaign-finance charges. The ads could only be further evidence of Russian attempts to interfere in the election, which at this point is acknowledged by nearly everyone save the president. But if, as Senator Mark Warner and others have implied, the Russians might have received guidance on who to target with the ads, it might point closer to the elusive smoking gun proving collusion between the Trump campaign and the Russian government. There's also no way to know whether the estimated $100,000 buy, a relative pittance by campaign-spending standards, is the end of the splurge or just the start.
Intriguingly, after several outlets reported on the ads—and Facebook acknowledged them—Reuters reported that Special Counsel Robert Mueller had obtained "copies of advertisements and data about the buyers of the ads" from Facebook. Yet Facebook said in a statement earlier on Wednesday that "Our data policy and federal law limit our ability to share user data and content, so we won't be releasing any ads," suggesting that Mueller might have subpoenaed Facebook to obtain the data.
But even without knowing what Mueller knows, the content of the ads indicates the savviness of Russian operators. Facebook's chief security officer wrote in a blog post that "the vast majority of ads run by these accounts didn't specifically reference the U.S. presidential election, voting, or a particular candidate," but "rather, the ads and accounts appeared to focus on amplifying divisive social and political messages across the ideological spectrum—touching on topics from LGBT matters to race issues to immigration to gun rights."
The exploitation of the free press as a means to advance the Kremlin's ends is not a new tactic. RT, the television channel formerly known as Russia Today, is a hybrid of an actual news-gathering operation with a propaganda outlet. But a report from the Office of the Director of National Intelligence on Russian interference in the election, issued in January, focused on the ways the Russian government used both traditional media and social-media trolling to further its goals in the election, and singled out the Internet Research Agency. That report cited a riveting 2015 article by Adrian Chen on the company, which describes how it functions as a troll farm for pro-Putin propaganda, as well as to advance the interests of commercial clients.
The work that Chen described was laughably amateurish, like a character known as "I Am Ass," "a pair of cartoon buttocks with an ugly, smirking face" with "a puerile sense of humor and only a rudimentary grasp of the English language." That makes the content of the Facebook ads that Mueller has obtained interesting. Did the Internet Research Agency refine its methods and language, producing more persuasive material? Or were the ads similarly primitive?
It might not matter. One lesson of the 2016 campaign was the power of even the shoddiest internet information. Fake news—in its original sense, of fabricated material, rather than its newer, Trumpian sense of anything that clashes with one's partisan interest—spread easily and widely, and false beliefs implanted themselves with significant portions of the electorate. While it's hard to guess at the impact of $100,000 worth of Facebook ads, it's not hard to imagine them fitting in with the broader spectrum of disinformation.
It isn't new for the Kremlin to employ American domestic cleavages to gain political advantage, as Vladimir Putin, an old KGB hand, would know well. The Soviet government cynically decried segregation and publicized lynching incidents in order to distract scrutiny from its own gross violations of human rights, and to undermine America's moral standing. Working to encourage racists, xenophobes, and bigots is simply a different iteration of that tactic, though fortuitously it dovetails with Putin's own attacks on LGBT people and Muslims. (As Chen pointed out, the Internet Research Agency also played the other side of the fence, trying to sow chaos by planting fake stories about, for example, the shooting of an unarmed black woman by police.)
The proof that topics running from "LGBT matters to race issues to immigration to gun rights" were effective in the 2016 campaign comes, naturally, from the Trump campaign, which employed them throughout the campaign, both singly and under the broader umbrella of "political correctness." Trump's use of these issues helped to reshape the Republican electorate and deliver a victory that practically no one believed was possible. The Facebook announcement offers another example of how he had help in spreading his message, whether or not he knew it at the time.
What was in the ads that the Internet Research Agency placed, that Facebook is so reluctant to release? They could be quite offensive, though it is also the case that Trump set a high bar for offense during the campaign. It's a little stunning to think back on some of his comments, such as this on gun rights: "Hillary wants to abolish, essentially, the Second Amendment. By the way, and if she gets the pick—if she gets the pick of her judges, nothing you can do, folks. Although the Second Amendment people, maybe there is, I dunno."
The revelation of Russian propaganda ads will add to pressure on platforms like Facebook, already strong since violent protests in Charlottesville, to abandon their posture of neutrality on the content of ads. Having served, apparently unwittingly, as a home for Russian interference in the election that employed inflammatory topics (and perhaps even more inflammatory rhetoric), Facebook will face demands to more carefully screen what it allows. That might cause a hiccup for Russian propaganda and trolling operations, but the Kremlin's long history with such wedge issues suggests it will find a way to adapt.