Why Is Trump's Legal Team So Messy?
Ty Cobb, a lawyer for the president, kvetched about a colleague in public and sent several bizarre emails. And that's only the latest West Wing attorney problem.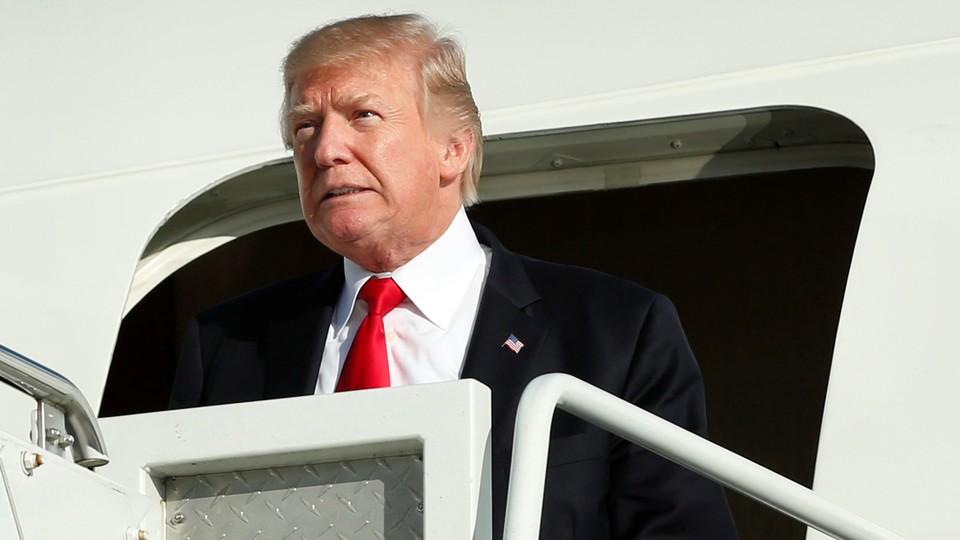 The pressure of special counsel Robert Mueller's investigation into the Trump campaign and administration has reached such levels, reports The New York Times, that "White House officials privately express fear that colleagues may be wearing a wire to surreptitiously record conversations" on Mueller's behalf.
The thing is, sometimes it's good to be a little paranoid. Especially if you're dealing with sensitive topics, working for the president, and eating at a popular steakhouse. And especially if that restaurant is near the Times Washington bureau. Yet there were Ty Cobb and John Dowd, two lawyers for President Trump, speaking loudly within earshot of reporter Ken Vogel:
"The White House counsel's office is being very conservative with this stuff," Mr. Cobb told Mr. Dowd. "Our view is we're not hiding anything." Referring to Mr. McGahn, he added, "He's got a couple documents locked in a safe."

Mr. Cobb expressed concern about another White House lawyer he did not name. "I've got some reservations about one of them," Mr. Cobb said. "I think he's like a McGahn spy."
The overheard conversation revealed a split between Donald McGahn, the White House counsel, and Cobb, an outside counsel hired to work at the White House. Dowd, who recommended hiring Cobb, is Trump's personal lawyer. Cobb reportedly favors turning over as many documents as possible, as quickly as possible, to Mueller's investigators. McGahn, while favoring cooperating with Mueller, is said to be cautious about actions that he thinks would make it harder for Trump or his successors to claim executive privilege in the future. (Cobb insisted to the Times that he has great respect for McGahn.)
Mueller was appointed to investigate Russian interference in the 2016 presidential election, but his commission grants him wide latitude to probe other crimes, and he seems to be looking at business dealings of Trump and some of his associates. There are also indications he's considering whether the president obstructed justice by firing FBI Director James Comey.
Disagreements over legal strategy are hardly novel, especially in a situation as murky and high-stakes as this one. What is unusual is the public display of disagreement and the level of paranoia that Cobb's comments reveal, which are part of a larger pattern of a troubled legal response by the Trump team to the Russia investigation. Even as the lawyers on the case are at loggerheads on strategy, some staffers have already left or been pushed out, and this is only the latest puzzling incident for Cobb.
At the beginning of the month, several outlets reported that Mueller had obtained a letter that Trump drafted, but did not send, to Comey explaining his firing. The letter, described as a "rant," focuses heavily on the president's anger that Comey had not publicly stated that Trump was not personally under investigation. Cobb dismissed the letter as irrelevant, and when Business Insider's Natasha Bertrand asked a follow-up, Cobb wrote to her, "Are you on drugs? Have you read anything else on this???"
Days later, Cobb had a peculiar email exchange with Jeff Jetton, a D.C. ramen-shop owner who has become a strangely powerful conduit for information on the Russia investigation. Jetton got Cobb's White House email and sent him an invective-laced series of messages. Cobb decided to engage. After several dismissive replies, he wrote to Jetton:
Dude U have no idea! I walked away from $4 million annually to do this, had to sell my entire retirement account for major capital losses and lost a shitload to try to protect the third pillar of democracy. Your hate I will never understand as an American. Hope you get help!
Cobb also said that he wanted to do the job because "more adults in the room will be better," identifying himself and White House Chief of Staff John Kelly among them. Cobb told Mother Jones that he "was trying to turn someone who appeared angry into a friend. And privately. My bad. This was what I believed to be a private conversation."
Cobb's noisy conversation at the steakhouse suggests he may not have learned his lesson, but in any case, it was apparently too late, because Cobb had also been exchanging emails with a prankster claiming to be Dan Scavino, Trump's social-media guru. Messaging with the fake Scavino about Bertrand, Cobb quipped, "Any drone time left?" The prankster later shared the emails with Bertrand.
Cobb's erratic, imprudent behavior seems likely to eventually fulfill his comment to Jetton that he wouldn't be at the White House long. Regardless of the quality of his lawyering, Cobb appears to be unreliable, incautious, and to have fraught relations with colleagues.
For someone with as much experience in lawsuits—as both plaintiff and defendant—as Trump, the president has struggled to find good legal help. Dowd's predecessor as Trump's private lawyer, Marc Kasowitz, was also pushed out after several bizarre moments as well. He delivered a blistering but factually challenged and contradictory press conference after Comey's testimony to the Senate in June. Kasowitz also sent a series of profane and unhinged emails to a stranger, a decision he chalked up to long days and the late hour. Mark Corallo, a veteran Trump aide who had worked as a spokesman for Kasowitz, also left at that time. Meanwhile, Jamie Gorelick, a high-profile Democratic lawyer, stepped down in July from representing Jared Kushner, the president's son-in-law and senior adviser.
One reason Trump can't get good help is Trump himself. He reportedly pushed Kasowitz out in part because he was frustrated that the Russia story remained in the headlines—but solving that is outside the scope of any lawyer's talents, given the scale of Trump's problems and his tendency to say inflammatory things. Trump's volatility means he also doesn't always follow the advice his lawyers give him. Kasowitz had clashed with Kushner, who is not a practicing attorney, over strategy, and several prospective replacements for Kasowitz turned the job down before Dowd took it.*
McGahn's role is complicated, too. A well-respected lawyer, his decision to join the Trump campaign came as a bit of a surprise because of his pedigree in the Washington GOP establishment. But McGahn is both an attorney and a potential witness in the Russia investigation. Mueller notified the White House this month that it would like to question McGahn. One area of questioning might be his communications about then-National Security Adviser Michael Flynn with Sally Yates, then the acting attorney general. Yates has testified before Congress that she warned McGhan that Flynn was susceptible to blackmail by Russian agents.
White House staffers have come and gone, at unusual rates, during the Trump administration, but paranoia and bitter rivalries have been stalwarts. That makes Cobb's kvetching, and the apparent concerns about wires, of a piece with its context. But while the dysfunction so far has hobbled the Trump administration's effectiveness in a wide range of ways, it could be particularly perilous during a legal investigation like Mueller's. As Jen Palmieri, who worked in the Clinton White House, wrote in June, a probe like this could exacerbate the existing problems inside the Trump team:
Having worked in a White House under investigation, I know from experience that it's even more disorienting than it appears. No one in a position of authority at the White House tells you what is happening. No one knows. Your closest colleague could be under investigation and you would not know. You could be under investigation and not know. It can be impossible to stay focused on your job.
Special-counsel investigations have a habit of expanding and sending out runners in various directions, which means it's especially helpful to have a unified and consistent legal strategy. That was one of Clinton's great salvations. While lack of personal discipline, in the figure of his affair with Monica Lewinsky, brought him to impeachment and the brink of disaster, a lockstep legal strategy managed to prevent his conviction and paint him as a martyr, salvaged his presidency.
Cobb recently spoke with Lanny Davis, who led the White House war room during the Clinton impeachment, but so far, there's no evidence that he has learned the central lesson of the Clinton defense.
---
* This article originally stated that Jared Kushner is not a lawyer. We regret the error.