Trumpism Wins in Alabama, Even If Trump Doesn't
Insurgent candidate Roy Moore beat back both the president and the Senate majority leader's choice to succeed Jeff Sessions.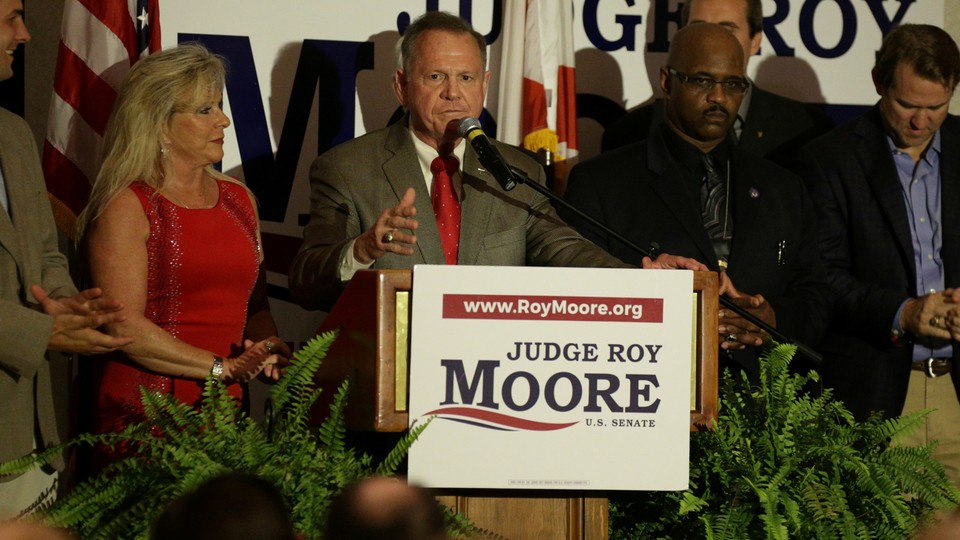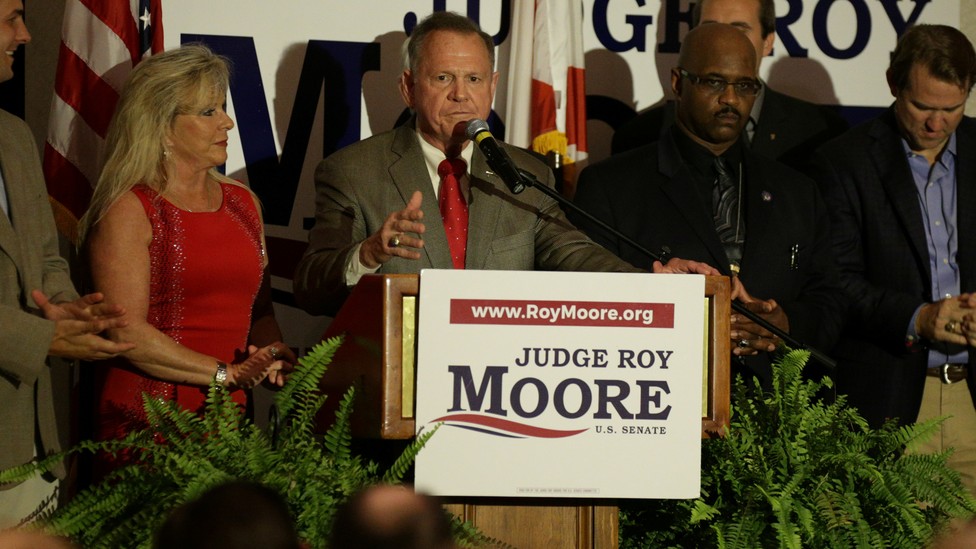 MONTGOMERY, Ala.—Judge Roy Moore's victory in the Alabama Senate primary came in the face of opposition from millions of dollars in Republican establishment money and the president himself. And that means there will be more insurgent candidates like him in the 2018 midterm cycle.
Though Moore didn't have $10 million from a super PAC connected to Senate Majority Leader Mitch McConnell and a rally with President Trump like his opponent Luther Strange, he had a loyal following in Alabama and the vehement backing of the political machine controlled by Steve Bannon, the former White House chief strategist who has returned to the helm of Breitbart News after leaving the White House in August. Over the past few weeks, Breitbart became laser-focused on the Alabama race, deploying several staffers here. Bannon himself came to Alabama for a rally on Monday night, where he made a rare public speech casting the race as the beginning of a "reckoning" against establishment figures like Karl Rove and Ward Baker. Bannon was careful, however, not to publicly criticize Trump.
Moore also benefited from favorable internal dynamics in Alabama, where he has a devoted base, has been a known quantity for years, and which formed the launching pad for his national notoriety as the "10 Commandments Judge" because of his battle to keep a monument to the 10 Commandments at the state's supreme court. He has also long been a supporter of Trump-like positions even before Trump, such as opposing Muslim congressman Keith Ellison's using a Koran to be sworn in, and questioning where Barack Obama was born.
Moore voters were suspicious of former state attorney general Strange's appointment to fill Jeff Sessions's seat by former Governor Robert Bentley, who was under investigation by Strange's office. But the race has clear national implications. Moore pulling it off in Alabama is likely to inspire would-be populist primary challengers in 2018, a mission dear to Bannon's heart. The ultimate target is McConnell, who made the perfect foil in Alabama as an avatar of the Washington "swamp," the Trumpist term for what they see as a corrupt political establishment. And Alabama indicates that this can be done independently of any help from Trump; that Trumpism doesn't necessarily take its cues from Trump alone.
McConnell had, from any angle, a bad day. Apart from Moore's win, Senator Bob Corker announced that he was retiring. Corker had been squarely in Breitbart's crosshairs, seen as overly critical of Trump and too establishment-friendly, and retiring saves him from a potentially ugly primary battle. Corker announced the move before the Alabama results came in, but his retirement is of a piece with what's happening in this state and in the party. On its site, Breitbart displayed the news prominently, casting it as a "victory." "ESTABLISHMENT REPUBLICAN DODGES 2018 PRIMARY," the headline read in big red letters. "VICTORY BEGETS VICTORY."
The Senate Leadership Fund, the super PAC tied to McConnell that spent nearly $10 million to support Strange, conceded the loss in Alabama even before the Associated Press. "While we were honored to have fought hard for Big Luther, Judge Roy Moore won this nomination fair and square and he has our support, as it is vital that we keep this seat in Republican hands," the statement attributed to Senate Leadership Fund President Steven Law read.
Trump also didn't take long to tweet in support of Moore. "Congratulations to Roy Moore on his Republican Primary win in Alabama. Luther Strange started way back & ran a good race. Roy, WIN in Dec!" he wrote. According to ProPublica's Politwoops project, Trump also deleted several tweets he had sent in support of Strange.
During his rally in support of Strange on Friday, Trump also promised to campaign for Moore if Moore won, and appeared publicly uncomfortable with his Strange endorsement. He reportedly told a dinner of conservative activists on Monday night that he thought Moore would lose.
Primary challengers like Kelli Ward and Danny Tarkanian have emerged in Arizona and Nevada, respectively, this year to take on Trump-skeptical senators Jeff Flake and Dean Heller.
"The floodgates are now wide open for 2018," said Andy Surabian, senior adviser to Great America Alliance, a Bannon-allied group that backed Moore. The group hosted a pro-Moore rally last week attended by Sarah Palin and Sebastian Gorka. "The anti-establishment fervor that elected President Trump and now has elected Judge Moore will only grow larger. ​​"
And the Alabama results may also push Chris McDaniel, who unsuccessfully ran against Mississippi Senator Thad Cochran in 2014, to run again.
"It certainly plays a role," McDaniel told reporters when asked about this at the Monday night rally Bannon attended in support of Moore. "We're very comfortable in our position right now. We know that this movement in large part started in Mississippi in 2014."
"We're here to cheer on our friend Roy Moore and then begin to prepare possibly for a run in '18," he said. McDaniel said he was also considering running for lieutenant governor in 2019.
Moore held his election night party at the RSA Activity Center in downtown Montgomery. Dinner and red, white, and blue cupcakes were served, though no alcohol. A couple hundred Moore supporters turned out to cheer him on. Bannon was backstage with Moore before the race was called.
Bannon, wearing his signature green jacket, took the stage before Moore's acceptance speech. He explicitly cast Corker's retirement as a consequence of Moore's win.
"You all remember we talked last night about starting a revolution with Judge Moore's victory?" Bannon said. "Well Senator Corker stepped down today and he's not going to run for reelection."
Bannon spoke of more candidates "who follow the model of Judge Moore and do not need to raise money from elites, fat cats, crony capitalists in Washington D.C. and New York City."
"Who's sovereign, the people or the money?" Bannon asked the crowd. "Alabama answered today: the people."
Speaking directly after Bannon, Moore emphasized his support for Trump.
"Don't let anybody in the press think that because [Trump] supported my opponent that I do not support him," Moore said.
Speaking to reporters afterwards, Moore said he agreed with Bannon that his win would open the door to more primary candidates in 2018.
"I agree with that comment," he said. "I think Mr. Bannon knows what's coming and I think he has a good vision for it."
Asked if he would have just as easily won without the help of Breitbart and Bannon, Moore said he appreciated their support, but "I have a strong support base in Alabama, they know me, they know what I stand for."