Trump's War of Words With Black Athletes
In a speech Friday night, Trump urged NFL owners to fire players who protest. "Get that son of a bitch off the field right now, out. He's fired. He's fired!"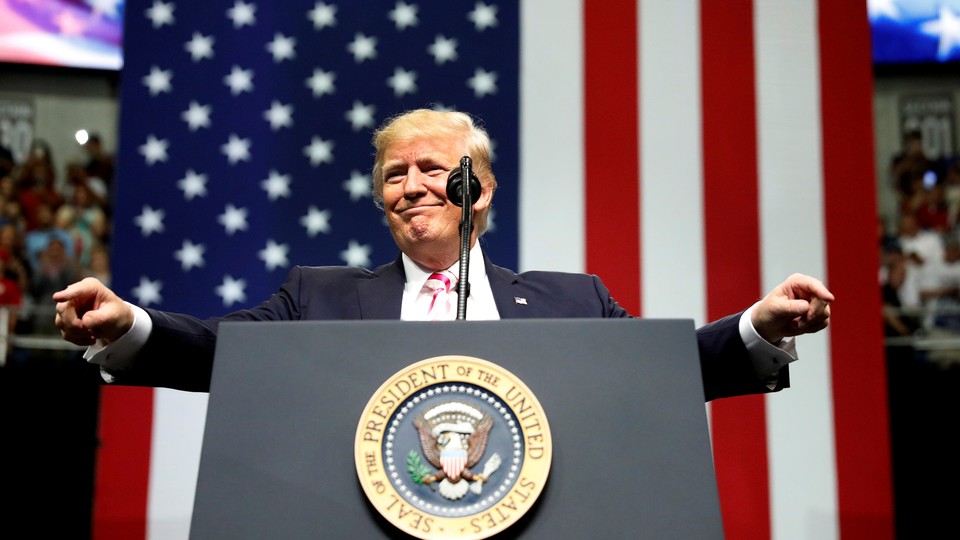 Speaking to a crowd in Huntsville, Alabama Friday night, President Trump said he hoped NFL players who knelt during the national anthem—which they've done to protest unjustified police killings of black Americans—would lose their jobs.
"Wouldn't you love to see one of these NFL owners,  when somebody disrespects our flag," Trump said, "to say, 'Get that son of a bitch off the field right now, out. He's fired. He's fired!' " The crowd of supporters erupted in cheers. The president appeared to be referring to  former San Francisco 49ers quarterback Colin Kaepernick, who last year began kneeling during the national anthem to draw attention to unjustified killings of black men by law enforcement.
Trump was in Alabama campaigning for Luther Strange, who he has endorsed in the Republican Senate primary contest to fill Attorney General Jeff Sessions' seat.
This is the second time in as many weeks that the president or one of his subordinates has called for black sports figures to be fired for expressing opinions he found distasteful. Last week Trump demanded an apology for a series of tweets in which the ESPN anchor Jemele Hill described him as a white supremacist; earlier White House Press Secretary Sarah Huckabee Sanders had argued Hill should be fired for her criticism of the president. The president has been generally hostile to criticism and protest throughout his tenure—early in his presidency he labeled the press an "enemy of the people" out of frustration with critical coverage of his administration.
Some NFL players have been kneeling in protest in solidarity with Kaepernick, who is currently unemployed because of a league-wide backlash against his political views.
On Saturday morning, Trump singled out Steph Curry of the NBA champion Golden State Warriors, saying he had rescinded an invitation for them to come to the White House. "Going to the White House is considered a great honor for a championship team.Stephen Curry is hesitating,therefore invitation is withdrawn!" the president tweeted. (Curry had announced in June that he did not want to go, and had recently reiterated that opposition.)
In response, LeBron James of the Cleveland Cavaliers tweeted that Trump was a "bum," writing, "U bum @StephenCurry30 already said he ain't going! So therefore ain't no invite. Going to White House was a great honor until you showed up!"
The president's harsh condemnations of Kaepernick and like-minded players, as well as Hill, stand in stark contrast to his earlier, sluggish reaction to the white supremacist protest in Charlottesville, in which a counter-protester, Heather Heyer, was killed, allegedly by a white supremacist.
That protest, the president insisted, had "very fine people on both sides."