How Trump Turned Kaepernick's Protest Into a Success
When he began taking a knee during the National Anthem, earning the attention of the president and the entire press was the best outcome he could possibly have desired.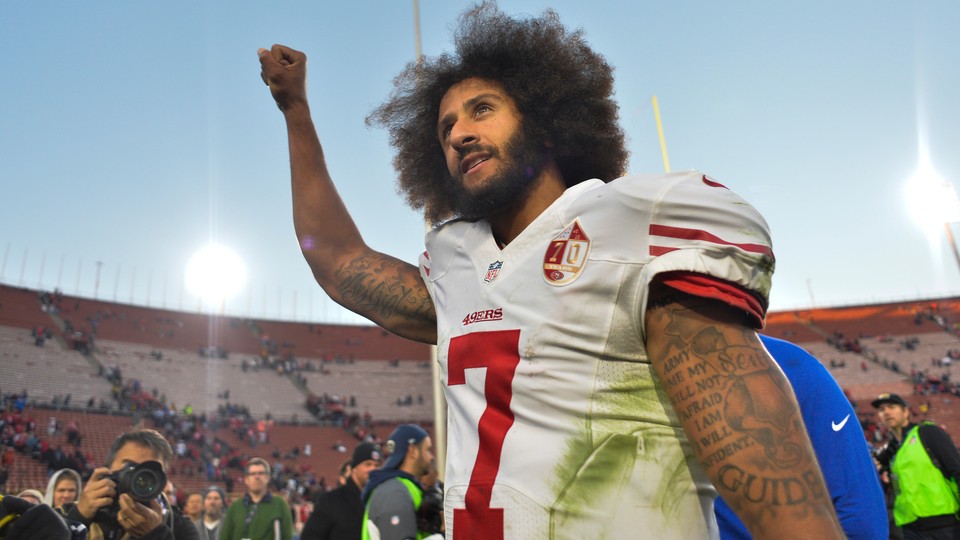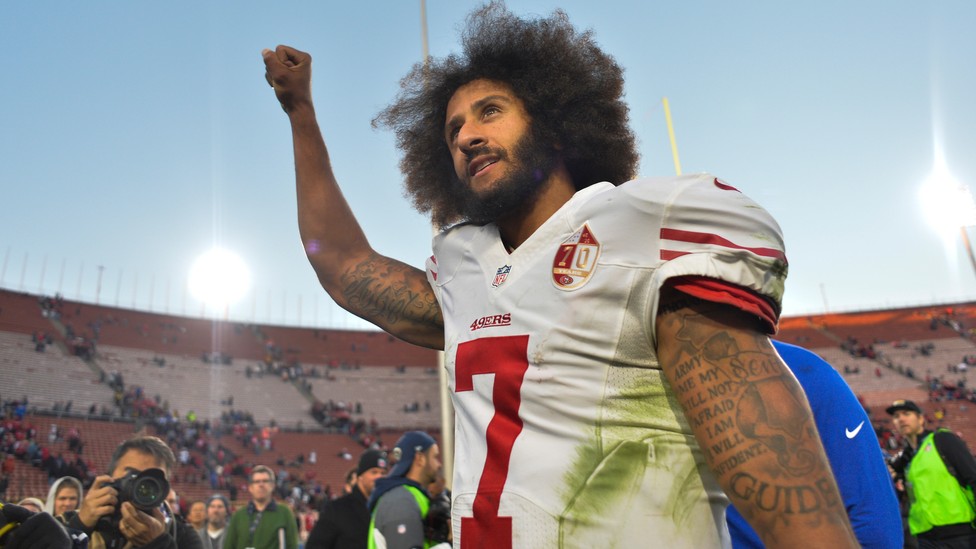 Friday morning, things didn't look great for Colin Kaepernick.
The former San Francisco 49er had made headlines around the world last season for kneeling during the National Anthem. The offseason had seen a raging debate about the fact that he hadn't been signed from free agency, which boiled down to whether teams were justified in deciding that his controversial protest outweighed his talent. Despite some comically atrocious performances by quarterbacks on NFL rosters in the first two weeks of the season, Kaepernick remained unsigned. A few fellow players said publicly that he deserved a roster spot somewhere, and some had taken up his protest, but it remained a niche question, and the cause to which Kaepernick wished to draw attention—police brutality against people of color—had faded a bit from the headlines, overwhelmed by the onslaught of Trump-related news.
Then came President Trump's riff during a rally in Alabama Friday night.
"Wouldn't you love to see one of these NFL owners, when somebody disrespects our flag, to say, 'Get that son of a bitch off the field right now, out,'" Trump said. "'He's fired. He's fired!'"
By the close of the weekend, the president wasn't contending just with Kaepernick. He was facing off with hundreds of NFL players, who had either taken a knee, like Kaepernick, or stayed in the locker room during the playing of the National Anthem. He'd been scolded by multiple team owners, including his personal friend Robert Kraft of the New England Patriots, and the NFL commissioner. The dispute had spilled over the bounds of NFL and included LeBron James and Steph Curry. Even Michael Jordan, who (supposedly) long evaded politics because "Republicans buy sneakers too" criticized Trump.
Many barrels of pixels have been spilled already trying to analyze the political implications for Trump of the spat, but just as important, and perhaps less recognized, is what a coup this is for Kaepernick. Over the course of a single weekend, Kaepernick was transformed from a down-and-out athlete into an icon of protest. What loftier goal can a symbolic protest like Kaepernick's kneeling have than to capture the attention of the president of the United States and to dominate the news?
Yes, the conversation could be more meaningfully focused on the actual issue of racism than it is. It's subject to the Trump distortion effect, in which every story the president touches becomes about him. Yet much of the pushback has been focused on race, and the uncomfortable specter of a president who hesitated to condemn white supremacists picking a fight with black athletes. Besides, Kaepernick isn't a theorist or a policymaker. He is, in addition to being an elite athlete, an activist, and the point of protests like his is grabbing attention.
For this reason, the retort from a few of the many athletes who criticized Trump that he should mind his own business seems to miss the point:
Trump stay in ur place... football have nothing to do wit u smh

— Zach Brown (@ZachBrown_55) September 23, 2017
With everything that's going on in our country, why are YOU focused on who's kneeling and visiting the White House??? #StayInYoLane

— Chris Paul (@CP3) September 23, 2017
There's a tinge of irony here, in that athletes who have protested have been scolded to stay in their own lanes, but the question of racial equality is, or at least should be, firmly within the president's lane. It's certainly a political issue, and the point of these protests is to affect the political discussion.
Being scolded for overstepping their bounds and wearing unusual hairstyles are not the only things that unite Trump and Kaepernick. They are practically mirror images: Both men gained new prominence in 2016 while criticizing the status quo in the United States. For Trump, present-day America had tipped too far toward diversity and needed to be made great again, while for Kaepernick, it hadn't tipped far enough. They were each happy to use each other as a foil in order to advance their respective causes. Kaepernick called Trump "openly racist." Trump, even while calling for change and lamenting that the U.S. wasn't as great as it used to be at some undefined past moment, sniped that Kaepernick should move somewhere else if he didn't like America.
Amid the weekend shootout, some anti-Trump analysts, including my colleague David Frum, have reached the reasonable judgment that this fight will benefit the president by allowing him to wrap himself in the flag. Trump is "hoping to provoke a dynamic in which many of the country's most famous and most visible African Americans appear en masse to disrespect the anthem and the flag. In so doing, they will fortify Trump's own claim that these symbols properly belong to him and to his supporters."
The conservative commentator David French, who nearly ran for president just to deny the office to Trump, argues the reverse:
At one stroke, thanks to an attempted vulgar display of strength, Trump changed the playing of the anthem and the display of the flag from a moment where all but the most radical Americans could unite to one where millions of well-meaning Americans could and did legitimately believe that the decision to kneel represented a defense of the ideals of the flag, not defiance of the nation they love.
Of course, this is the spirit in which many of the kneeling athletes say they deliver their protests: as American patriots, but as ones who want the nation to be better than it is.
Following Trump's inflammatory remarks after Charlottesville, Steve Bannon argued that racial politics redounded to benefit the president. Now, a Trump adviser tells Jim Acosta that the president is "winning the cultural war" and had "just made millionaire sport athletes his new" Hillary Clinton. And it may well be that this incident helps Trump not only with his core supporters but with other Americans as well, at least in the short to medium term.
But perhaps the story is not so much that Trump baited leftists as that they baited him. Regardless of how this pans out for Trump, Kaepernick was playing the long game—a West Coast offense, so to speak. It's not the first time that's turned out well for a Niners quarterback.