A Trump Nominee's Illegal Vote Exposes the Voter-Fraud Charade
Jeffrey Gerrish's decision to cast a ballot in Virginia isn't so much a gotcha on him as it is on the president's voter-fraud commission.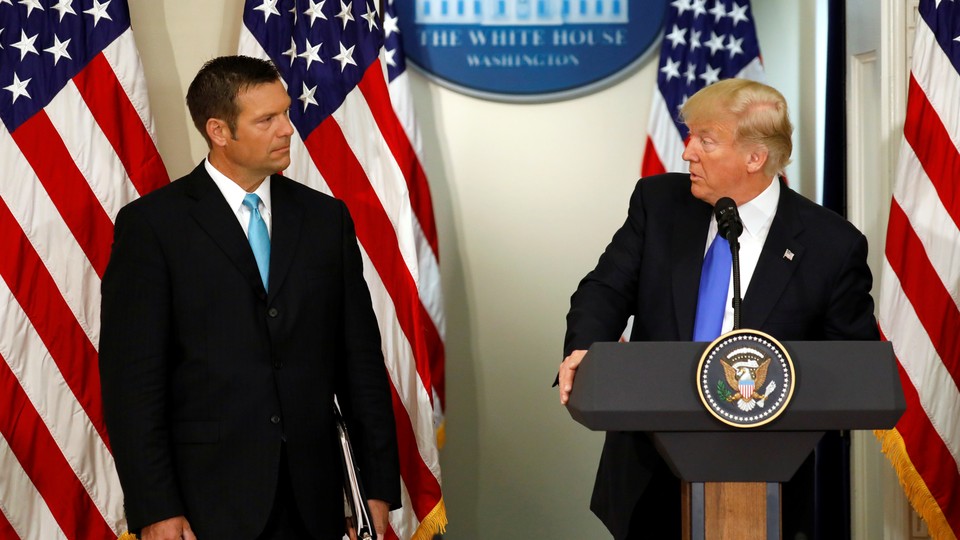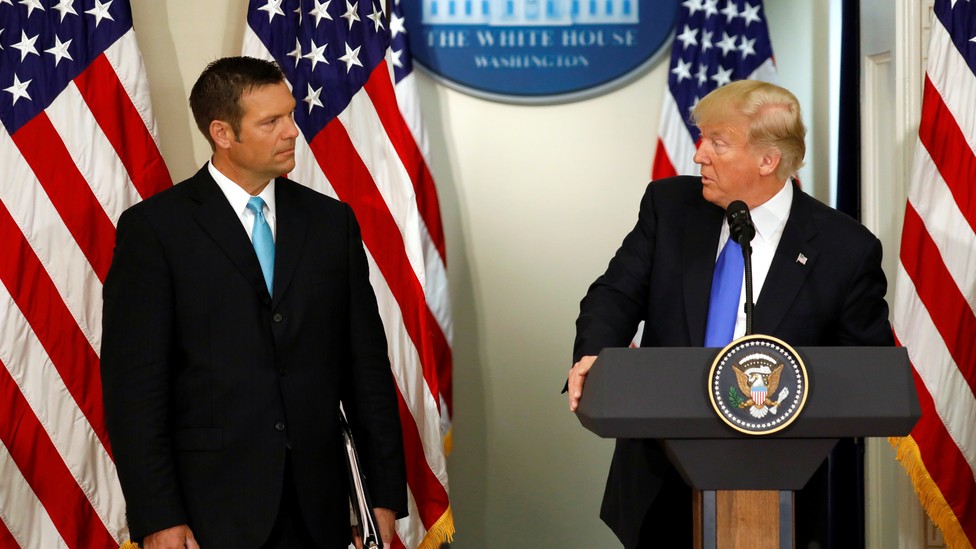 Jeffrey Gerrish made a mistake. Not a big one, although he did break the law. But it's a mistake many people make, and for the most part, they aren't called out by the Senate Finance Committee and in the pages of The New York Times.
Most of the people who make the error, however, are not nominees of a president who has alleged that there were 3 to 5 million fraudulent votes cast in the 2016 election, or who empaneled a commission to consider voter fraud that is on a dubious hunt to try to validate that wild, unsubstantiated claim. Jeffrey Gerrish, however, is President Trump's nominee to be deputy U.S. trade representative, so it happens that investigators realized he cast his vote in the 2016 election in Virginia, even though he had moved to Maryland—a far less competitive state in national elections.
Actually, Gerrish broke two laws. Although Virginia allows people to vote there 30 days after moving—after all, they probably know the candidates and issues in their old home best—he was outside that grace period. The Times adds: "A Trump administration official, who asked for anonymity to discuss the case in detail, said that Mr. Gerrish had a Virginia driver's license at the time of the election and was under the impression that the state granted a longer grace period for former residents." But Maryland also requires that new residents get a Maryland license within 60 days of moving, which he had not done.
Of course, such laws about getting new licenses are routine and routinely ignored. Many people just wait for their old license to expire before getting a new one, no one gets hurt, and no one launches a commission of inquiry. But that's just the point about Gerrish's old vote. The story isn't so much a gotcha on Gerrish as it is a statement about the folly of Trump's vote-fraud commission.
The commission is chaired by Vice President Pence, but its co-chair and driving force is Kris Kobach, the Republican secretary of state in Kansas. Kobach is a long-time advocate for tighter voting laws, which he says are needed because of widespread voter fraud. In particular, he's concerned about what's known as in-person voter fraud: Someone actually shows up and casts an unlawful ballot, either because they aren't registered, because they're registered unlawfully, or because they vote in someone else's name. The problem is that this is highly unusual. Repeated studies have shown that voter fraud is extremely rare, and that it's far more common for someone to register fraudulently, or for poll workers to commit a crime, than it is for people to actually vote illegally.
Kobach is particularly into the idea of databases of voter lists from various states, which can then be crosschecked against each other to find people who are unlawfully double-voting—or at least double-registered—in several states. That was the motivation behind his controversial request that states provide full voter rolls to the commission. The problem is that the technique has repeatedly failed to find widespread fraud, even as it produces lots of false positives from similar names. In one instance, Kobach dramatically announced more than 2,000 dead voters who were still on rolls, only for the supposedly dead to be revealed as still alive quite quickly. More recently, Kobach declared in a Breitbart column that there was proof of widespread fraud in New Hampshire, then saw the state's secretary of state shred his claim. Many people, including some of Trump's closest relatives and advisers, are registered in two states (probably because they, like most people, didn't bother to cancel their old registrations), but also almost certainly don't vote twice.
When there really is in-person voter fraud, however, it's probably more likely something like what Gerrish did. He's not the first person to decide to vote in his old home in the hopes of casting a more consequential vote. I'd bet that Washington, D.C., is packed with young, transient, politically engaged people who know their vote is probably superfluous and decide to vote in their old home, rationalizing the decision by saying they're not really rooted in D.C. This is illegal, but it's unlikely to be prosecuted, and it's also naively idealistic: Those occasional ballots mailed back home to Nevada and Ohio and Florida are unlikely to swing any election.
The same is true for Gerrish's ballot. Even with his vote, Clinton won Virginia by more than 200,000 votes, and she won Maryland by more than 700,000. She also lost the electoral college to Trump, which is why Gerrish is in the spotlight today. As a lawyer, he probably ought to have known better, but he didn't, which is another reason to suspect that most cases of fraud are about ignorance and bad judgment, not grand conspiracies. Contra the Trump voting commission's starting assumptions, there's very little in-person voter fraud, and where it occurs, it's usually individuals exercising poor judgment—not massive, coordinated campaigns that stuff the ballot boxes with Trump's fictitious millions of illegitimate votes. Then again, that doesn't make much of a story, does it?