Republican Donors Are Helping Cover Trump's Legal Bills
Amidst aggressive fundraising to support his reelection, the wealthiest president in American history is tapping the Republican National Committee and his campaign to pay Russia-related lawyer fees.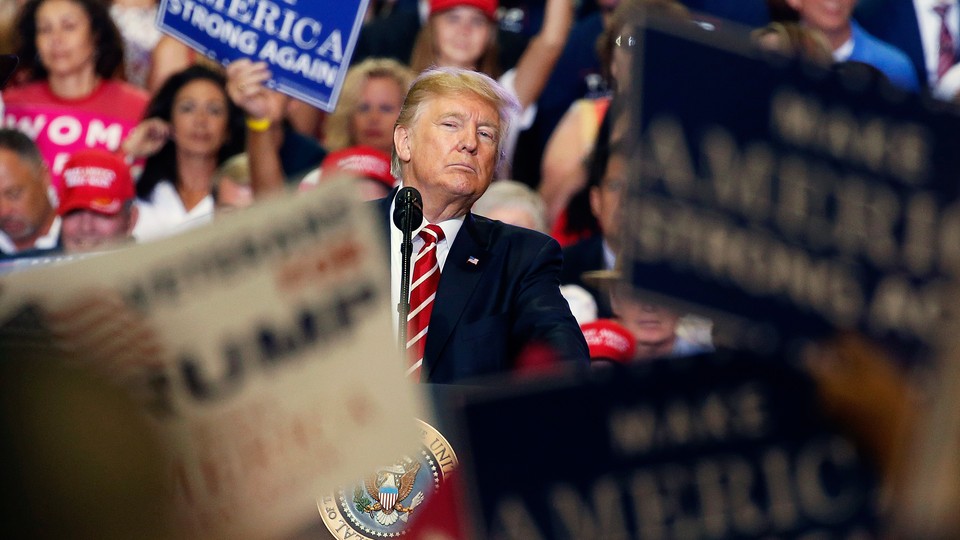 President Trump, whose surname became a byword for gilded opulence in the 1980s and 1990s, is reportedly leaning on his reelection campaign and the Republican National Committee to pay legal fees stemming from the Russia investigation.
Reuters reported on Tuesday that Trump's legal team had received payments from both organizations, although it was not immediately clear how much has been disbursed. The payments are legal, the wire service noted, because Federal Election Commission regulations authorize using private campaign funds to pay for legal costs incurred "as a candidate or elected official." They're also not entirely unprecedented.
Trump's campaign coffers are being filled through an aggressive fundraising operation. The president made the unprecedented decision to begin raising money for his reelection in 2020 soon after he won last November, far earlier than any of his predecessors in the modern campaign-finance era. Some of his email solicitations for donations have included thinly veiled references to the Russia investigation, usually by way of criticizing the media. In a July 19 fundraising pitch sent one week after Donald Trump Jr. disclosed a secret 2016 meeting with a Russian lawyer, Trump denounced the "fake news media" as "the real opposition."
"Rather than working to fix the problems this nation is facing, the Fake News Media and the Left are hand-in-hand peddling supposed 'news' based on anonymous sources and an unbelievable lack of journalistic integrity," the email read. Recipients of the request were invited to purchase "FIGHT THE FAKE NEWS" bumper stickers for one dollar.
The appeals came as Trump built up his legal-defense team. Over the summer, Trump gathered an eclectic team of lawyers, including special White House counsel Ty Cobb and outside attorneys Marc Kasowitz and Jay Sekulow, to oversee his affairs in Special Counsel Robert Mueller's ongoing investigation. Mueller's team is probing the extent of Moscow's meddling in the 2016 presidential election, including whether the Trump campaign colluded with the Russian government and whether Trump's firing of former FBI Director James Comey amounted to obstruction of justice. Trump has denied any wrongdoing and denounced the inquiry as a "witch hunt" on multiple occasions.
Using campaign funds to cover legal fees is not unheard-of, with the closest parallel to Trump's case coming from Richard Nixon and his associates during the Watergate crisis in the 1970s. The Committee to Re-Elect the President, Nixon's reelection campaign, drained its funds to pay the legal bills of some of the co-conspirators, although it eventually declared it would only reimburse those acquitted of a felony. Those convicted, like Watergate burglar Howard Hunt, accrued hundreds of thousands of dollars in legal costs along the way. A White House tape of Nixon discussing Hunt's request for help paying off the fees was subsequently used as evidence of a cover-up.
The division between the president's official and personal costs were also more fluid at the time. Government funds paid the salary of James St. Clair, Nixon's Watergate attorney, toward the end of his presidency. St. Clair insisted he was defending the presidency, not Nixon personally, although as president Nixon was the chief beneficiary of his legal advice. After his resignation, Nixon organized a legal-defense fund to cover what remained; his controversial pardon from Gerald Ford spared him from the substantial costs of defending himself at trial.
Major political scandals in between the Nixon and Trump administrations did not involve election campaigns and therefore raised no questions about using campaign funds. The Independent Counsel Act, a post-Watergate federal law that created an independent prosecutor's office, allowed the subjects of its investigations to receive some compensation for legal fees if they were investigated but not indicted. Ronald Reagan and George H.W. Bush used the provision to recoup legal costs after the Iran-Contra investigation, as did top Cabinet officials.
Bill and Hillary Clinton faced perhaps the highest legal bills of any White House residents after the Whitewater and Monica Lewinsky investigations under Independent Counsel Ken Starr. After leaving office, the Clintons asked a special three-judge panel established by the independent counsel statute to waive $3.5 million in fees related to Starr's Whitewater probe, but the panel only approved $85,000 in compensation in 2003. The judges concluded that the Justice Department would have investigated the matter regardless of the independent counsel's involvement. Thanks to lucrative book deals and a series of speaking engagements, the Clintons paid off their debts by 2005.