Democratic Megadonor Tom Steyer Still Isn't Ruling Out a 2020 Run
The former hedge-fund manager is making a populist pitch, but hasn't made a decision yet on whether to seek public office.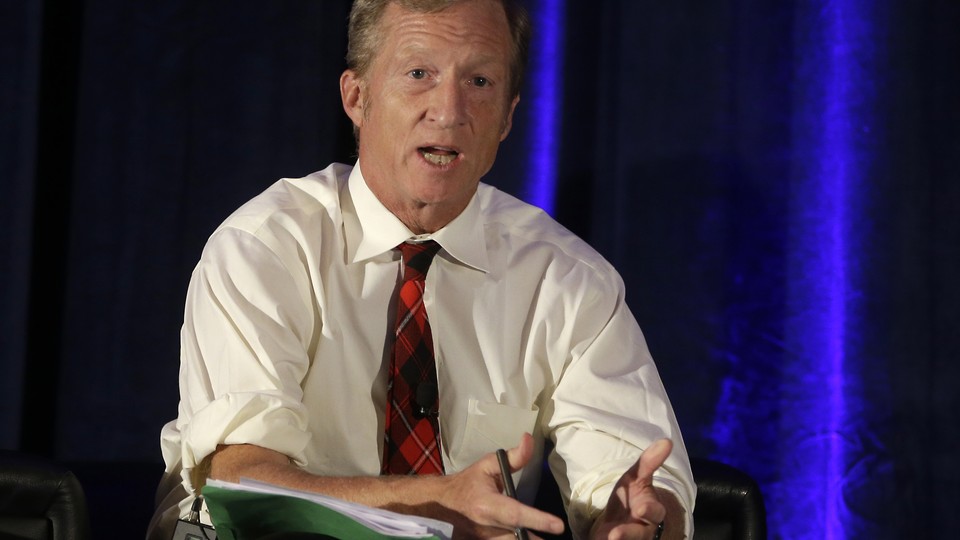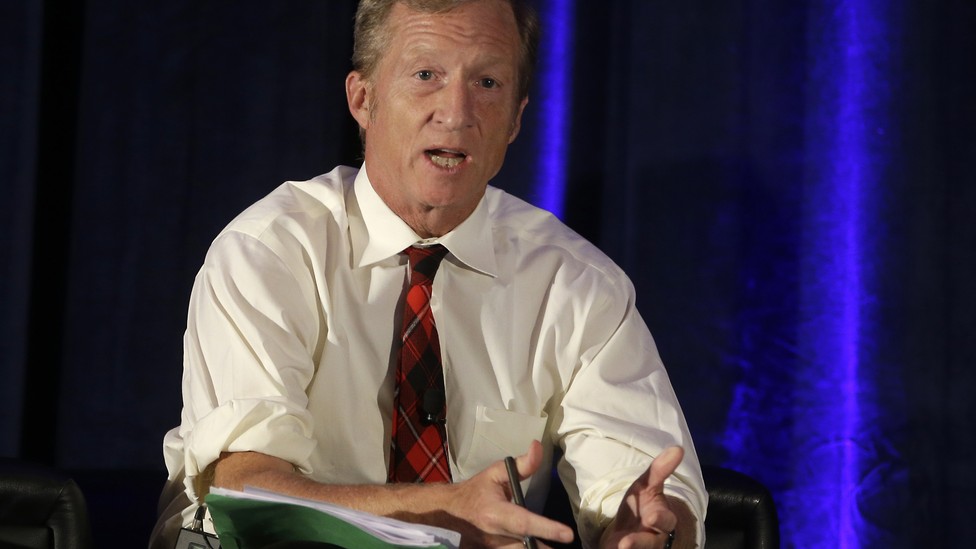 Democratic megadonor Tom Steyer might not be a household name, but he's not ruling out a 2020 presidential run or a 2018 run for California governor.
In a recent interview, Steyer expressed skepticism at House Minority Leader Nancy Pelosi and Senate Minority Leader Chuck Schumer's deal-making with President Trump. And he talked about how his background as a former hedge-fund manager squares with a Democratic Party whose progressive grassroots insists big money should be driven out of politics.
Steyer has spent years as an environmental activist advocating for climate action and bankrolling Democratic candidates who do the same. He spent more than $70 million in the 2014 election cycle, over $80 million in 2016, and has said that there's "no limit" to what he will spend to counter the Trump administration.
Despite that heavy spending, he's faced political disappointment. In 2014, the Sunlight Foundation concluded that Steyer had "little to show" for his investment after a number of his preferred candidates lost. But setbacks don't seem to have deterred him.
With Trump in the White House, Steyer has expanded his reach in the world of liberal politics. In July, he rebranded his political organization, changing its name from NextGen Climate to NextGen America, to focus on issues ranging from health care to immigration to economic policy in addition to advocating an environmental agenda.
Steyer advocated for progressive economic policies before the 2016 election too—joining the "Fight for $15" in his home state of California in 2015 and launching a commission to study inequality the same year. The decision to rebrand NextGen is a signal, however, that the Democratic donor wants to do even more to align himself with a wide array of progressive causes.
Steyer is a frequent Trump administration critic. He has said before that he believes the president should be impeached. During our interview, Steyer criticized Environmental Protection Agency Administrator Scott Pruitt for his recent comments suggesting that now is not the time to talk about climate change despite the devastation caused by Hurricanes Harvey and Irma.
Steyer also said he's concerned that the Trump administration "wants to have political people reviewing scientific reports," referring to reports that Pruitt said he would direct the EPA to review a scientific report citing human activity as the primary cause of climate change, even though it had already undergone peer-review. Hearing that news, Steyer said, reminded him of something "Stalin," "Lenin," or "the Chinese communists" would have done.
Our exchange, along with Steyer's responses to subsequent follow-up questions posed in a second conversation appears below. It has been lightly edited for length and clarity.
---
Clare Foran: What's changed for you since President Trump's election?
Tom Steyer: Maybe I'm dumb, but it was certainly a wake-up call for me. The Democratic Party was not reaching enough Americans—and did not have a message that was reaching enough Americans. There's no question about it. Everyone likes to talk about the Hillary-Trump race because it's sort of like gossip—there's a story there, there's personalities. But if you look, I think Republicans control 32 statehouses, 34 governorships, both houses of Congress, as well as the White House and the Supreme Court. So it's not just like Hillary lost and everyone else won. That was the capstone to a trend that had been in place.
Foran: Do you think the party has spent too much time re-litigating the 2016 primary? I'm wondering what you think about Hillary Clinton's new book, What Happened, which has revived fights between the party's centrist and progressive wings.
Steyer: When I was growing up my mother said, "If you murder someone, I will be sitting in a car, outside the prison, after you've done your time. But if you feel sorry for yourself, you are 100 percent on your own."
2016 happened, we should learn from it. I'm sure Mrs. Clinton's book includes a lot of very smart analysis and conclusions, but the fact of the matter is, people are too focused on that one campaign. It's just one campaign in a period of time where the same thing happened to a bunch of people. The question now is: What can we do right?
Foran: Why do you think Democrats have lost so many races? And do you think the party is addressing that now?
Steyer: Well obviously there's a lot of soul searching being done. I will say the two things that we [at NextGen] are really serious about and think are important, are, first, grassroots: As long as you're doing grassroots [work], that means you are communicating directly with voters in a conversation. If you're doing that, you are going to be grounded or they are going to flay you. It's a two-way conversation, not a monologue.
The other thing that I'm obsessed with is what I call "voice," which is the framing of issues. I feel really strongly that a radical conservative element in the United States has successfully framed issues in a way so that if you accept their frame, the kinds of crazy policies they're advocating make sense. But only if you accept their premises and their frame. Pushing back against that framework is absolutely of critical importance.
Foran: With the arrival of Hurricanes Harvey and Irma, EPA Administrator Scott Pruitt said it would be "misplaced" to talk about "cause and effect" and suggested that it would be "insensitive" to talk about climate change. But I expected that Democrats in Congress would start talking about climate change and was surprised that I didn't hear much of that.
Why do you think Democrats haven't done more to criticize the administration's stance on climate change after these storms?
Steyer: Why are [Democrats] that soft? I have no idea. [What Pruitt said about not talking about cause and effect] it's like a drunk driver saying we need to take care of the accident, and this is no time to talk about drinking and driving.
Of course we need to take care of the people in Houston and the people in Florida, but you're going to have another accident if you keep drinking and driving. That's not okay. It's not responsible, and you've got to get called out on it. Stand up and tell the truth for goodness sake.
Foran: What kind of message would you have wanted to see from Democrats in the aftermath of Harvey and Irma?
Steyer: They should have been saying what I was saying, which is, you know what, these guys were lying and they made it worse.
Foran: Lying about climate change?
Steyer: Yes, of course they were. They've been pushing fossil fuel expansion and against renewables and they've been lying their asses off. And now, the chickens are coming home to roost and of course the liars are saying this is no time to be talking about it.
Foran: You've talked about considering a run for political office or public office—
Steyer: Actually, I probably haven't. Other people have.
Foran: Well, are you considering any kind of run? There's the California's governor's race in 2018. And another presidential election in 2020.
Steyer: I will do whatever I think is the most impactful thing that I can do to push what I believe in terms of values and vision.
Foran: So you're not ruling anything out?
Steyer: I'm not. I'm sitting here trying to figure out what will be the most impactful. It's a hard question.
Foran: Do any of those things, like a run for California governor, or a presidential run, appeal to you?
Steyer: Someone asked me, "Does the fact that Donald Trump got elected, does that change things?" Yeah, of course it changes things. So I will make a decision, but if I do it, I'd like to announce it with all the reasons behind it, not along the way.
Foran: Since you know a lot of people in the political world, have you gotten advice from anyone on whether to run or talked to people who think you should run?
Steyer: The question is not what do fancy people think, the question is what do normal people think. I'm much more interested in thinking about whether there's anything I have to say that is specifically meaningful to people.
Foran: In your speech at the progressive political convention, Netroots, you talked about corporate greed. NextGen has also endorsed the Not One Penny campaign opposing tax cuts for wealthy corporations and billionaires.
How do you you approach talking about corporate power and influence, when you come from a hedge fund background? Do you think that is hard to square with the direction the party is going in, in terms of calls to get big money out of politics and populist sentiment?
Steyer: Actually, I think I understand how that system works. I've spent a lot of time studying corporations and what makes them tick. I think I have a pretty good sense of how that works. So actually, the fact that I spent a lot of time investing in companies, and figuring out how they're organized, is a big plus.
I think I understand the incentives of people running those companies. I think I understand the relationships between different people within the company: people who are straightforward employees, people who can impact the bottom line, and people who share in the bottom line. I don't think you can understand inequality in America unless you understand what's driving profitability.
Foran: Senate Minority Leader Chuck Schumer and House Minority Leader Nancy Pelosi have been working to cut deals with President Trump: First, there was a spending deal, then Schumer and Pelosi announced they were working with the president on the terms of an agreement that would pass the DREAM Act alongside border security measures, though no final deal on DACA has been reached. Do you think Democrats are making a mistake by trying to make deals with Trump?
Steyer: Look, I don't believe he is a trustworthy counterpart full stop. I believe that trying to deal with Donald Trump is like trying to play three-card monte in Central Park, it's not going to work out.
I think that Chuck Schumer and Nancy Pelosi obviously are incredibly sympathetic to the DACA people. And so am I, of course. Obviously, we're in favor of renewing and continuing DACA. But there's a threshold question as to whether this is someone who is trustworthy. They obviously seem to think they can get things done, and I am extraordinarily skeptical of that. I believe that in dealing with him there's the risk that it won't happen, and there's the risk that you normalize that this is someone who is fit to be dealt with.
When you start acting like this is a normal time, you miss the point that this is in fact not a normal time and you're dealing with an administration that is standing up for things that are absolutely contrary to basic American values. That point can never be forgotten.
Foran: In your speech at Netroots, you said that NextGen supports "opening Medicare to all who want it." Do you support the single-payer legislation that Senator Bernie Sanders recently released?
Steyer: I really haven't gone through it in detail, but as I've said before, health care is a right. The question that we have to address is: How are we going to deliver the best health care at a price we can afford? That's a real question, and we can look at other systems and see that single payers deliver better health care at a much lower price... [Sanders is] not going to be able to pass this, but what he's doing is he's putting out a goal for where we should be looking to go, and I applaud that.
Foran: You recently said that your organization, NextGen, will only support pro-choice candidates. Do you think the Democratic Congressional Campaign Committee chair made a mistake in suggesting that the DCCC would be willing to support pro-life candidates in the 2018 midterms?
Steyer: I don't want to second guess what those guys do. I don't want to put myself in their place. What I'm saying to you is, look we are really interested in talking to Americans about a different vision, and we really believe in standing up for the rights of Americans that we think are under attack, and one of those rights is the right for a woman to control her own body. We absolutely believe that's a human right and a civil right, and we're not wondering about it and we're happy to say it in public.
Foran: Do you worry there will be a liberal Tea Party effect if Democrats demand ideological purity on certain issues?
Steyer: I understand that point. But if you look at what I'm talking about, in the context of America, I'm a moderate. So, do I think we're the Tea Party? No, I think we are absolutely squarely, in American history, moderates. We believe in science. We care about people. We believe in equality. We believe in government by and for the people. Yeah, I know, that seems like crazy stuff.