The Resignation of Tom Price
The Trump administration's secretary of Health and Human Services resigned Friday after revelations that he spent more than $1 million in taxpayer money in travel on private and military jets.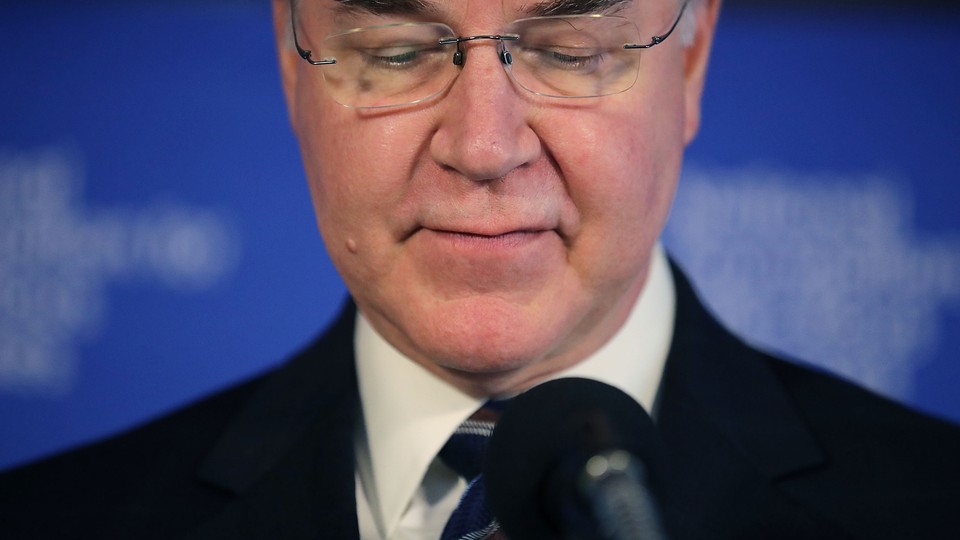 Updated on September 29 at 6:25 p.m. ET
Tom Price resigned as secretary of Health and Human Services Friday, amid a controversy over spending more than $1 million in taxpayer money on private and military jets.
Price "offered his resignation earlier today and the president accepted," the White House said in a terse statement sent late Friday afternoon. Don Wright, a deputy assistant secretary, will serve as acting secretary.
Earlier in the day, President Trump had told reporters that Price was a "fine man" but that he'd make a decision by the end of the day on whether to keep Price in place.
The resignation is in some ways strikingly typical—it's the sort of workaday scandal that has felled many a government official—yet it comes from an administration that has redefined the type and scope of controversy, from a White House in unprecedented turmoil to the increasingly baroque and many-headed Russia investigation.
"I have spent 40 years both as a doctor and public servant putting people first," Price wrote in a resignation letter released by the White House. "I regret that the recent events have created a distraction from these important objectives. Success on these issues is more important than any one person. In order for you to move forward without further disruption, I am officially tendering my resignation."
Price's departure caps a stormy and unusually short tenure. A physician from Georgia who previously served in Congress, Price was subject to withering attacks during his confirmation hearings from Democrats, who said that his trading of health-care stocks that were affected by his work in Congress was dubious at best and insider trading at worst. Once confirmed in February, he found himself in the midst of the frantic, shambling effort to repeal the Affordable Care Act. At a Boy Scout rally in West Virginia in July, Trump joked that he'd fire Price if Obamacare repeal failed.
After several attempts, the law remains in place, but it was the taxpayer-funded travel that doomed Price. He said the costly flights he took were made in an official capacity, but various reports suggest that he was at the very least mixing his personal and professional travel—for example by taking a private jet to a Georgia resort where he owns land, and then speaking to a conference the following day.
On Thursday, Price moved to soothe the roiling crisis by saying he would pay for the price of his seat on the planes. At first glance, that seemed like a major move to dampen the furor, but it quickly became clear that there was less to the announcement than it appeared. Price was paying only for his own seat—a not inconsiderable $52,000 or so, but well short of the more than $400,000 the flights had cost. His tab didn't reckon with the cost of aides' flights, nor the fact that the planes wouldn't have taken off without him. Price argued that Trump's ambitious agenda required the flights—a somewhat ironic claim, given the failure of Obamacare repeal, the administration's signature health initiative.
Later, Politico, which broke the initial story and has delivered a series of damaging scoops about Price, delivered another big headline: The White House had approved Price's use of military aircraft for trips to Asia and Europe over the summer. His wife Betty had flown with him, while other staffers flew commercial. That brought the total tab for Price's travel to more than $1 million, at least of what is publicly known. Former President Barack Obama's health secretaries both flew commercial while on the job. BuzzFeed also reported that Price had sought to reopen an executive dining room at the department that had been shuttered, which would have cost extra money.
Although the White House had signed off on those trips, Trump was angry. On Wednesday, he declined to express confidence in Price, and The New York Times reported Thursday that Trump had grown even more angry since then, because he views the use of private planes "as undercutting his drain-the-swamp campaign message."
The president was on to something. For a group of secretaries who espouse conservative principles and complain that government is too large and spends too much, Trump's Cabinet has proven remarkably effective at spending taxpayer money. The failure of Obamacare repeal may have weakened Price heading into this scandal, but pushing him out may set a dangerous precedent for other members of the Cabinet.
Scott Pruitt, the administrator of the Environmental Protection Agency, has sought steep cuts in its budget even as he racks up large bills. Pruitt spent more than $800,000 for an around-the-clock security detail in his first three months in office alone, nearly double the cost for his predecessor. This week, The Washington Post revealed that the EPA is spending $25,000 to construct a soundproof privacy booth for Pruitt, who has faced a slew of leaks as he battles unhappy employees at the agency. He has also accrued thousands of dollars in costs for private and military jet flights, including travel between Washington and his home state of Oklahoma.
Secretary of the Interior Ryan Zinke is another frequent private flyer, including chartering a plane from an oil-and-gas company for a flight from Las Vegas to his home state of Montana for $12,000 this summer. Treasury Secretary Steven Mnuchin is under investigation for a flight in a government plane that included viewing the solar eclipse from Fort Knox, Kentucky. That flight became public when his wife, Louise Linton, posted an Instagram photo of herself alighting from the plane, and then sniped at a commenter. She later apologized. Mnuchin also requested the use of a government plane for his honeymoon, though Treasury later decided against it.
Education Secretary Betsy DeVos, who is independently wealthy, has also used a private plane, but she has paid for it.
Price is the latest departure from an administration that has seen an unusually high rate of turnover. Barely eight months into this presidency, Trump has already lost or fired a national-security adviser, a chief strategist, a chief of staff, two communications directors, a press secretary, an FBI director, a deputy chief of staff, and several other advisers.
There are few clear dividing lines between Price's flights and many of those by his colleagues Pruitt, Zinke, and Mnuchin, except that the known tab for his is higher. (New revelations are trickling out daily, so these numbers are in flux.) Yet Trump, who has been slow to staff positions in his administration, can hardly afford to lose Cabinet secretaries, given that there are so few other top jobs in departments filled. Between Obamacare repeal failure and the $1 million tab, it's just that the timing for Price was wrong.