The Expanding Investigation Into Michael Flynn
The former national-security adviser worked on, but allegedly failed to disclose, a plan to work with Russia to build nuclear reactors in the Middle East.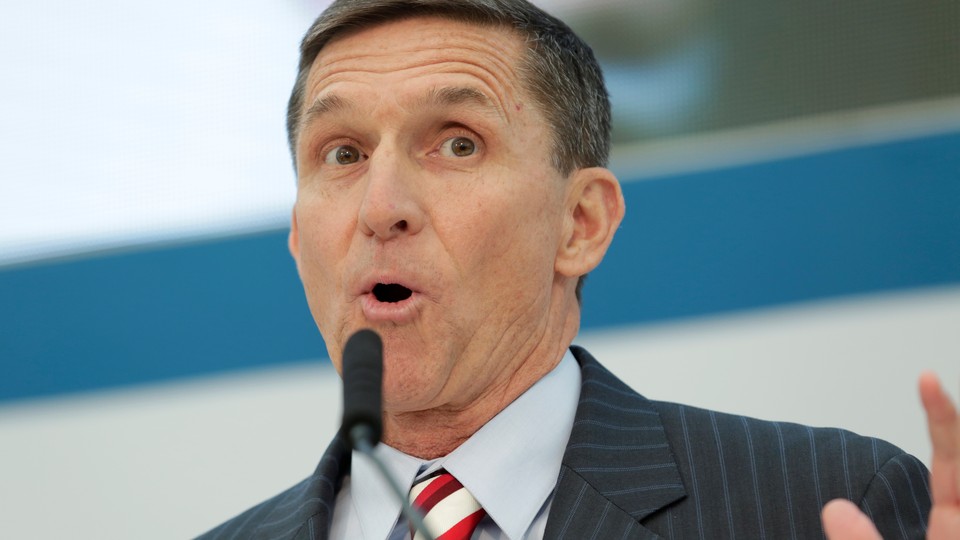 Earlier this year, it became clear that Michael Flynn's disclosures of his meetings and lobbying work prior to becoming national-security adviser were incomplete. On reflection, maybe the retired general would have been better off just disclosing who he wasn't working for.
Wednesday brings new details in the bizarre story of Flynn flogging a private-sector plan to build a slew of nuclear reactors across the Middle East. The idea, first revealed by Newsweek in June, was that the U.S., along with Russia's state-run nuclear-energy agency, would build a series of nuclear power plants across the Middle East. This would assuage the desire of Arab countries to acquire their own nuclear programs, helping to keep the peace. Even better, it would be funded by Saudi Arabia, meaning that U.S. business would prosper but taxpayers wouldn't have to pay a cent. The Arab countries would have also purchased military hardware from Russia under the agreement.
The geostrategic logic here is debatable at best—its backers included other high-profile retired military brass—as is the rather grandiose nickname of the "Marshall Plan," but whether the idea was wise or not, Flynn was supposed to disclose the trip he took to Egypt and Israel in summer 2015 in support of the plan. House Democrats say that Flynn did not disclose his travel or contact with foreign nationals, as he was required to do when he applied for a renewed security clearance. Politico adds that Flynn continued to push the project to the Trump administration during the presidential transition, after he had been named national-security adviser to President Trump, but he did not disclose that he had been paid by the plan's backers, with whom he remained in contact. According to The Wall Street Journal, Flynn instructed National Security Council staffers to meet with the project's principals, though it's unclear whether this continued after Trump's inauguration.
Flynn first publicly disclosed that he had worked for X-Co Dynamics/Iron Bridge Group, the backers of the "Marshall Plan," in a February 11 filing, but did not mention any payments. Two days later, he was forced out of the Trump administration. Flynn had improperly discussed the idea of lifting sanctions on Russia with Ambassador Sergey Kislyak before the inauguration, but he lied about that fact to, among others, Vice President Mike Pence. He is also under investigation for lying to the FBI. The Justice Department warned the White House that Flynn was lying and making himself vulnerable to blackmail by Russia, but Trump has insisted that Flynn was fired only for lying to Pence, and not for his imprudence. The White House has continued to praise Flynn's character.
But the "Marshall Plan" omission is not the only case where Flynn's disclosures failed. In 2015, he traveled to Russia for a banquet celebrating RT, the Kremlin-backed news and propaganda channel, and dined at President Vladimir Putin's table. As a former top military officer—Flynn was a lieutenant general and led the Defense Intelligence Agency before being pushed out by former President Barack Obama—he should have sought permission before receiving payment for that trip, and he also should have disclosed it when he reapplied for security clearance in January 2016. Democrats in the House say there is no evidence he did either.
Flynn also did lobbying work for a Dutch company that turned out to be a conduit for the Turkish government. Despite having once been highly critical of Recep Tayyip Erdogan's leadership—even celebrating a failed attempted coup in summer 2016—Flynn suddenly became a cheerleader for Erdogan and an advocate for the extradition of Fethullah Gulen, a reclusive religious leader and ally-turned-enemy of Erdogan whom Turkey's government blames for the coup. Flynn also failed to register as a foreign agent with regards to that work, for which he was paid $530,000, either on federal forms or to the Trump transition team, even as he took on a top job that would entail dealing with Turkey. The Trump transition team reportedly knew that Flynn was under FBI investigation over that work. Flynn finally disclosed the work under the Foreign Agent Registration Act in March.
According to former CIA Director James Woolsey, Flynn was also involved in a conversation about covertly bundling Gulen out of the United States and to Turkey. Special Counsel Robert Mueller is reportedly investigating whether Flynn was involved in a private effort to obtain Hillary Clinton's emails from a hacker. NBC reports that Flynn's son, also Michael Flynn, is subject to Mueller's probe as part of his work for the Flynn Intelligence Group, which his father founded after leaving the government. Among other things, he accompanied his father on the 2015 trip to Russia.
The White House's decision to hire the elder Michael Flynn despite a series of red flags, and an explicit warning from Obama not to do so, raises serious and troubling questions about the Trump administration's hiring process and about the president's claims to hire the best people. Given his record and work, Flynn should never have been entrusted with the post of national-security adviser. But the misdeeds in question are mostly related to Flynn's personal conduct—whether he failed to disclose or seek permission to receive moneys; whether he mingled his business interests with his government work.
These various stories about Flynn suggest a couple of tendencies. One was an entirely mercenary approach about his business partners, in which he was agnostic about who paid him and apparently eschewed due diligence about them. Flynn apparently had few reservations about where he was receiving income, as long as he was receiving it. Russia is an interesting case. Many Americans view Russia as a dangerous geopolitical rival (although the Obama administration attempted a failed "reset" in Russo-American relations), but while it does not explain or excuse failures to disclose under the law, Flynn had apparently decided that Russia was a prospective friend. "We have to figure out how to work with Russia instead of making it an enemy," he told The New Yorker's Nicholas Schmidle. But in the case of Turkey, Flynn abruptly switched his view on Erdogan, despite his longheld critique of Islamist politicians, when he started getting a paycheck.
The second tendency is that Flynn has mixed his work in government and his private-sector work, either intentionally or because of sloppiness. Perhaps Flynn, as a lifelong military officer, came to believe that as a loyal U.S. soldier, his own interests were inseparable from the national interest. But his lobbying on behalf of Turkey and his work on the "Marshall Plan" created perhaps irreparable conflicts of interest between his clients' wishes and U.S. government policy, especially given his access to the country's most closely guarded secrets.
Although the "Marshall Plan" provides yet another link between Flynn and Russia, if a tangential one, investigations into these matters veer toward the "red line" the Trump team has attempted to establish, insisting that although Mueller has the authority to investigate Russian interference in the 2016 election, the special counsel must not veer into private business dealings of the president or anyone else in his inner circle. In fact, as my colleague Adam Serwer drives home, Mueller has the authority to investigate more or less whatever he wants.
It's easy to see why the president's lawyers would attempt to direct Mueller and other investigations away from private business dealings, and also why the Flynn cases would be cause for concern. In his indifference to his business partners, and in his tendency to mingle personal and government work, Flynn resembles few people so much as Donald Trump himself. Trump has long shown little care for who his business partners are, taking a don't-ask, don't-tell approach whether dealing with American organized crime or associates of the Iranian Republican Guard. And Trump has steadfastly declined to remove himself from his business empire, leading to conflicts of interest and enrichment of his business properties. Trump might not be in the same sort of trouble that Flynn is right now, but the former aide offers a cautionary example.