When Police Officers Don't Know About the ADA
In many jurisdictions, cops' noncompliance with the law has led to strain and miscommunication with the deaf community.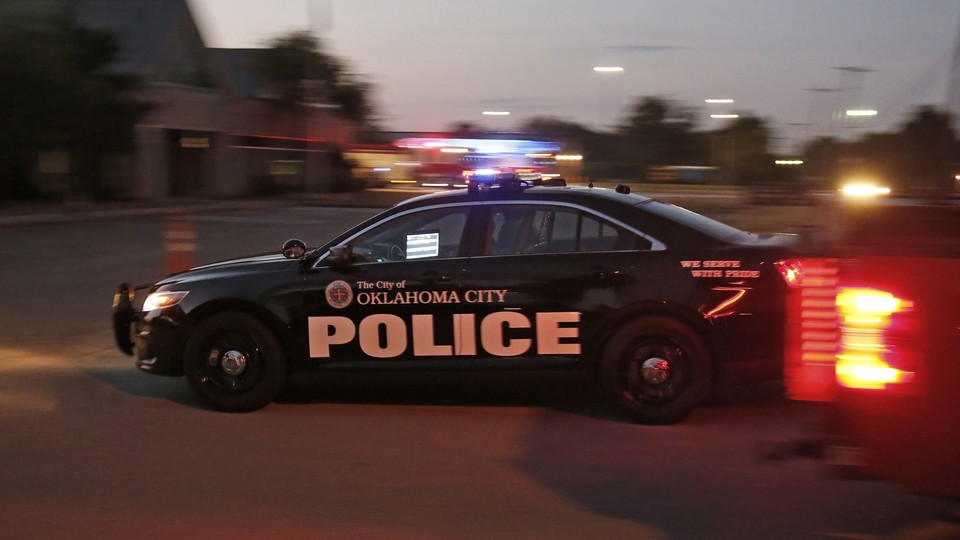 One week ago, Magdiel Sanchez, a deaf man, was shot and killed in front of his Oklahoma City home by police. Sanchez, who often used a short metal pipe to communicate, waved it in the air after an officer arrived at his home to investigate a hit-and-run incident.
According to a witness's account, the situation escalated after the officer ordered Sanchez to drop the pipe and he did not comply. Exasperated neighbors shouted that he couldn't hear the commands. "Don't kill him, he's deaf," one onlooker, a 12-year-old girl, cried out. Within moments, the witness said, a second officer appeared to provide backup, and he quickly discharged his gun. Sanchez was pronounced dead at the scene.
In the days since, the Sanchez case has brought attention to calls from disability-rights advocates to reform police relations with people who are deaf and hard of hearing. Since the passage of the Americans with Disabilities Act, the government has been required to provide "effective communication," "reasonable accommodation," and equal access to services for those with disabilities. But almost 30 years later, law enforcement hasn't always satisfied this mandate. When it comes to the deaf community, officers' gaps in cultural competency have led to strain and miscommunication—and, at times, the use of deadly force.
"Police compliance with ADA provisions is pretty poor across the board," said Alex Vitale, a sociology professor at Brooklyn College whose research focuses on community policing. "It's clearly not a priority for a lot of police leaders." For the deaf, police compliance with the ADA translates to employing or contracting with qualified American Sign Language interpreters and making available remote interpreting services, among other measures.
It's difficult to quantify how often deaf Americans are denied services, or how often their interactions with police turn sour. Since 2011, Talila Lewis has led a small band of volunteers in building a national database of deaf inmates and a log of self-reported stories from deaf people who say they've experienced police violence, wrongful arrests, and discrimination. Lewis co-founded the advocacy group Helping Educate to Advance the Rights of the Deaf, and is an attorney and visiting professor at the Rochester Institute of Technology in New York.
The log isn't comprehensive, but it provides illustrative snapshots: 18-year-old Hannah Cohen, who is partially deaf and blind, tackled by Transportation Security Administration agents as she returned home after cancer treatment; Robert Kim, a deaf motorist, tasered by an officer in suburban St. Louis while he was having a diabetic episode on the side of a road; Jonathan Meister, an architect who communicates using ASL, handcuffed and tasered repeatedly after officers thought he was burglarizing a house.
Advocates and academics highlight a foundational problem underlying even mildly negative encounters: "Only a few municipalities have comprehensive training on deaf and hard-of-hearing cultural competency," said Howard Rosenblum, the chief executive officer of the National Association of the Deaf, the oldest American Deaf civil-rights organization. "The vast majority of law enforcement receive either no training at all or only perfunctory training."
And these sessions can be the first time officers learn about the ADA. In 2016, two public-health researchers in California evaluated a training workshop on domestic-violence calls involving deaf and hard-of-hearing people. They found that few police knew about the law, "including the right to an interpreter," said one of them, Alina Engelman, a health-sciences professor at California State University, East Bay.
In some departments, disability-rights training is superseded by instruction in areas deemed more urgent. Seth Stoughton, a law professor at the University of South Carolina whose scholarship focuses on police regulation, served as an officer and trainer in the Tallahassee Police Department for five years. He now trains line officers, investigators, and command staff on officer-civilian interactions and evaluating use-of-force incidents. Stoughton told me that departments often build in limited time for training, and so they prioritize "high liability" areas, such as the use of force, firearms, driving, and first aid.
"Sometimes officers will get a very brief exposure to interacting with people with different disabilities, including hearing impairments," Stoughton told me via email. But "it's not something they spend much time learning about."
This deficit can exacerbate situations where police are already prone to using force. Even if an officer has learned when to use it—and when to hold back—they may not know how to apply those lessons to interactions with deaf people.
What's more, a one-off session "really doesn't help unless there's a reiteration of the training," said Matthew Dietz, litigation director of the Miami-based Disability Independence Group. Since 2005, uniformed officers in the Miami-Dade Police Department have completed a 40-hour crisis intervention training program, but a department representative told me it doesn't include instruction on deaf and hard-of-hearing issues. Dietz, who handles cases of police discrimination, said that, like the police Engelman observed, "officers are really not aware of the fact that they're supposed to get interpreters."
Eve Hill, the former director of the Justice Department's Disability Rights Division, noted that deafness is a low-incidence disability. "Police are doing training and then not having an interaction with a deaf person while they remember the training," Hill said. "People forget."
Cost can also be a barrier to departments' ADA compliance. The law's effective-communication and reasonable-accommodation clauses are unfunded mandates; public and private entities use their own money to fulfill them. "There remain many departments without any real resources to back up their policies, so interpreters and translation equipment aren't always available," said Vitale, who also directs the Policing and Social Justice Project at Brooklyn College.
Nonetheless, advocates are skeptical price is a serious factor. "Many terrible incidents happen in departments that have resources, but the officers involved never bothered to access them, even when requested to do so by the deaf person," Vitale said. "Of course cost is an issue, but often it's lack of concern or awareness by an officer."
That's allegedly the case in Austin, Texas, where the police department contracts with two interpreting agencies, one for business hours and one for nighttime. Amber Farrelly, a criminal-defense attorney in the city who represents deaf clients, alleged officers don't use them: "I watch these dash-cam tapes all the time. Ninety-eight percent of the time, there's no interpreter ever called," Farrelly said. "The thing that just kills me is that they have this already. They have the contract." (The Austin Police Department did not respond to requests for comment.)
The Justice Department has investigated dozens of police departments for their ADA compliance, often culminating in settlements where cities agree to adopt new policies and practices for interactions with deaf and hard-of-hearing people. "We've been seeing steadily problematic interactions between the police and deaf people," Hill explained.
Most recently, in 2016, the department investigated the Columbia, South Carolina, police department after allegations its officers questioned a deaf person repeatedly over the course of three months without providing an interpreter, despite requests. The resulting agreement held the department to a slate of reforms: aids to facilitate a person's "usual method of communication," video phones with interpretation services at all police stations, annual ADA trainings, signs in public areas of precincts to indicate that auxiliary aids and qualified interpreters are available, and a requirement to handcuff deaf people in front of their bodies. It also prohibited officers from using another member of the public, or a minor, as an interpreter.
But isolated settlements are just that—isolated. They can't compel other entities to adopt similar procedures. "There are thousands and thousands of police departments at all levels all across the United States," Hill said. "Trying to stay on top of this issue across the entire country is difficult." It doesn't help that even as the Justice Department has given individual departments specific steps to follow, it hasn't incorporated those best practices into its broader legal guidance for police. The regime designed for Columbia "is essentially what DOJ should have in its technical guidance," Lewis said.
While the Trump administration has not specifically noted how it will handle ADA investigations, Attorney General Jeff Sessions has indicated that he plans to significantly roll back federal oversight of local law-enforcement agencies. The Senate hasn't yet confirmed Trump's nominee to lead the Justice Department's Civil Rights Division, which oversees disability discrimination cases.
Rosenblum, who also directs the National Association of the Deaf's legal-services arm, believes media focus on police has brought increased attention to deaf issues. But "the attention paid to each incident has been fleeting and has not resulted in substantial changes," he said.
Just over one year before Sanchez's death in Oklahoma City, 29-year-old Daniel Harris was shot and killed by a North Carolina state trooper, who mistakenly believed the deaf man was reaching for a weapon after a high-speed car chase. Speaking to the Associated Press through an interpreter, his brother, who is also deaf, said he hoped the fatal incident would be a wake-up call to law enforcement. "If they had known [Daniel] was deaf, this wouldn't have happened," Sam Harris said late last August. "This is what is going to change the system."