Will Trump Fire Tom Price Over Private Flights? 'We'll See'
After a series of stories spotlighted the secretary of Health and Human Services's expensive, taxpayer-funded travel, the president said he was unhappy.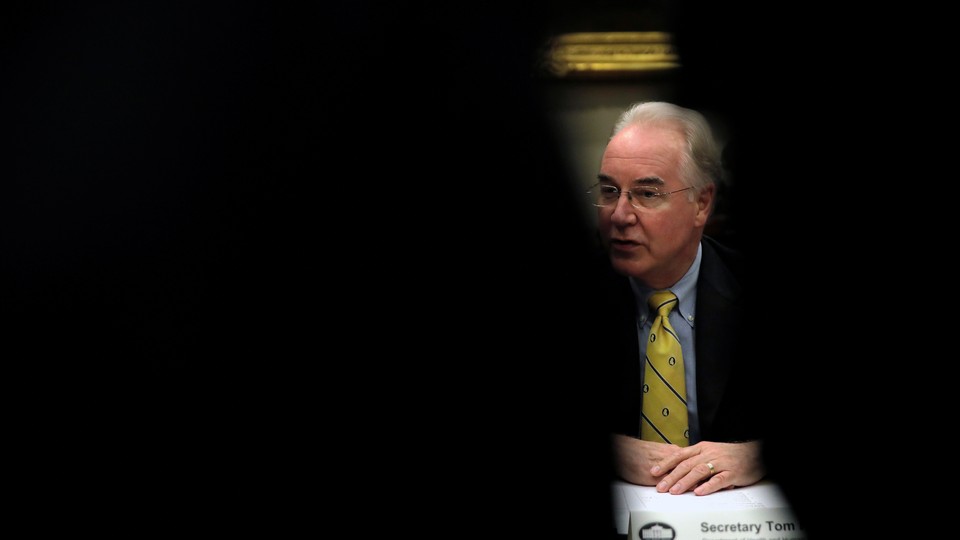 Tom Price, the secretary of health and human services, has garnered widespread condemnation for his use of taxpayer-funded charter jets, and on Wednesday he gained another noisy critic: his boss.
"I was looking into it and I will look into it," President Trump said of Price's travel. "I will tell you personally, I'm not happy about it. I am not happy about it, and I'm going to look at it. I let him know it."
Trump declined to say whether he had confidence in Price. Asked whether he'd fire the Cabinet member, replied, "We'll see."
Price is only the latest member of the Trump administration to earn the president's ire, and the record is ambiguous on how such things turn out. Trump or White House spokespeople at various times expressed displeasure or declined to assert presidential confidence in Michael Flynn, Reince Priebus, and Steve Bannon, all of whom were later pushed out. But Trump also waged a weeks-long mudslinging campaign against Attorney General Jeff Sessions, who remains in place.
Although Trump's willingness to publicly criticize his aides is unusual in a president, it's not surprising he would be annoyed at the Price scandal, which not only offers a black eye to the administration but seems a prime example of just the sort of swampy behavior Trump vowed to drain out of Washington.
As Politico first reported last week, Price, a physician and former member of Congress from Georgia, has racked up unprecedented spending on private flights. Price took at least 24 private flights between May and September, with an estimated tab of more than $300,000 billed to taxpayers. Price defended the flights as being business-related, and HHS cited a case where he missed an event because his commercial flight did not take off. But as Politico noted, that excuse was dubious, since no flights were able to leave the Washington area. Price was bound for a conference at a Ritz-Carlton in Southern California.
Under pressure, Price said he would cease the private flights until a review was completed and acknowledged, "The optics in some of this don't look good."
He was right, and the story became even more damaging Wednesday, after Politico notched its latest scoop: Though Price said all his travel was business-related, in one case he used a private jet to fly to an exclusive Georgia island resort where he owns a home. He spoke at a conference the next day, justifying the journey as a business trip, but he has reportedly attended the conference for years. In another case, he toured a friend's medical facility and had lunch with his son in Nashvillle on a taxypayer-funded private flight.
Flying privately broke both with precedent and Price's own past views. HHS secretaries during Barack Obama's term flew commercial. As a congressman in 2010, Price was critical of then-House Speaker Nancy Pelosi using private planes to fly around the country, including trips to her home state of California.
This is not the first time Price's ethics have been subject to criticism. He was confirmed to his post in February after a bruising hearing process, in which Democrats noted that Price had traded shares in medical companies whose share prices were affected by his own actions in Congress. In one case, Price made at least $225,000 on an investment in an Australian biotech company in which he was offered an exclusive chance to invest.
Nor is he the first Trump Cabinet secretary whose expenditures have come under fire. An inspector general is investigating a flight that Steve Mnuchin, the secretary of the treasury, took to Kentucky in August with his wife, Louise Linton. The trip became well-known when Linton posted an Instagram of herself alighting a government plane and hashtagged her expensive clothing, leading to a condescending exchange with a commenter Linton later apologized for. Amidst various official business, Mnuchin and Linton viewed the solar eclipse from Fort Knox. Mnuchin also requested the use of a private jet for his honeymoon, but he said the request was simply so that he could have secure communications. The Treasury withdrew the request "after a secure communications option was identified during the secretary's extended travel."
Scott Pruitt, the administrator of the Environmental Protection Agency, has also made frequent use of military jets and private travel, including travel overseas and to and from his home state of Oklahoma, sticking taxpayers with thousands in bills over the cost of commercial travel. On Tuesday, The Washington Post reported that the EPA is spending $25,000 to build a secure, soundproof phone booth for Pruitt, who has developed an extremely adversarial relationship with many employees at his agency, and who has enjoyed close ties with the industries he regulates.
Secretary of Education Betsy DeVos has also used private jets for work trips, but DeVos, who is independently wealthy, has paid the tab.
Trump's refusal to voice confidence in Price, and his implication that he is considering whether to fire Price, puts the secretary in a deeply uncomfortable and precarious position. It's seldom clear how much Trump is speaking out of real conviction and how much he is speaking off the cuff. Already tainted by his earlier scandals, however, Price now faces a controversy that is perhaps more quotidian than many that the Trump administration has faced, but is easily understood by voters as an example of government officials living high on the hog on the taxpayer's dime, in an administration that promised to end that sort of behavior.
Yet Sessions's survival as attorney general offers Price at least some hope. Trump's public attacks on Sessions went past anything seen in politics since President Andrew Johnson sought to fire Edwin Stanton in 1867. In tweets, the president criticized Sessions for a "VERY weak position" and demanded to know why he was not investigating Hillary Clinton. He told interviewers that he regretted appointing Sessions. Trump also dressed Sessions down privately after the appointment of Special Counsel Robert Mueller, who is investigating the Trump campaign's possible involvement in a Russian scheme to tilt the 2016 election in Trump's favor. Sessions, however, has hung on, and continues to move on his major priorities for the Justice Department.
What the Price, Mnuchin, and Pruitt examples share is that in each case, the principals seem to be taking their cues from the president himself, who has made his name a byword for opulence, and for whom travel on a private jet was a linchpin of life even before he entered the White House. But Trump was paying for that travel himself as a candidate, and now that he's president, Air Force One is a crucial part of presidential travel. The secretaries are acting as though they have the same rights and privileges of the president, which they do not.
Moreover, as I wrote earlier this week, they are part of a pattern of people around Trump acting as though they are as immune to the normal rules of politics as the president appears to be. What they keep discovering is that not only do the rules apply to them, but emulating Trump too closely might lead him to sack you.