Why a Hurricane Like Irma Poses a Particular Challenge to Florida
The storm's enormous size, spanning both coasts of the state, could slow the rescue and recovery efforts, officials warned on Sunday.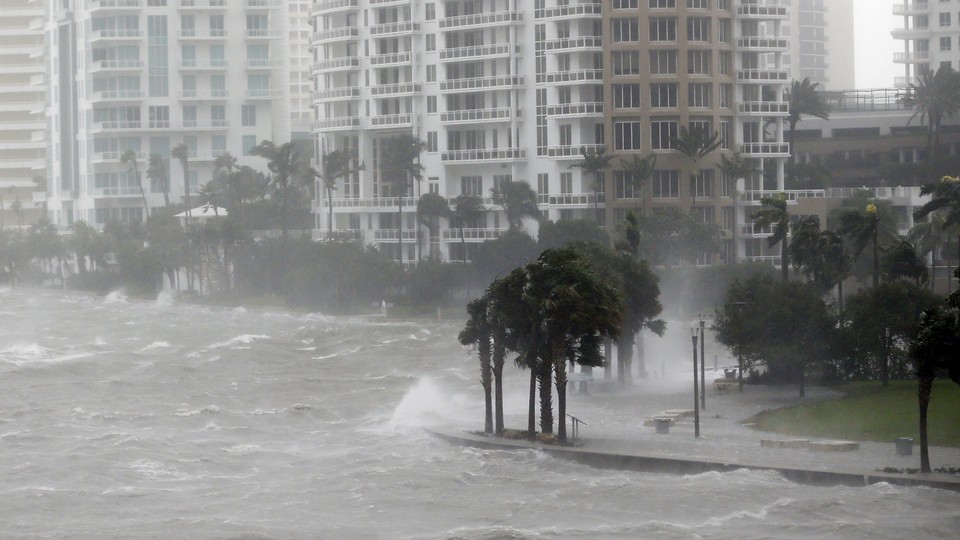 The government's biggest challenge in responding to Hurricane Irma may not be its strength as much as its size.
Federal, state, and local officials had been preparing for more than a week before the storm made landfall as a Category 4 hurricane over the Florida Keys on Sunday morning and shot north toward Naples and St. Petersburg. They ordered more than 7 million Floridians to evacuate their homes, and Governor Rick Scott said he called up 7,000 members of the National Guard and opened 400 shelters in anticipation of a devastating hit.
But officials warned that Irma's enormous size, spanning hundreds of miles and covering the entirety of Florida's southern peninsula, could slow rescue and recovery efforts once the storm passes up the state's gulf coast. "This is like Andrew for our whole state," Scott, a Republican, said on CBS's "Face the Nation" Sunday morning, referring to the Category 5 hurricane that hit the Bahamas and southeast Florida in 1992 and became, at that point, the costliest storm in U.S. history.
Ordinarily, the governor said the state would position assets on one coast to be able to quickly deploy to the other once a storm hits. But because Irma is so wide and is lashing Miami and other cities on the eastern coast with hurricane-force winds as well, Scott said most responders will have to travel south from northern Florida and even out of state. "So it's going to take us a little bit longer, though, to do everything we care to do after a storm," Scott said.
In television interviews on Sunday, Senator Marco Rubio of Florida said he was worried that Irma's late westward shift represented a possible "worst-case scenario" for the state, since it could represent the first direct hit on Tampa in nearly a century and residents there had less time to prepare. "I know our local officials have been working hard to move people," Rubio said. "The problem we have is there's nowhere to move. The whole state is being impacted by this."
Local officials have been warning residents who did not evacuate that police and fire departments could not respond to emergency calls during high winds and dangerous conditions. Scott said that a review of traffic cameras showed that roads were clear and suggested that most, but likely not all, Floridians in the southern impact zones had heeded calls to evacuate.
Scott said he had spoken repeatedly to President Trump and Cabinet officials, who pledged support from the federal government. Trump has been monitoring the storm from Camp David along with his Cabinet. Scott on Sunday morning formally requested that the president issue a major disaster declaration for the entire state, which would allow Florida to access the maximum amount of initial aid from FEMA. He also asked for volunteers to help staff shelters in the northern part of the state, and he urged people to donate to relief efforts.
The federal government has been in disaster-response mode since before Hurricane Harvey made landfall in Texas, and elected officials in both parties have generally praised its preparedness, coordination, and response. "It's been very good," Senator Bill Nelson of Florida, a Democrat, said on CBS. Unlike during Hurricane Andrew a quarter century ago, he said, cooperation among the state, federal, and local governments had been "seamless."
Congress on Friday gave final approval to $15.25 billion in initial relief for Texas and Louisiana after Harvey, an action that also refilled FEMA's dwindling coffers in anticipation of Irma. (Another storm, Hurricane José, is threatening to strike the nation's East Coast in a week's time.) But those ravaged states will need far more money from Congress to rebuild, and Nelson warned that Florida would need a quick infusion of federal money as well. Lawmakers in Washington, he said, would need to approve another emergency supplemental appropriations bill by mid-October.
For the moment, however, officials can do little other than watch Irma and see exactly how much havoc it wreaks. "I know a lot of people around the world want to help," Scott said on ABC's "Good Morning America." "The biggest thing you can do now is pray."