It's Almost Impossible for Inmates to Get a Divorce
The average prisoner has neither the power to compel transportation to court nor the money to hire an attorney. But one Chicago court may have found a fix.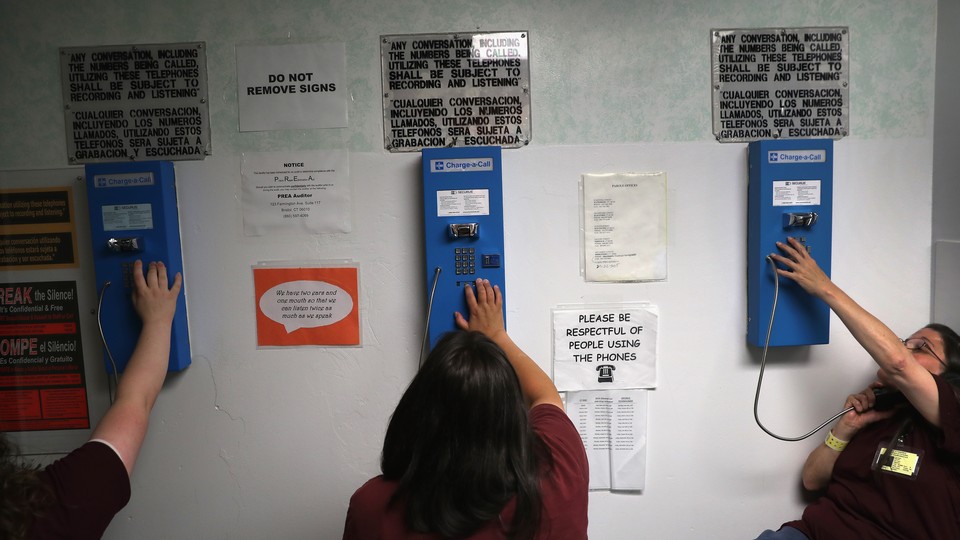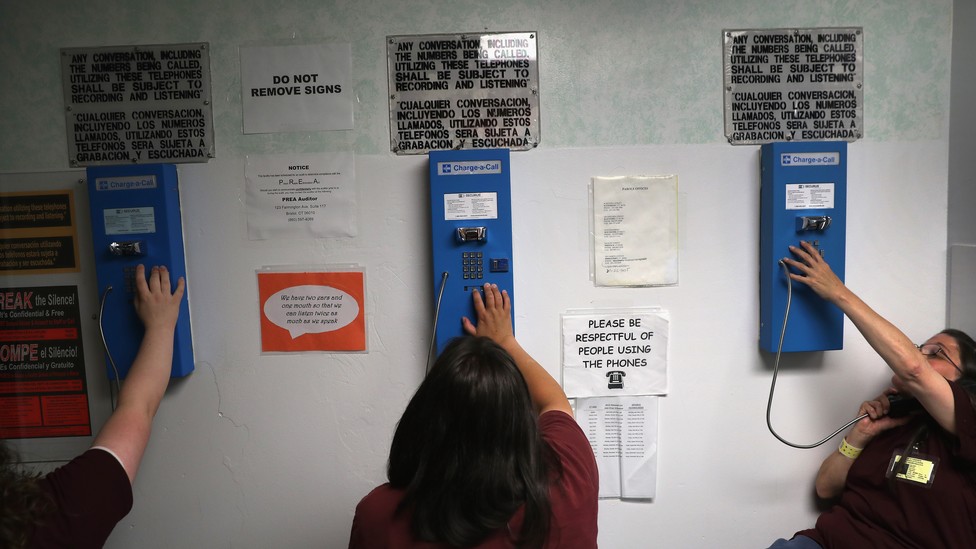 CHICAGO—Testifying one recent Wednesday morning that her marriage was irretrievably broken, a young woman told the Cook County court she was waiving her option to collect spousal support or divide any shared assets with her husband; all she wanted was to be free of him.
When the woman's legal representative asked if she'd tried to work out their differences, she paused. "Well, he had an alcohol problem and had been abusive," she testified. "You can't really work that out."
After a few more questions, Circuit Court Judge Grace Dickler was satisfied. From her courtroom downtown, she granted a divorce to the woman, who was imprisoned 175 miles away.
Like many prisoners with legal issues unrelated to their incarceration, the woman had previously been locked out of the court system—precisely, and paradoxically, because she was in prison. Thorny civil and domestic matters, like child custody or divorce, are hard enough to navigate for someone on the outside; they're near impossible for the average prisoner who has neither the power to compel transportation to court nor the money to hire an attorney.
But with a pair of TVs and a camera, litigants like the young woman can avoid those obstacles by virtually visiting Dickler's courtroom, where they are represented pro bono and can interact with the judge in real time.
"Just because someone is incarcerated doesn't mean they shouldn't have access to the courts," Dickler told me back in her chambers, following the hearing. "We give parties the ability to get on with their lives. When they come out, they'll have a clean slate and won't have to address these matters."
Known as the incarcerated litigants call, this recurring court session allows Dickler to quickly process prisoners' family-court cases. (In the first session I visited, she disposed of 10 in about two hours.) The program began two years ago in her courtroom, which is part of the second-largest family court in the United States. A legal-aid group provides the inmates free representation, and all associated court fees are waived.
For years, Dickler and her staff had received letters from prisoners around the state who were desperate to settle domestic matters but would inevitably hit a wall while attempting to draft a petition themselves, pay filing fees, or serve a spouse with papers. Most of them were women, who make up the fastest-growing segment of the prison population and who have, in some cases, unique legal needs. Women, for example, often have complicated child-visitation or guardianship cases. They also get fewer visitors from family than men do, according to legal-aid experts, which can translate to them having fewer advocates helping them negotiate red tape from the outside.
That effort becomes more difficult the lower prisoners fall on the income ladder. According to a 2015 report, the median pre-incarceration income of a state prisoner was just $19,185 in 2014; for incarcerated women, it was $13,890. Add to that the inflexible requirements many courts have about physically appearing, and the barriers to settling legal matters can become insurmountable. Take an incarcerated woman in Cook County like the one whose testimony I watched: If her spouse doesn't respond to her divorce filing, she'll need to get a court date for a hearing to finalize the divorce, known as the "prove up." She can't get a court date unless she shows up in person to request one from the clerk. She can't show up in person unless she receives a writ to leave prison. And she can't get a writ unless she can show there's already a court date on the books.
What's more: "In cases like divorce, if you're not present on the last day and don't have an attorney—and most people who are incarcerated don't—you cannot complete the divorce," said Alexis Mansfield, a supervising attorney with Cabrini Green Legal Aid, the nonprofit group representing litigants pro bono during Dickler's bimonthly calls. "The court basically had people filing [domestic] cases and having them go nowhere." (While CGLA staffers have represented male inmates on the calls, they've primarily focused on women and mothers.)
Though the court doesn't go out of its way to make access harder for those incarcerated, it does relatively little to make it easier. Most logistical difficulties stem from prisoners having no other recourse when they're unable to pay court fees or comply with other rigid requirements.
The consequences of all this can be significant. For inmates who will eventually return to their communities—as an estimated 95 percent of state prisoners do after release—settling domestic matters like divorce, guardianship, or visitation rights with young children won't help them leave prison any sooner, but it can dramatically affect their lives after release.
Mansfield described one of the more common scenarios: A mother imprisoned for a non-violent offense is married to an abusive spouse, and their kids are put in state custody in her absence. "The state can argue that if the mother didn't leave the father, she can be held accountable [for his potential abuse]—even if she's done everything in her power to protect the child," Mansfield said. It helps women's custody cases "a great deal" once they leave prison if they can "prove that they're not going back to their partner. It proves to the court she's making changes in her life."
Even when children aren't in the picture, getting a divorce while in prison can represent an important step toward personal freedom. That's particularly true if, like 75 percent of incarcerated women, an inmate has experienced some form of domestic violence. "Anyone who says divorce isn't the happiest day of someone's life should come to the litigants call," Mansfield said.
One previous litigant told me that her divorce allowed her to start over. "I can break the mental hold he had on me," the woman said, in a message that came through CGLA. "My marriage was very abusive, with mental, physical, broken bones, and bruises. [The call] was a start for me to be independent now and when I get out of prison."
The call gives litigants a chance to be heard in the courtroom, but it's the video component that really makes their presence tangible—which can tip the scales in their favor.
"People have preconceived ideas about incarcerated people," said Harriette Davis, a family-unity coordinator with the California-based Legal Services for Prisoners with Children. "Seeing things—like maybe how strongly a child resembles her parent—can humanize them before a judge. It can also give women a chance to speak up and [inform a judge] that they've [participated in Alcoholics Anonymous] or counseling."
Attorneys who have participated in Dickler's call say they have seen anecdotally how a litigant's virtual TV presence can have more weight than a written statement. When I was in Dickler's courtroom, I observed the proceedings of an ongoing child-visitation case. The mother, who is in a downstate prison, wanted to establish more contact between her father and her child. Her child's father, who has sole custody, opposed the idea; during the hearing, he and his attorney alluded to her prior substance abuse in an attempt to discredit her and distance the child from the mother's family.
Ultimately, though, they were trumped by what the judge and the court-appointed child advocate saw for themselves on the TV screen: a sober- and healthy-looking woman who seemed focused and concerned about her own dad getting more time with her child. The judge's ruling was favorable, ordering the parties to reach a compromise that would keep the mother's family in the picture.
The child advocate later told Mansfield, the mother's representative, that he was struck by how well she looked. "Had [he] not seen the mom on the video screen, his old image of her would have been locked in," Mansfield said.
Prison officials and the courts have so far been receptive to Dickler's program; the closest thing to pushback it's seen is the occasional judge reluctant to reassign a case he or she has worked on. Scaling the program up, however, could prove difficult: While the court and the prisons pay for their respective TVs and camera, courts must find a willing legal-aid partner that does not receive federal funds. Due to restrictions set by the Legal Services Corporation, legal-aid groups in most states are prohibited from providing services to certain categories of litigants, including those who are currently incarcerated.
The Illinois Supreme Court's Access to Justice Commission has been examining ways to use video calls in other types of litigation, like civil mental-health commitments or emergency orders of protection. The commission is also considering the call model as a way to improve everyday access to rural courts, where the local population is dispersed and there's a dearth of public transportation. Bill Raftery, a senior analyst at the National Center for State Courts, said he's unaware of similar programs outside of Cook County, though his organization doesn't keep data on specific programs nationwide.
"What Judge Dickler's call teaches us is that technology helps us improve access," said Danielle Hirsch, the assistant director of the civil-justice division at the Administrative Office of the Illinois Courts. "It shows that with limited resources and technology, you can decrease barriers and increase access to the court system for people who might otherwise have trouble being part of the court process."