The 'Dark Underbelly' of College Basketball
Coaches at four top universities took bribes to push student-athletes toward specific managers and financial advisers, federal prosecutors said Tuesday.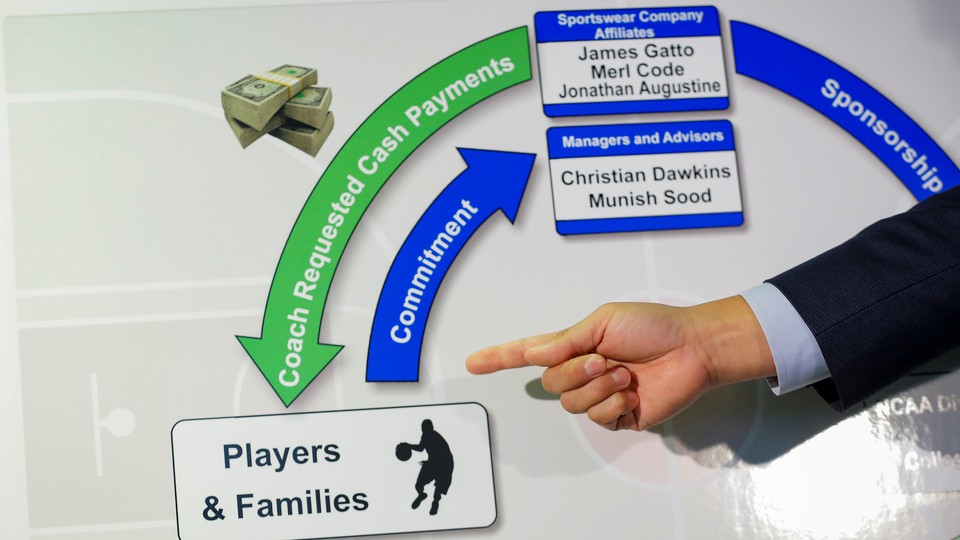 Federal prosecutors filed charges in Manhattan on Tuesday against 10 people, including four basketball coaches at top-tier universities and an Adidas executive, for allegedly exchanging bribes and kickbacks. They're accused of funneling star players, including high-school prospects they sought to recruit, toward managers and financial advisers who paid them off.
"The picture painted by the charges brought today is not a pretty one: coaches at some of the nation's top programs soliciting and accepting cash bribes, managers and financial advisers circling blue-chip prospects like coyotes, and employees of one of the world's largest sportswear companies secretly funneling cash to the families of high-school recruits," Joon Kim, the acting U.S. attorney for the Southern District of New York, said at an afternoon press conference.
The charges were the culmination of a three-year investigation into what Kim called the "dark underbelly of college basketball," involving figures in some of the nation's elite programs. Among those charged were Chuck Person, an associate coach at Auburn University and former NBA player, and assistant coaches Lamont Evans of Oklahoma State University, Anthony Bland of the University of Southern California, and Emanuel Richardson of the University of Arizona. Prosecutors also filed charges against Jim Gatto, the director of global sports marketing at Adidas. The other defendants are business managers and financial advisers who allegedly cultivated the coaches to secure a pipeline of future clients.
Unsealed criminal complaints accused the defendants of wide-ranging bribery schemes in which coaches used their outsized influence to sway young athletes' business decisions. Prosecutors claimed the coaches abused their positions of trust for their own gain.
All of the allegations involve sports agent Christopher Dawkins and his associates, who paid out thousands of dollars to coaches. Person allegedly took almost $100,000 in payments to steer players toward specific financial advisers and business managers, according to one complaint. He allegedly gave $18,500 of the payments to the families of two student-athletes to encourage their cooperation.
After receiving $20,000 from adviser Manish Sood and Dawkins, Evans allegedly vouched for the two men to players and their parents, falsely claiming he'd personally benefited from their services. Bland, who allegedly received at least $13,000 from the pair, told them he could "definitely mold the players and put them in the lap of you guys."
Sood and Dawkins were also charged. At stake for them and other participants was access to players who could earn millions of dollars throughout their future professional careers. Prosecutors accused Gatto of funneling $150,000 toward a high-school prospect's family to secure his commitment to an unnamed university sponsored by Adidas. Part of the arrangement included the implicit understanding that the prospect would sign with Adidas when he entered the NBA, thereby providing even more revenue to the company in the future.
According to a complaint, Rashan Michel, a former NBA referee and the owner of an Atlanta-based clothing company that made suits for professional athletes, told a cooperating witness that "the fucking basketball guys [get] way more money than these fucking football guys," and that "we can get us goddamn 10 basketball players in the next five years and we gonna … have to sit back and do absolutely nothing." Prosecutors filed bribery- and fraud-related charges for his alleged role in facilitating bribes for Person.
"Month after month, the defendants allegedly exploited the hoop dreams of student-athletes around the country, treating them as little more than opportunities to enrich themselves through bribery and fraud schemes," Kim said. "The defendants' alleged criminal conduct not only sullied the spirit of amateur athletics, but showed contempt for the thousands of players and coaches who follow the rules, and play the game the right way."
No charges were filed against any head coaches or college administrators, and the criminal complaints don't suggest their active involvement. Indeed, the defendants may have deliberately excluded them from their schemes. In one of the complaints, investigators claim Dawkins said during a wiretapped phone call that partnering with associate coaches is more lucrative because head coaches "ain't willing to [take bribes] 'cause they're making too much money. And it's too risky."
At Tuesday's press conference, William Sweeney, an assistant director at the FBI, said the coaches "created a pay-to-play culture. Today's arrests should also serve as a warning to those who conduct business this way in the world of college athletics."
The multibillion-dollar industry of college athletics is well acquainted with corruption and other misconduct scandals. The charges come four months after the NCAA imposed sanctions against the University of Louisville for a controversy within its high-profile basketball program. In June, the organization suspended Louisville head basketball coach Rick Pitino for the first five games of the 2017-18 season and vacated over 100 wins. The penalties came after reports that Andre McGee, the program's director of basketball operations, paid thousands of dollars to provide strippers and dancers for men's basketball players, including at their on-campus dorm. Louisville appealed the NCAA's decision in August.