The Breitbart Universe Unites for Roy Moore
Everyone from Steve Bannon to Nigel Farage came out on Monday for the Alabama judge turned aspiring senator's closing rally.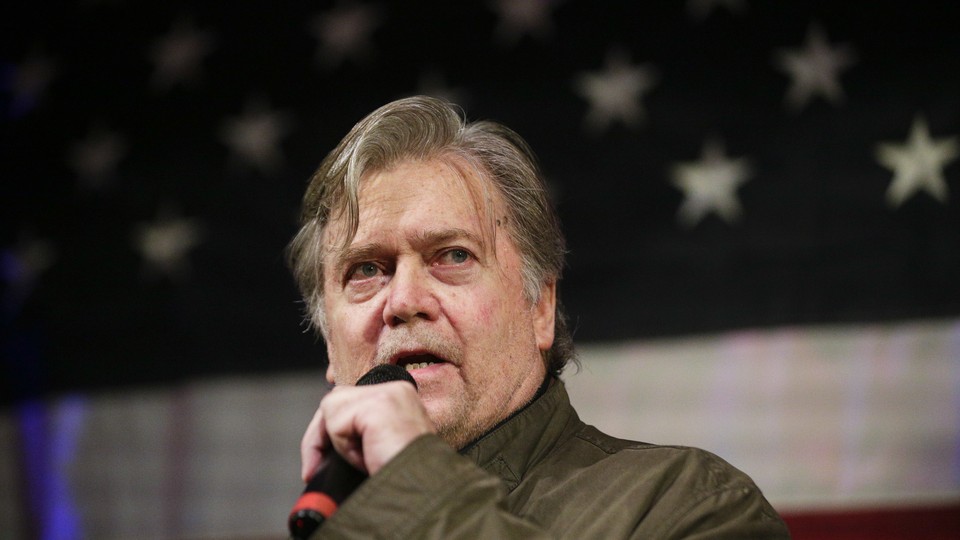 FAIRHOPE, Ala.—There were the Avengers. There were the X-Men. There was the Suicide Squad.
And then there was Steve Bannon, Nigel Farage, Phil Robertson, Chris McDaniel, Paul Nehlen, and Roy Moore.
Monday night in the Mobile Bay town of Fairhope, the stars of the Breitbart universe assembled for Moore's closing rally ahead of Tuesday's Senate special primary to fill Attorney General Jeff Sessions's old seat. On the other side from the aforementioned A-team: Luther Strange and millions of dollars connected to Senate Majority Leader Mitch McConnell—and, though it was barely mentioned, President Trump.
The crew in town for Moore's rally, despite a mixed record of electoral success and relevance, constitute some of the biggest avatars of the insurgent populist movement Bannon has championed. There was Bannon himself, the former chief strategist who has returned to Breitbart and used it to heavily promote Moore in this special election, which Bannon views as a bellwether for insurgent candidates in 2018. McDaniel and Nehlen are two of Bannon's favored candidates; McDaniel ran unsuccessfully against Senator Thad Cochran in Mississippi in 2014, and Nehlen, a hardline anti-globalist and occasional user of the alt-right epithet "cuck," lost by 68 points against Paul Ryan in 2016 and is challenging him again this cycle. Farage, the Brexit thought leader, represents the global aspect of Bannon's vision of a worldwide nationalist insurgency.
Their presence here also underscored the fevered interest in this low-turnout runoff election, which has turned into a larger proxy war for opposing forces on the right and which has attracted national press due to Bannon's efforts against Trump's preferred candidate. Taking the stage as the last speaker, Moore even thanked Bannon directly, calling him an "outstanding man" and saying that he had had one phone call with him and met him once in person, and that he had received more encouragement from him than anyone else. (Moore also at one point brandished a gun onstage that he pulled from his pocket.)
Moore's anti-establishment appeal stems from his crusade to keep a monument to the 10 Commandments in Alabama's supreme court, a saga that made him a star in grassroots conservative circles; many Alabamians view Moore's hard-right social conservatism as a sign of his commitment to standing on principle. Strange, on the other hand, is viewed by Moore voters as merely a tool of the Republican establishment, and they question the way he was appointed by scandal-laden former Governor Robert Bentley, whom he was investigating at the time.
McDaniel, stopping to talk to reporters before entering the venue, smiled when asked who had invited him there: Bannon, or the Moore campaign.
"One and the same, aren't they?" he said.
Farage said he had been sitting at home in England on Saturday night when he got a call from Raheem Kassam, the Breitbart London editor who is among the crew of Breitbarters deployed down to Alabama this week and who introduced Farage onstage on Monday night. "It was Saturday evening, I'd cut the grass, the sun was starting to go down, I thought, 'Well, it's probably time for a drink now,'" he said. "And then the phone rings, and it was Raheem on behalf of Bannon, saying would you come to Alabama, or words to that effect. So I thought about it very hard—I thought about it for certainly 10 seconds to make my mind up." (Farage gave a similar version of this account onstage shortly after giving it to me, but the onstage version had Bannon calling him directly.)
Bannon arrived shortly before the event was scheduled to start and made his way to the outdoor backstage area as fans and reporters looked on. He sat in a chair as a woman put makeup on him.
Bannon took the stage wearing his signature green Barbour-style jacket, which he referenced during his speech, noting that he was unshaven and that he hadn't worn it since the campaign.
Though Bannon's stance in Alabama has put him directly at odds with Trump, he was strenuous in his praise of the president on Monday.
"People have asked, why is Sarah Palin and Phil Robertson and Nigel Farage and and Mark Levin and Mark Meadows and Dr. Savage, I  could go on and on—Laura Ingraham—on and on and on of the people who support Judge Moore and not the candidate Donald Trump is backing," Bannon said. "All the folks I talked about are the hardest core supporters of Donald Trump and I apologize to Plutarch and Shakespeare  as I do a riff on them, but we did not come here to defy Donald Trump. We came here to praise and honor him."
Bannon called Trump "one of the most courageous individuals I've ever seen."
Other than Trump, though, he attacked the forces backing Strange, saying "for Mitch McConnell and Ward Baker and Karl Rove and Steven Law, all the instruments that try to destroy Judge Moore and his family, your day of reckoning is coming. But more important, for the donors who put up the money, the corporatists who put up the money, your day of reckoning is coming too."
Bannon has become unusually famous for someone who is best known as a campaign staffer and White House official. He was treated like a celebrity by the attendees, who mobbed him for selfies afterward. Bannon making a big public appearance is a departure from his usual behind-the-scenes image.
One woman, Abigail Sowell, 55, held a large sign that said "#1 not fake Breitbart News. Speaking truth to lies."
"They're honest, they're nationalist, they don't have an agenda, they have America at heart," she said of Breitbart. Sowell believes Fox News has gone too far to the left, except for Sean Hannity, Jeanine Pirro, and Lou Dobbs. Of Bannon, she said "I think Steve Bannon and Jeff Sessions were two of the big ones that put Trump into office. I think it's a shame that he's gone. I think Trump's got his foot in the swamp and it needs to come out." (Bannon took a photo with Sowell after the event.)
Even his choice of words during his speech recalled a political celebrity of a recent, but different, political era, when he decried the "politics of personal destruction" of the campaign—a phrase that had been often used by the late Andrew Breitbart.
Bannon, who has rarely done TV, went directly to a live hit for Sean Hannity's show after leaving the stage. He told Hannity that "a real review" would need to be done to look into why Trump "got the wrong information" and supported Strange. (Moore supporters I've spoken with have often mentioned that they think Trump is supporting Strange due to bad advice.)
He was more circumspect when asked why the president has supported Strange by reporters as he greeted fans outside. "You'd have to ask the president that," he said.