The Atlantic Politics & Policy Daily: DACA'accord
Insisting that he hasn't yet made a formal deal with Democratic leaders, President Trump did not deny reports that he would support DACA protections.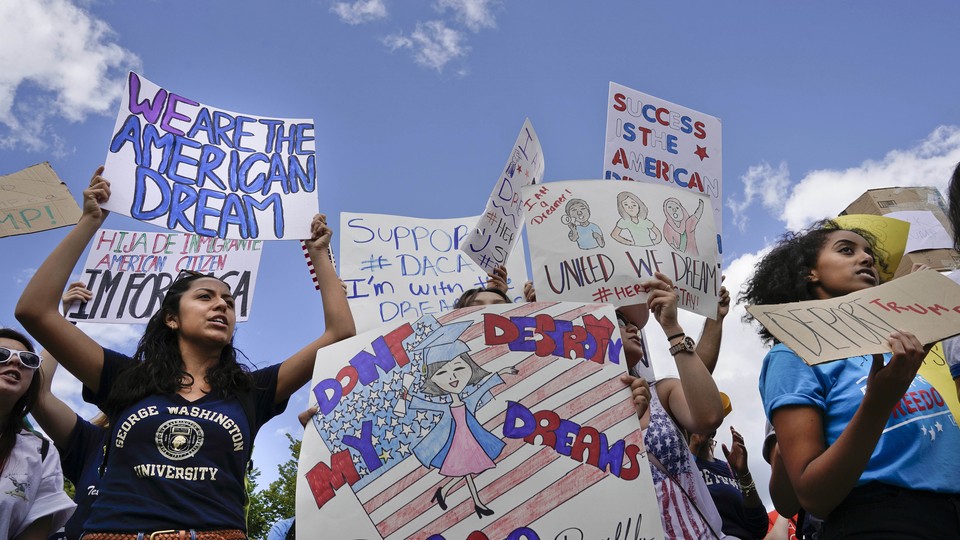 Today in 5 Lines
Insisting that he hasn't yet made a formal deal with Democratic leaders, President Trump did not deny reports that he would support DACA protections. "We want to get massive border security. And I think that both Nancy Pelosi and Chuck Schumer, I think they agree with it," Trump told reporters, referencing a dinner meeting he had Wednesday night with both lawmakers. At a news conference, House Speaker Paul Ryan, who did not attend the meal, said "these were discussions, not negotiations." Trump visited Florida to assess the damage caused by Hurricane Irma. Puerto Rican Governor Ricardo Rosselló announced that Trump will visit Puerto Rico, as well as the U.S. Virgin Islands, to survey Irma's destruction and discuss relief efforts.
---
Today on The Atlantic
A One-Way Fascination: Julia Ioffe investigates why Donald Trump didn't build anything in Russia, despite repeated attempts to do so.

Not Such an Outsider After All: After showing a willingness to find a permanent solution to DACA, President Trump has proven to be more similar to his Republican predecessors than he campaigned to be. (David A. Graham)

A Waiting Game: A new study found that America's "racial generation gap" is shrinking. Ronald Brownstein explains how that might ease tensions between older whites and diverse young people.
Follow stories throughout the day with our Politics & Policy portal.
---
Snapshot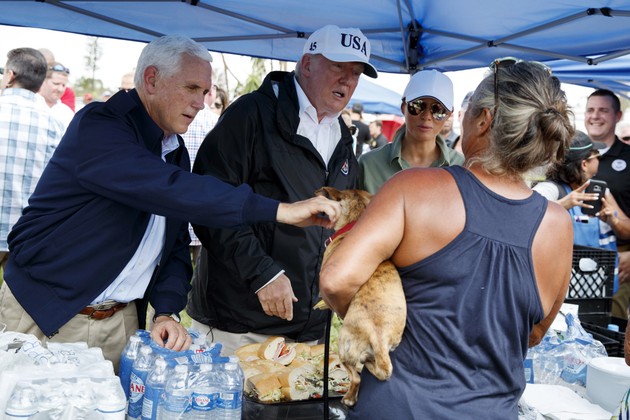 ---
What We're Reading
Humiliated: In May, President Trump reportedly "berated" Attorney General Jeff Sessions after Sessions recused himself from the Justice Department's Russia investigation—an encounter that Sessions would later describe to associates as the most humiliating experience of his time in public life. (Michael S. Schmidt and Maggie Haberman, The New York Times)  
Eyes on Ivanka: In this profile of Ivanka Trump, Courtney Weaver paints the portrait of a savvy media operator who nonetheless feels that people have "created unrealistic expectations" for what she can accomplish in the White House. (Financial Times)
New Neighbors: A new resident-officer program in Rockford, Illinois, is trying to better its police department by allowing cops to live rent-free in the neighborhoods they patrol. (Shibani Mahtani, The Wall Street Journal)
Risking Another Loss: Here are three reasons why Democrats might be handing President Trump a second term with their push for single-payer health care. (David French, National Review)
'There Was an Urgency to the Message': Alyssa Rosenberg argues that Ken Burns's latest PBS documentary series, The Vietnam War, sheds more light on our current political moment than one might expect. (The Washington Post)
---
Visualized
The Party Shifts Left: These are the Democratic senators supporting Bernie Sanders's single-payer plan. (Haeyoun Park and Wilson Andrews, The New York Times)
---
Question of the Week
On Tuesday, Hillary Clinton released her memoir, What Happened. In the book, Clinton attempts to explain the factors that led to her defeat, from Bernie Sanders supporters to former FBI Director James Comey's investigation into her private email server.
If you were in Clinton's shoes, what would you title your memoir, and why?
Share your response here, and we'll feature a few in Friday's Politics & Policy Daily.
-Written by Lena Felton (@lenakfelton) and Taylor Hosking (@Taylor__Hosking)